Delta Flight Diverted After Hijacking Suspect Storms Cockpit, FBI Investigating
Videos uploaded to social media on Friday appeared to show a passenger detained by a flight attendant after he allegedly tried to break into the cockpit mid-flight.
Delta Air Lines Flight 386 from Los Angeles, California to Nashville, Tennessee was diverted to Albuquerque, New Mexico. Albuquerque International Sunport spokesperson Stephanie Kitts said a passenger who has yet to be publicly identified allegedly tried to hijack the flight by breaking into the cockpit, but was stopped.
The plane landed safely in Albuquerque and the passenger in question was arrested by the airport police. He is now in custody. The Albuquerque FBI posted a news alert to their Twitter page Friday afternoon, saying "The #FBI is responding to a report of a diverted flight at @ABQSunport. There is no threat to the public at this time."
Two videos uploaded to Twitter on Friday afternoon by @1WaySuggs appeared to show first—a flight attendant, possibly aided by other passengers, subduing and detaining the offending passenger who is blocked from view behind a row of seats. The video had a caption that read "Flight attendants. I respect y'all" with a clapping emoji.
The Second video appeared to show a man hunched over with his stomach on a seat, with his hands held behind his back with plastic cuffs. This video was uploaded with the comment "y'all a [n-word] tried to hijack my plane on God we just had to emergency land the done hogtied this [n-word] up on God my life wild."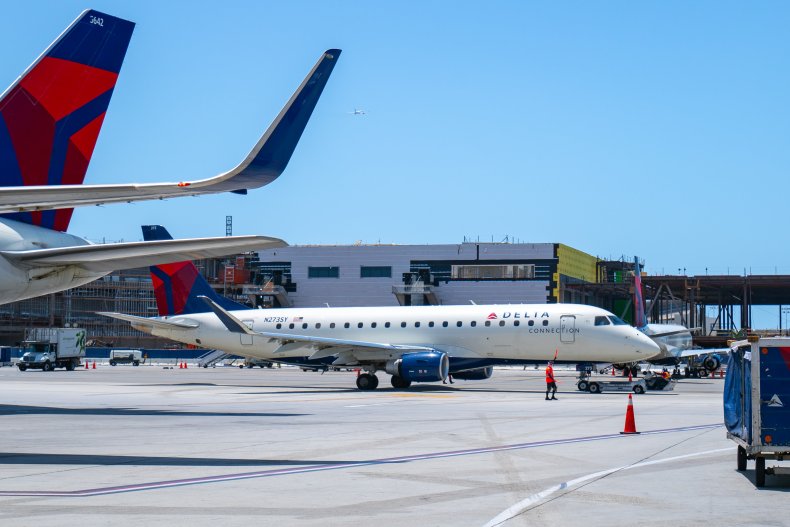 The flight had been grounded for several hours in Albuquerque as of Friday evening. A check by Newsweek of Delta's internal flight tracking system showed flight 386 scheduled to remain in Albuquerque until 8:15 pm MT. The remaining passengers on the flight are scheduled to arrive at their final destination of Nashville at about midnight local time—several hours later than their originally scheduled arrival time of 5:35 pm.
"Thanks to the crew and passengers of Delta Flight 386, LAX to Nashville (BNA), who assisted in detaining an unruly passenger as the flight diverted to Albuquerque (ABQ)," said a statement emailed to Newsweek, by Anthony Black, a spokesperson for Delta.
"The aircraft landed without incident," he said, "and the passenger was removed by law enforcement. We apologize to our customers for the delay any additional inconvenience."
It's not clear yet who the man was who caused the in-flight disturbance, and exactly what charges he may face. However, in related cases in the recent past, The U.S. Department of Transportation's Federal Aviation Administration (FAA) has proposed hefty fines for passengers who break cabin crew instructions and various federal regulations. The FBI said it is currently investigating.
On one Delta Air Lines flight from Honolulu, Hawaii, to Seattle, Washington on Dec. 23 of last year, the FAA alleges that a passenger "tried to open the cockpit door, repeatedly refused to comply with crew members' instructions, and physically assaulted a flight attendant by striking him in the face and pushing him to the floor."
More details in a press release included that "the passenger... threatened the flight attendant by charging at him as he was trying to restrain the passenger. Flight attendants, with the help of another passenger, placed plastic handcuffs on the disruptive passenger. Later, the passenger freed himself from one of the handcuffs and struck the flight attendant in the face a second time." In this case, the FAA proposed a $52,500 fine.
Newsweek has reached out to Albuquerque Police and the TSA for comment.
Update (6/04/2021, 11:39 p.m.): This article has been updated to include a statement from Delta Airlines.