Videos Appear to Show Rocket Debris Light Up Sky as NASA Criticizes China
Videos on social media showed what appeared to be rocket debris lighting up the night sky as a Chinese rocket fell back to Earth on Saturday.
The incident has led to NASA criticizing Beijing for not sharing information about the rocket's descent.
U.S. Space Command confirmed the Long March 5B rocket "re-entered over the Indian Ocean" at approximately 10:45 p.m. MDT (12:45 p.m. EDT) on Saturday, but referred questions about "re-entry's technical aspects" such as potential debris dispersal and impact location to China.
Most of the debris burned up on re-entry over the Sulu Sea, a body of water between the island of Borneo and the Philippines, the Chinese Manned Space Agency said in a post on Chinese social media platform Weibo.
But NASA Administrator Bill Nelson criticized China for not sharing "specific trajectory information" about the rocket's descent.
"All spacefaring nations should follow established best practices and do their part to share this type of information in advance to allow reliable predictions of potential debris impact risk, especially for heavy-lift vehicles, like the Long March 5B, which carry a significant risk of loss of life and property," Nelson said on Twitter.
"Doing so is critical to the responsible use of space and to ensure the safety of people here on Earth."
Social media users posted video of what appeared to be debris raining down above the sky in Malaysia.
One video filmed by a user in the Sarawak province on the island of Borneo has amassed more than three million views, with the user believing the sight was a meteor shower.
The rocket had blasted off on July 24 to deliver a laboratory module to China's Tiangong Space Station.
Analysts at the Aerospace Corporation's Center for Orbital and Reentry Debris Studies (CORDS) have been projecting potential trajectories for re-entry over much of the planet in recent days amid concerns that debris could fall in a populated areas.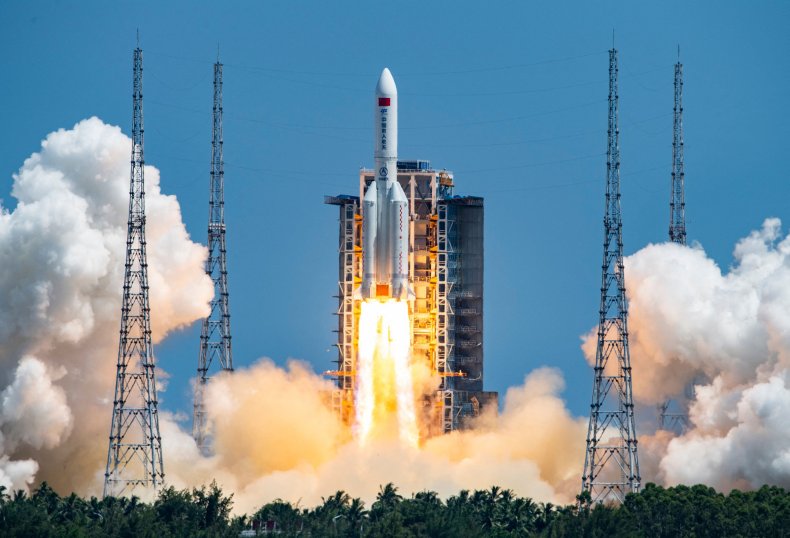 Marlon Sorge, executive director of CORDS, told Newsweek earlier this week that the risk of an individual being hit by the re-entry debris in a given year is around 1 per 100 billion. "The risk of getting hit by lightning is 80,000 times greater," he said.
But Sorge added: "Even with such low risk statistics, it is high enough that the world must track this event and prepare."
It was not the fight time that debris from a Long March 5B has caused concern.
Another uncontrolled re-entry of the model was thought to be responsible for debris that landed in the Ivory Coast in 2020.
NASA and others rebuked China's lack of transparency in May last year after debris from another Long March 5B rocket landed north of the Maldives in the Indian Ocean.
Newsweek has contacted the Chinese Embassy in Washington and NASA for further comment.