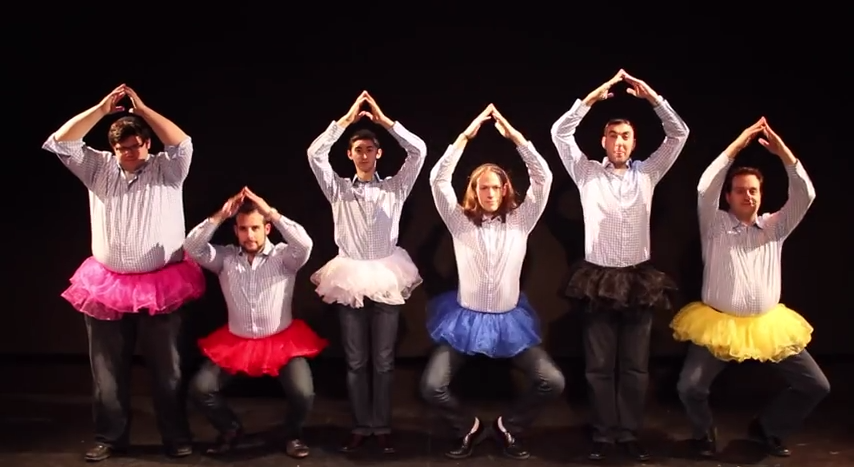 Each holiday season, the Christmas-song medley—the one that's played on a delightful loop or ad nauseum, depending on one's attitude, in shops and homes—is garnished with a sprinkling of Hanukkah tunes. In recent years, those have included a cappella renditions (both straightlaced and spoofs) as well as some rap, glee club and mashup arrangements.
This year, the talk of the town is a parody of Taylor Swift's "Shake It Off," rewritten for the Jewish festival of light, which began Tuesday evening. The video was released last week by Six13, an all-male Jewish a cappella group based in New York City.
"You can't not sing along and can't not start moving with it," Mordy Weinstein, a member of Six13 and one of the lead vocalists in the video, says of the group's decision to give "Shake it Off" a Jewish twist. "I can't even think of another song that's comparably catchy."
The parody has so far garnered more than 800,000 views.
"This time of year most people are celebrating something," says Weinstein, 25, who says the group has heard from Jews and non-Jews alike since posting its take on Swift's popular single. "It's functioning as a winter holidays card."
But the Hanukkah version of "Shake It Off" is just one of a growing list in this new genre. So—in reverse chronological order, starting with the Swift parody—here are eight modern Hanukkah songs for the eight-night holiday. That's "one for each night, they shed a sweet light, to remind us of days long ago." (If this quote is baffling, please watch "Hanukkah Oh Hanukkah" below.)
"Shake It Off" by Six13 (2014)
Six13 are not the only ones to have attempted a "Shake It Off" parody for Hanukkah this year. At least two other videos have been uploaded to YouTube, though neither has gained the same degree of attention. Six13 has also released "The Thanksgivukkah Anthem" (2013), "Haneirot Halalu" (2012) and "I Light It" (2010), among others.
Hanukkah Song Mashup by Key Tov Orchestra (2014)
The Key Tov Orchestra's outdoor performance of a Hanukkah mashup was one of the first to make it to YouTube in advance of Hanukkah this year. Since it was posted on November 22, it has gotten nearly half a million views.
"Eight Nights" (Hanukkah Mashup) by StandFour (2012)
Former members of the Maccabeats (see below) went on to form StandFour and released this Hanukkah-ized a cappella mashup of Fun's "Some Nights," Ke$ha's "Die Young" and One Direction's "Live While We're Young."
"Hanukkah Oh Hanukkah" on Glee (2012)
During Season 4 of the TV series Glee, on its episode 10 nod to the movie Love, Actually, two characters sing the Barenaked Ladies arrangement of this classic Hanukkah song, written for the group's 2004 album Barenaked for the Holidays.
"Chanukah Rights!" by Six13 (2011)
Why is there so much Christmas music (or decorations or presents) and not as much for Hanukkah? For their 2011 Hanukkah video, the members of Six13 took the common refrain of Jewish children all over the country and turned it into a song.
"Miracle" by Matisyahu (2010)
Matisyahu, a Hasidic Jewish artist, incorporates diverse styles into his work, from rap to reggae. "There are so many Christmas songs out there. I wanted to give the Jewish kids something to be proud of," he has said.
"I wanted to try to get across some of the depth and spirituality inherent in the holiday in a fun, celebratory song," he continued. "We went into the studio in the spirit of miracles and underdogs, and this is what we came up with."
Matisyahu also released "Happy Hanukkah" in 2012.
"Candlelight" by the Maccabeats (2010)
The Maccabeats, originally formed as a student vocal group at Yeshiva University, have released several Hanukkah songs, including "Shine" in 2012 and "Burn" in 2013, as well as a version of Matisyahu's "Miracle" in 2011. This year, their Hanukkah song is "All About That Neis."
"Hanukkah Song" by Adam Sandler (1994)
And last, but not least, who could forget Adam Sandler's "Hanukkah Song," first performed on Saturday Night Livein 1994.
"Adam Sandler was the one who really got that ball rolling for us," Six13's Weinstein says. Now, he says, "it seems like there are more of these Hanukkah videos coming out every year."
If eight are not enough, there are plenty more, from the Yeshiva Boys Choir to a Hanukkah spoof of "Santa Baby" and more a cappella tunes, as well as several songs from last year's Thanksgivvukah craze, including one by—you guessed it—Six13.