Videos of Kabul Airport Chaos Prompt 'World War Z' Comparisons
Photos and videos of Afghan civilians desperately trying to board plans amid the Taliban takeover of Kabul have prompted references to the film World War Z.
Violent scenes from the Afghan capital's airport are shocking the world as many people attempt to escape the country following the collapse of the government and capture of all major cities by the Taliban.
Hundreds of Afghan citizens have been recorded scrambling to board planes at Kabul's international airport, with some footage purporting to show people falling from aircrafts after clinging to the outside during take-off.
One video shared by journalist Sultan Faizy shows hundreds of people scrambling over the top of one another in an attempt to climb onto the air bridge to access the plane.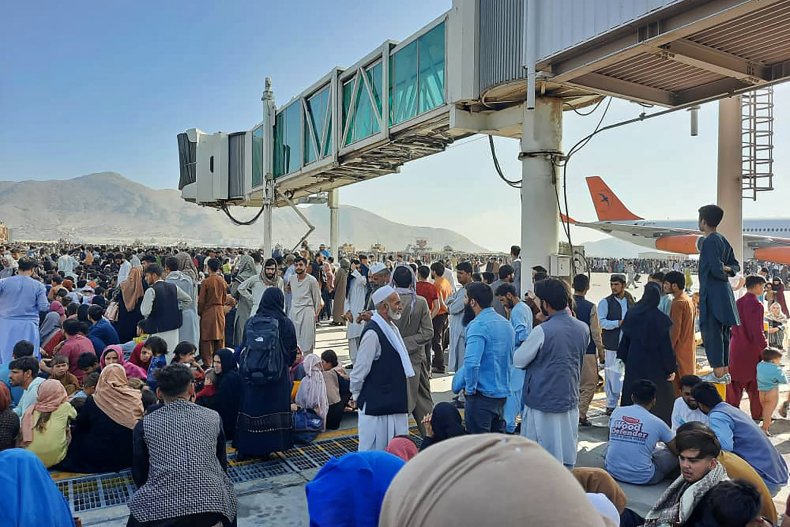 "Desperate situation unfolding at Kabul airport this morning," journalist Ahmer Khan tweeted. "Thousands of Afghans are at Kabul airport. They are running after moving aircrafts," he later added.
World War Z is a 2013 horror film about a zombie pandemic starring Brad Pitt. It features famous scenes of desperate people fleeing, as well as one stand-out image of a tower of infected people scaling the Western Wall in Jerusalem.
Photos from Kabul this morning have prompted many comparisons to the movie, leading to it becoming a trending topic on Twitter on Monday.
BBC South Asia Bureaux Chief Nicola Careem posted a clip writing: "This is, perhaps, one of the saddest images I've seen from #Afghanistan. A people who are desperate and abandoned. No aid agencies, no UN, no government. Nothing."
This clip in particular has evoked World War Z for many.
"World War Z brought to you by Zombie President @JoeBiden," said author Tony Shaffer.
While journalist Adi Renaldi added: "Looks like a scene in world war z ;( #TheFallOfKabul."
"Desperate Afghans cling to the landing gear of American transports taking off and then they fall down. Horrifying! Looks like the scene of an American World War Z!" reads another tweet.
Another person added: "If you had shown me this clip 3 weeks ago and asked me to guess its origin, I literally would have said World War Z. No joke. That's how bad this is."
However, some people have found the comparison distasteful.
"World War Z is trending because westerners are disgusting assholes who dehumanize the populations they victimize," reads one tweet.
"Any week that starts with World War Z trending is just..." said author Luvvie Ajayi.
Videos of the scramble to escape Kabul have also been likened to the fall of Saigon in April 1975.