Videos Show Major Fire Raging in Ohio After Tanker Train Derails
The derailment of a tanker train in East Palestine, Ohio, on Friday night sparked a major fire and led to multiple explosions near the state's border with Pennsylvania, according to reports from media and others.
Videos shared on Twitter by KDKA reporter Lauren Linder shows the fire raging as the blaze engulfed vehicles and buildings. Smoke can be seen rising into the atmosphere and filling the air.
"Fire official on scene also tells me multiple train cars are on fire," tweeted Linder. "Inside some of them are automobiles that are now all burnt. Others believed to be carrying flammables—specifically where fire is still very active."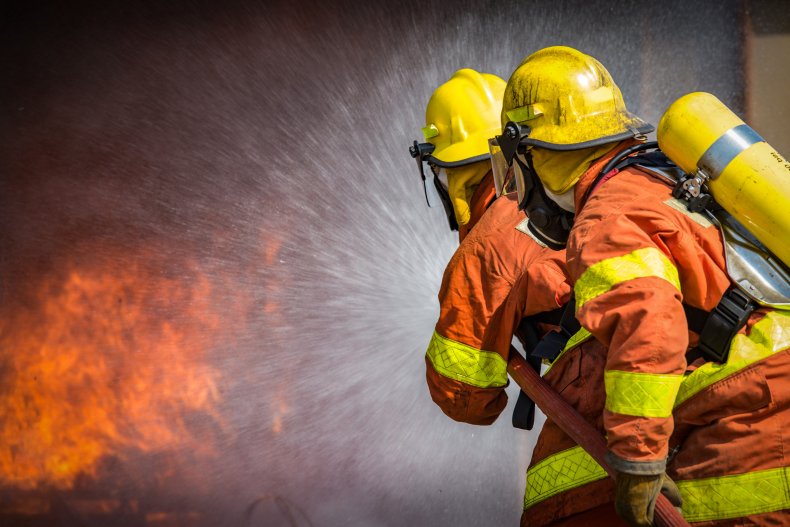 The train reportedly derailed in the east of the city near a Marathon gas station, which was able to evacuate road fuel tankers in time to avoid them being engulfed by the fire.
Several local fire departments as well as emergency services from three states have responded to the incident and are trying to quell the fire, while residents within a mile of the fire have been evacuated by officials. Two evacuation centers were opened for the evacuated residents and the American Red Cross has reportedly been notified. People in other areas were told to stay indoors.
East Palestine Mayor Trent Conaway said that no one was hurt, and "the train crew was fine."
"Everybody is working together to try and solve this situation as best we can," Conaway told NBC affiliate WFMJ of Youngstown.
Conaway said that the Environmental Protection Agency is monitoring the air quality in the surroundings of the incident but found no issues. "So far, we're good," the mayor said.
The evacuation order is no longer mandatory but remains in place and is highly recommended by officials.
It's not yet known where the train was heading or what was inside the train cars. Norfolk Southern Corp freight railroad responded to news media requests for comment saying they were aware of the train derailment and were coordinating with local officials and mobilizing their own team to handle the situation, NBC reports.
Conaway said he didn't know exactly what chemicals were burning.
Conaway asked that members of the public keep away from the site of the incident, talking of a "congestion" on the streets as people try to see the situation for themselves. He asked people to keep first responders in their prayers.
The mayor said he didn't know for how long the evacuation centers for residents will operate.
Newsweek has reached out to the East Palestine Police Department and Norfolk Southern Corp freight railroad for comment.
Update 2/4/2023 5.25 a.m. ET: This article was updated to include new details on this developing story.