NASA Captures the Holidays From Space in Mesmerizing Videos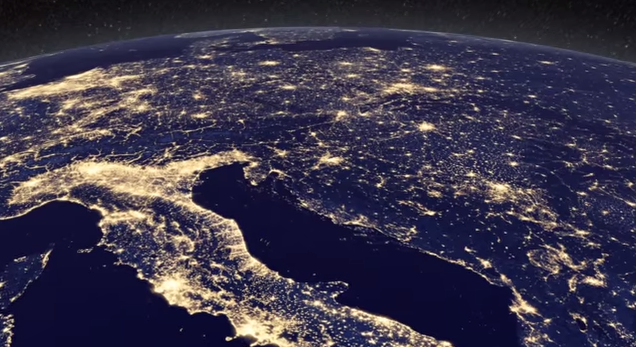 On Christmas Eve, NASA shared a look from space at severe weather developing over the Gulf Coast of the United States. In the weeks leading up to the holiday, it has also shared video of a solar flare and of Christmas lights as seen from a satellite. As people celebrated Christmas, made New Years Eve plans, and counted the eight nights of Hanukkah, the trio of videos capture life from above, in images of the sun and Earth, lights and winds, flares and fronts.
NASA's RapidScat instrument tracked the winds of a storm system that brought tornadoes to Mississippi, Georgia and Louisiana on Tuesday from aboard the International Space Station. Along with data from the National Oceanic and Atmospheric Administration's (NOAA) GOES-East, or Geostationary Operational Environmental Satellite, NASA created an animation of the storm moving over the U.S. and Central and South America from December 21 to 24.
On Friday, NASA's Solar Dynamics Observatory captured an image of a solar flare that peaked just before 7:30 p.m. EST. The event, categorized as an X1.8-class flare, with the X used for the most intense flares, was labeled "Holiday Lights on the Sun" on YouTube.
In a video released December 16, NASA confirmed that holiday lights are bright enough to be seen from space, in case you were wondering. NASA and NOAA used the VIIRS instrument on the Suomi NPP satellite to study light patterns during Christmas and Ramadan to "provide new insights into how energy consumption behaviors vary across different cultural settings."
2014 has been an eventful year for space exploration, with NASA's Orion test flight and private companies continuing forays into space, though not all has gone smoothly.
Perhaps most notably, the Philae lander's touchdown on Comet 67P—the first ever soft landing on a comet—riveted viewers around the world. Philae's mother mission, Rosetta, was named Science magazine's breakthrough of the year.