Videos Calling Putin's Health Into Question Viewed Over 3.5 Million Times
Videos that have social media users questioning Russian President Vladimir Putin's health have been viewed over 3 million times.
Since Putin's invasion of Ukraine, many have speculated about his current health conditions. Social media users have analyzed videos of the Russian leader, looking for signs that the war may be taking a toll on him and it's sparked renewed speculation that Putin's health is deteriorating.
The secrecy surrounding Putin's personal life seems to only increase interest in the Russian president and videos questioning his health rapidly rack up millions of views. It's not the first time his health has been called into question and in 2020, the Kremlin denied that the Russian president had Parkinson's disease.
"It's absolute nonsense," Kremlin spokesperson Dmitry Peskov said in 2020, according to Reuters. "Everything is fine with the president."
The denial's done little to curb questions about the Russian president's health. On Monday, Visegrad 24 news posted a video that questioned Putin's health, citing leg and hand tremors. As of publication time, this video has over 1.1 million views.
"Many suspected it after his weird meeting sign [Defense Minister Sergei] Shoigu, during which he held on to the table for 13 minutes. This is probably the clearest video of something being wrong with Putin's health," the tweet said. "Look at his leg & hand tremors! Any doctor out there willing to weigh in? Parkinson?"
The video that was viewed over 1.1 million times on Monday comes just a few days after another video prompted dozens of other Twitter users to question Putin's current health.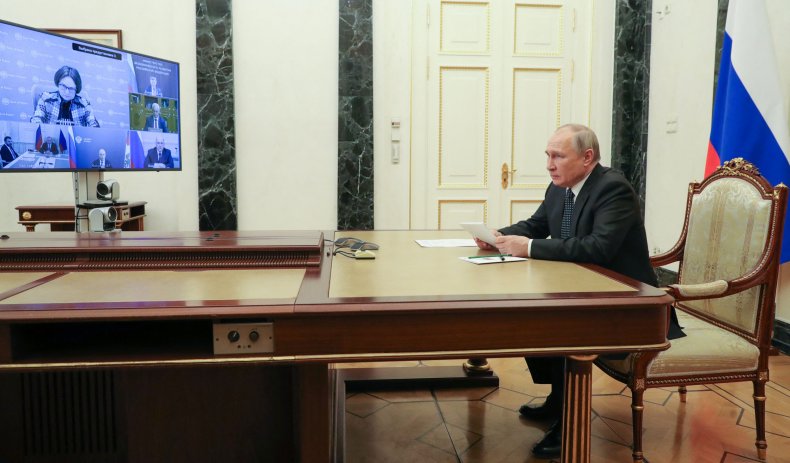 Last week, Putin met with Shoigu to discuss the Russian military's actions in Ukraine's port city of Mariupol.
In one video, posted to Twitter by Max Seddon of the Financial Times, Putin can be seen speaking with Shoigu while gripping the table with his hand and repeatedly tapping his foot on the ground. This video now has 2.5 million views.
While the video didn't directly question Putin's health, many social media users responded with their own questions about the Russian president.
"Putin, sinking in his chair, gripping the table. He's okay, right? Healthy?" Twitter user Frida Ghitis of CNN wrote.
Twitter user Mark wrote, "The weirdest part: watch how his right leg seems to involuntarily buckle/spasm at least a few times. He then does his little leg tap immediately afterwards. 0:47 and 0:59 are very clear examples."
Similarly, Twitter user Dean Gloster wrote, "No big. Just Putin clutching the table with his right hand so we can't see it shake."
Author Anders Aslund also speculated about Putin's health following his meeting with Shoigu.
"Putin's meeting with Shoigu today shows both depressed & seemingly in bad health. Shoigu has to read his comments to Putin & slurs badly, suggesting that the rumors of his heart attack are likely. He sits badly. Poor performance. Worth watching," Aslund wrote.
The video posted by Visegrad 24 news also received similar responses, with social media users offering speculations on Putin's health.
"Well he is sick, for sure, morally and neurologically," Twitter user Gramps wrote.
It is unknown if Putin is suffering from any of the medical conditions that social media users have mentioned and the Kremlin has not commented on this matter.
Amid the questions surrounding Putin's health, Russia continues its fight against Ukraine, after the "special military operation" was announced by Putin on February 24.
Newsweek reached out to the Russian Foreign Ministry for comment.
Update 4/26/22, 12:48 p.m. ET: This story has been updated with a new headline to reflect the number of collective views the videos have received and to include further information.