Videos Show California Highways, Residential Streets Flooded as Storm Arrives for Holidays
Videos shared on social media on Thursday by California residents, reporters and fire safety officials showed residential streets and highways flooded as a storm system moved through the state ahead of the holiday weekend.
Officials with Cal Fire in San Mateo County said they received "multiple flooding calls" near the coast in a Thursday morning tweet. Accompanying the tweet was a video showing one Cal Fire official standing at the edge of a residential street that had flooded. Another official could be seen just a few steps away wading through knee-deep water near the property line of a home.
Another video shared by the same Cal Fire account showed a flooded area beside California State Highway 1 about 25 miles south of San Francisco near the Half Moon Bay Airport as water seeped onto the highway, prompting vehicles to travel slowly as they navigated the impacted stretch of road. A second video showing another portion of the highway near Moss Beach captured water traveling like a river through the streets.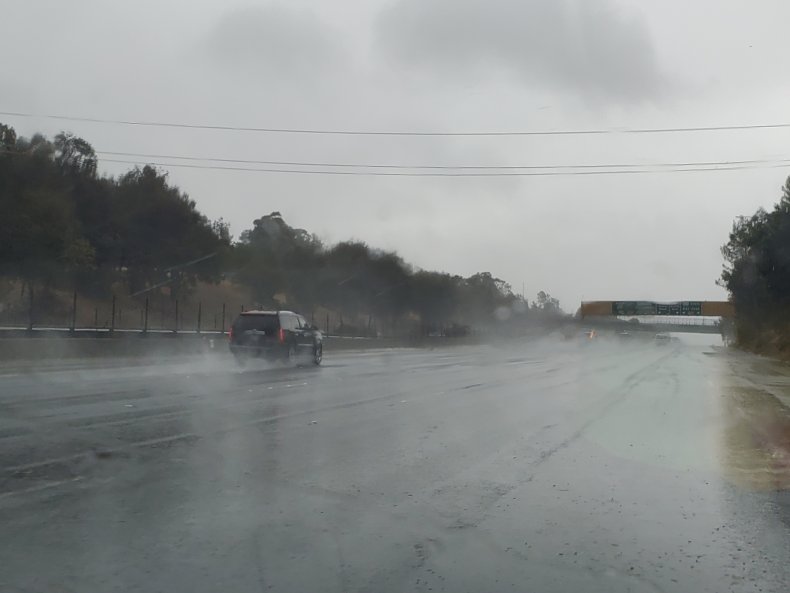 The day's driving conditions were "expected to deteriorate," Cal Fire officials warned.
"For your safety, drive with extreme caution, and stay home if possible," the department tweeted.
The National Weather Service's (NWS) Bay Area Twitter account advised people within the region that some flooding "will be possible" as rainy conditions continue through Thursday.
"Look for ponding on roadways if driving with periods of rain to continue through at least midday," the NWS tweeted. Tweets posted later in the morning advised locals to permit extra time for travel and to "NEVER drive through flooded roadways."
As the morning continued, NWS Bay Area retweeted local reporters and residents who shared videos and photos showing how the rain was impacting them.
The San Francisco Chronicle's Jessica Christian tweeted about a large tree that blocked traffic after falling into a road that received a retweet and a warning from the NWS about the impact extended periods of rainfall can have on the soil. Reporters' photos showing standing floodwater rising around parked cars and closing off access to intersections also received retweets, as did one resident's video showing floodwater moving quickly past a fence.
The San Mateo County Fire Department (SMCFD) told Newsweek there had been no need for water rescues in the area as of 10 a.m. local time but noted rainfall was expected to continue throughout the day and potentially extend into the weekend.
In anticipation of continued rainfall, the SMCFD offered a few tips to help residents stay safe.
"We advise people against walking into moving water, because it only takes a few inches to sweep a person off their feet," the department said in an email to Newsweek. "We also advise people to avoid driving through water that's washed over the road. Water, especially moving water, can be deceptive. It's hard to know how deep it is, and a vehicle can easily get swept off the road, as we saw on Highway 1 this morning near the Half Moon Bay Airport in San Mateo County. Fortunately, there were no injuries."
"If a person is in a vehicle that's been swept off the road, and water is coming into the vehicle, we advise, if possible, to get out of the vehicle and climb onto the roof to wait for rescue," the department continued. "Obviously, this is not ideal, so our most important advice is #TurnAroundDontDrown, to avoid this situation altogether."