Videos Show Hurricane Ian's Wrath in South Carolina as Storm Makes Landfall
South Carolina Governor Henry McMaster said that the coastal state is "not out of the woods yet" after Hurricane Ian made landfall Friday, leaving behind flooded streets and heavy winds as the now post-tropical cyclone moves north through the state.
Several videos posted Friday have highlighted destruction left behind by the tropical storm, including one posted by WeatherNation field reporter Josh Morgerman, who shared a video of himself standing in flooded waters in Georgetown, South Carolina, around 3:11 p.m. Hurricane Ian first made landfall just south of Georgetown midday Friday.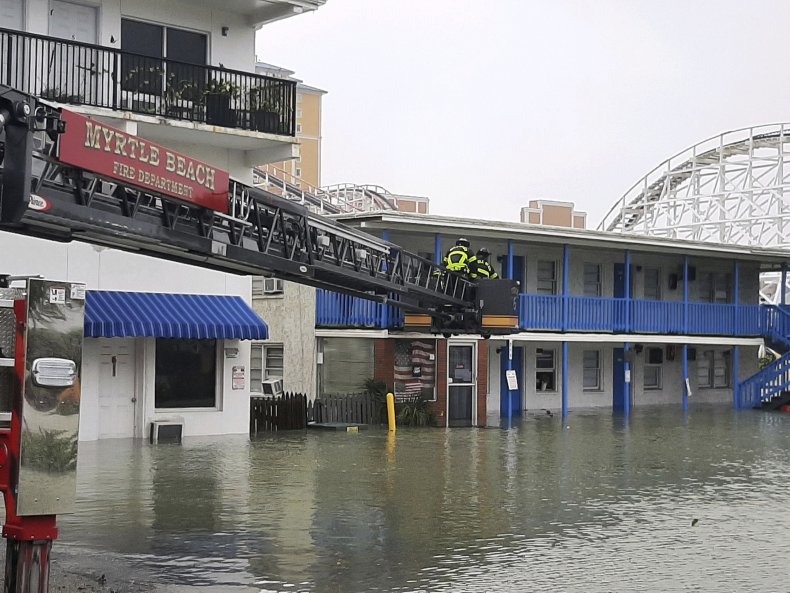 In the video, Morgerman pans over the street on which he's standing, commenting that the "historic district" is "totally under water."
"The whole thing,'' Morgerman adds. "As far as the eye can see."
Another video, posted earlier in the day by Live5News reporter Rey Llerena, shows heavy rainfall mixed with strong winds hitting the Georgetown streets.
Some videos taken of Myrtle Beach, just 35 miles north of Georgetown, have also been posted, showing structural damages to the popular vacation destination. One video posted by WYFF News 4 shows high waves washing out parts of the Cherry Grove Pier near North Myrtle Beach.
The Myrtle Beach Police Department also shared a video around 1:30 p.m. Friday, showing cars driving down a very flooded 3rd Avenue South and Ocean Boulevard.
"Don't drive through flooded roadways," Myrtle Beach police wrote along with the video. "There is no reason to take this risk."
The National Hurricane Center (NHC) reported that Ian hit South Carolina as a Category 1 hurricane, with wind speeds reaching up to 85 mph. The NHC also warned in its 5 p.m. update that even post-tropical, Ian poses danger with possible storm surges, flash flooding and high winds as it passes through the state, with potential wind speeds of up to 70 mph.
McMaster urged residents in a Friday press release to stay informed of the tropical storm's movement and to remain sheltered due to the ongoing storm surges.
"A lot of prayers have been answered," McMaster said. "This storm is not as bad as it could have been, but don't let your guard down yet."
Unlike in Florida, where Hurricane Ian made landfall as a Category 4 hurricane, no South Carolina residents were ordered to evacuate ahead of the storm.
The heaviest activity appears to have passed portions of Myrtle Beach by Friday evening as Ian headed more inland toward North Carolina. One photo shared by photojournalist Van Applegate depicts a rainbow peeking out behind clouds over calm waters in South Myrtle Beach around 4:23 p.m.
Mark Kruea, public information director for the city of Myrtle Beach, told Newsweek in an email on Friday that while the storm surge was greater than the city had expected, the costal town fared pretty well overall.
"A couple of buildings lost their roof or parts of their roof, some awnings were damaged and a fair number of traffic signals were out," Kruea said. "Although power outages were not numerous."
"It was a minor Category 1 storm here," Kruea added. "I've certainly experienced much stronger [Category 1 storms] than this was. Our thoughts go out to everyone in Florida who experienced Ian at its worst."
Updated 09/30/2022, 9:02 p.m. ET: This article was updated with additional information.