Videos Show Mexico Earthquake Rocking Structures in Several States
Videos of a massive earthquake that struck multiple Mexican states capture shaking trucks and buildings, pools sloshing over and collapsed buildings with victims trapped underneath.
Authorities in several states in central Mexico, including its capital city, are reeling following the earthquake on Monday that left at least one person dead. The temblor struck on the same date as seismic events in 1985 and 2017. In the quake's aftermath, videos have posted online showing the destructive force that tore through the country.
Mexico's National Seismological Service on Monday afternoon updated the earthquake's magnitude to 7.7, measured near the border of Colima and Michoacan states 39 miles south of Coalcomán de Vázquez Pallares. The service recorded another 5.3-magnitude quake at 2:30 p.m.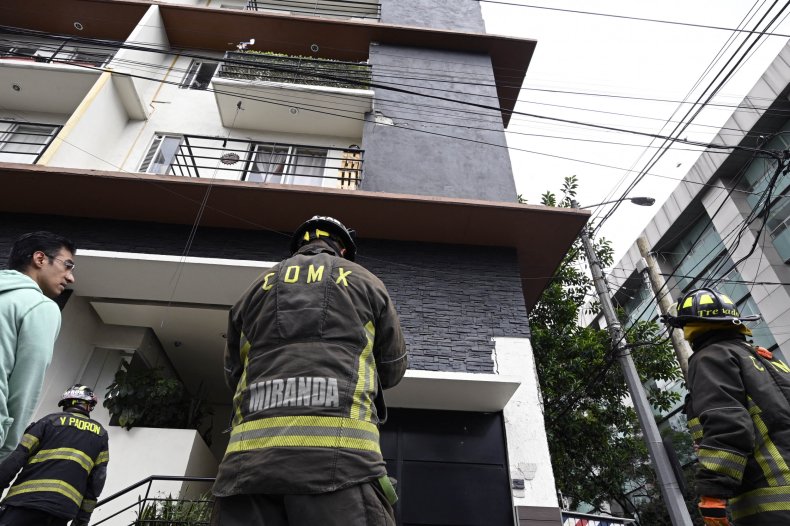 Jorge Garcia Orozco, a data analyst, posted a video to Twitter showing work trucks swaying in the west-central state of Jalisco, which borders Colima and Michoacan.
"In Jalisco I had never seen an earthquake of this magnitude, in my 33 years of life," he said in a translated tweet. "Literally everything moved."
Periodico Quequi posted a video to Twitter from a pool high up in a building in Mexico City, the country's capital. The video from the news outlet shows waves in the pool, with water spilling over its sides.
Another video captured by an onlooker in the capital depicts a building swaying as the tremors shake the ground beneath it.
Tribuna Campeche posted a video showing a gym in Manzanillo, Colima, in shambles following the earthquake, with a collapsed roof and sirens blaring in the distance.
"There would be people trapped," the news outlet wrote in a translated tweet.
The quake was felt farther up the coast in Puerto Vallarta, where a visitor captured a video of their hotel room shaking and the ceiling fan clattering against the ceiling. (This video contains strong language.)
Mexican President Andrés Manuel López Obrador posted videos of himself talking to regional leaders. He said in a tweet that Claudia Sheinbaum, head of Mexico City's government, said there wasn't serious damage. The Mexican president also said there was only damage in Coalcomán, the quake's epicenter.
Jalisco Governor Enrique Alfaro said on Twitter that no serious injuries were reported. Several houses and other structures were damaged in Tolimán and beaches were evacuated in Puerto Vallarta as a precaution.