Videos Show Neo-Nazis Waving Flags, Chanting Slogans, Assaulting Driver in Florida Suburb
Videos and photos shared to social media show a gathering of neo-Nazis in a Florida suburb, where the far-right demonstrators chanted antisemitic slogans, waved Nazi flags and appeared to assault a driver who confronted them.
Twitter users began posting videos of the neo-Nazi rally after they passed by on Saturday. Daily Kos reported that the antisemitic and racist event took place about five to 10 minutes south of the University of Central Florida, within the Alafaya and Waterford Lakes region of the Orlando metro area.
"A horrific antisemitic, anti-black rally is happening right now in Orlando, FL orchestrated by white supremacist Eddie McBride and his group NSM [National Socialist Movement]," tweeted the organization StopAntisemitism.org, sharing photos of the far-right demonstration. "Why are local PD allowing this?"
The demonstrators were chanting "the Jew is the devil," "Jews rape children and drink their blood" and "Jews brought slaves here," according to AntiSemitism.org.
Twitter user DawneyNP posted a clip from the rally appearing to show a driver getting assaulted by the neo-Nazis. "My son just witnessed nazis in Orlando. He said there were dozens hanging on the corner. The guy getting assaulted got out of his car and pushed one of them," the social media user wrote.
Another StopAntisemitism.org reported that the far-right demonstrators also chanted anti-Black slogans. Another Twitter user reported that the group made "monkey noises" at a Black woman passing by.
A spokesperson for the Orange County Sheriff's Office told Newsweek in a Sunday email that they received calls about the demonstration shortly after noon on Saturday. About 20 people were demonstrating as part of the neo-Nazi group.
"The group, assembled on public property, was reported by witnesses to be wearing clothing with 'Nazi' insignia and yelling profanities and anti-Semitic slurs at vehicles passing by," the spokesperson said.
"At one point, a physical fight ensued between a passerby and several of the demonstrators. Deputies responded and the investigation is ongoing. No arrests were made and the group left the area. The Orange County Sheriff's Office deplores hate speech in any form, but people have the First Amendment right to demonstrate."
On Sunday, a similar neo-Nazi demonstration appeared to be taking place on a bridge over Interstate 4 between downtown Orlando and the Walt Disney World Resort. Scott Thuman, chief political correspondent for the Sinclair Broadcast Group, posted photos of Nazi signs hung over the highway.
"Right now: shocking display of Nazi flags and demonstrators on multiple overpasses between downtown Orlando and Disney on I-4," Thuman wrote, sharing images to Twitter. It was unclear if those Nazi banners and demonstrators were connected to the rally on Saturday.
"'Let's go Brandon' written on sign next to Nazi symbols & flag," he added in a follow-up post, including another photo. "Let's go Brandon" is a slogan adopted by critics of President Joe Biden, signifying "F*** Joe Biden."
"Openly worshipful of [historic Nazi leader Adolf] Hitler, the National Socialist Movement (NSM) is one of the more explicitly neo-Nazi groups in the United States. An Americanized and modernized neo-Nazi group, its platform calls for an all-white 'greater America' that would deny citizenship and virtually all legal protection to non-whites, Jews and the LGBTQ population. The NSM reserves the brunt of its vitriol for Jews and immigrants, espousing crudely racist and antisemitic ideology," the Anti-Defamation League's website reports.
The group has reportedly been in decline in recent years, according to the ADL. "Its core membership has fallen to one or two dozen," the international Jewish non-governmental organization based in the U.S. explains on its website.
An October 2021 report by the American Jewish Committee found that about one in four American Jews said they had been targets of antisemitism in the past year. It also found that about four in 10 of all Americans have personally witnessed antisemitic incidents.
ADL CEO and National Director Jonathan Greenblatt recently told Newsweek that the Jewish community is "very concerned" amid an uptick in antisemitic incidents reported across the country. "The sense that antisemitism is coming at Jews from all directions is part of why I think many in the community right now are really very concerned," Greenblatt said.
While less than 2 percent of the U.S. population is Jewish—according to Pew Research Center's Religious Landscape Study—anti-Jewish hate crimes accounted for nearly 60 percent of all religious-based hate crimes in 2020, FBI data shows
"Those numbers are wildly out of proportion," Greenblatt told Newsweek.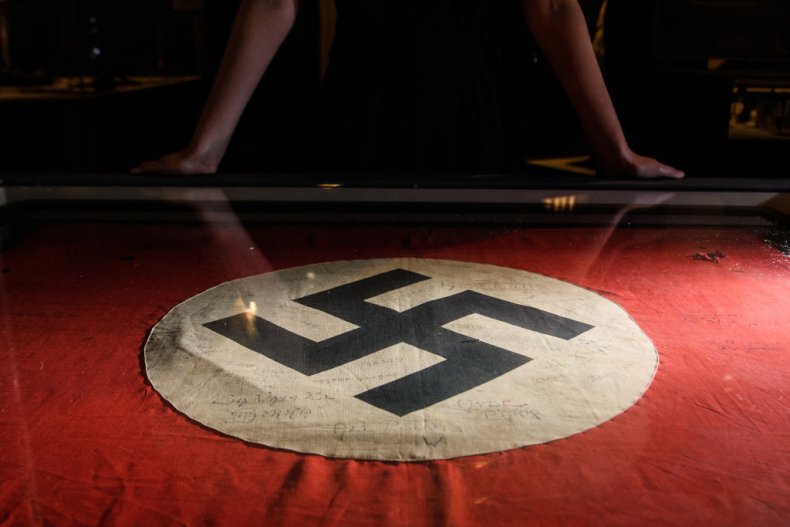 This article has been updated with comment from the Orange County Sheriff's Office.