Russian attack helicopters were filmed in the skies above Ukraine as Russia launched its anticipated attack on its neighbor.
Explosions were heard before dawn in Kyiv and other cities in Ukraine minutes after Russian President Vladimir Putin declared the start of a "special military operation" in Ukraine on Thursday.
Multiple videos on social media appear to show Russian military aircraft in Ukraine's airspace or heading towards Ukraine.
A Russian attack helicopter was seen over the Luhansk region, according to a video shared on Twitter by Thomas van Linge.
Another video on Twitter purports to show Russian attack helicopters in the Russian city of Belgorod, about 40 miles north of Ukraine's border, while another captured a Kamov Ka-50 over Armyansk in Crimea.
Meanwhile, Valerii Zaluzhnyi, the commander-in-chief of Ukraine's Armed Forces, said Ukraine had shot down five Russian aircraft and two helicopters.
In a post on Facebook, Zaluzhnyi also said two Russian tanks were damaged and several trucks were destroyed.
"There are no losses among the defenders of Ukraine," he said. "We are on our land and we will not give it up!"
It came after Ukraine's foreign minister, Dmytro Kuleba, tweeted that Putin had launched "a full-scale invasion of Ukraine."
"Peaceful Ukrainian cities are under strikes. This is a war of aggression. Ukraine will defend itself and will win," Kuleba wrote. "The world can and must stop Putin. The time to act is now."
In his televised address, Putin said that the attack was needed to protect civilians in eastern Ukraine, a false claim that the U.S. had predicted he would use as a pretext for an invasion.
He also warned other nations not to interfere. "Anyone who tries to interfere with us, or even more so, to create threats for our country and our people, must know that Russia's response will be immediate and will lead you to such consequences as you have never before experienced in your history," he said. "We are ready for any turn of events."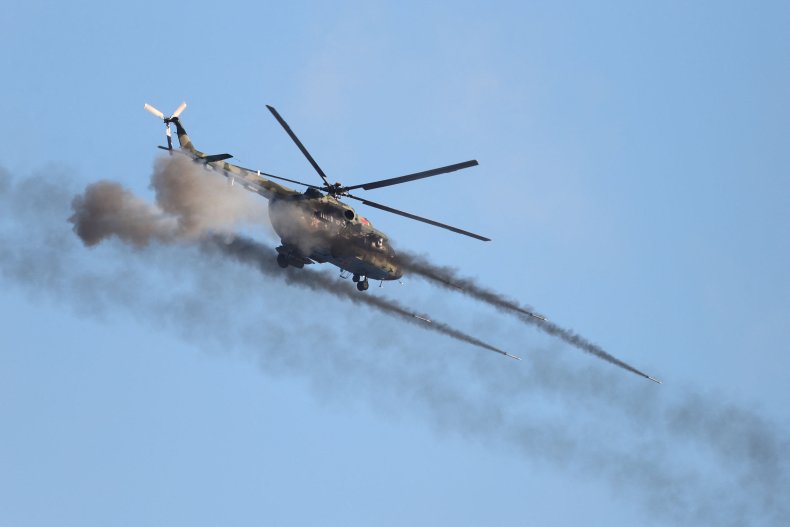 President Joe Biden condemned the attack as "unprovoked and unjustified" during a phone call with Ukrainian President Volodymyr Zelenksyy, according to a statement attributed to the president from the White House.
The president said Zelenskyy "asked me to call on the leaders of the world to speak out clearly against President Putin's flagrant aggression, and to stand with the people of Ukraine."
In an earlier statement, Biden said "the world will hold Russia accountable."
"President Putin has chosen a premeditated war that will bring a catastrophic loss of life and human suffering," he said. "Russia alone is responsible for the death and destruction this attack will bring, and the United States and its Allies and partners will respond in a united and decisive way. The world will hold Russia accountable."
He said that he would address the American people on Thursday to announce "further consequences" the U.S. and its allies would impose on Russia "for this needless act of aggression against Ukraine and global peace and security."