These Videos of Teachers Speaking to Children Remotely Show Just How Amazing They Are
Kids across the U.S. have been taught remotely since schools were closed due to lockdown restrictions, but that doesn't mean that kids have missed out on awesome teachers.
Teachers have been taking to TikTok to show how they are coping with teaching their class via video chat—and people are so impressed.
A video of TikTok teacher Mackenzie, or @kenziiewenz, was shared to Twitter and captioned: "this woman should literally be paid one million dollars a year." The video sees Mackenzie teaching math to her kindergarten class and dealing with some technical issues as a child struggles to put his microphone on.
The video has been viewed more than nine million times on TikTok and more than eight million times on Twitter. Social media is seriously impressed with how Mackenzie keeps her class engaged—and her cool when others would not.
Her high energy and over-the-top facial expressions have had people realizing how tiring teaching small kids must be, especially with the added hurdle of teaching remotely.
Mackenzie told Buzzfeed that she has to work harder to stop the kids from getting distracted: "I feel like you really have to up the ante when it comes to facial expressions and arm movements. Online, you really have to amp it up."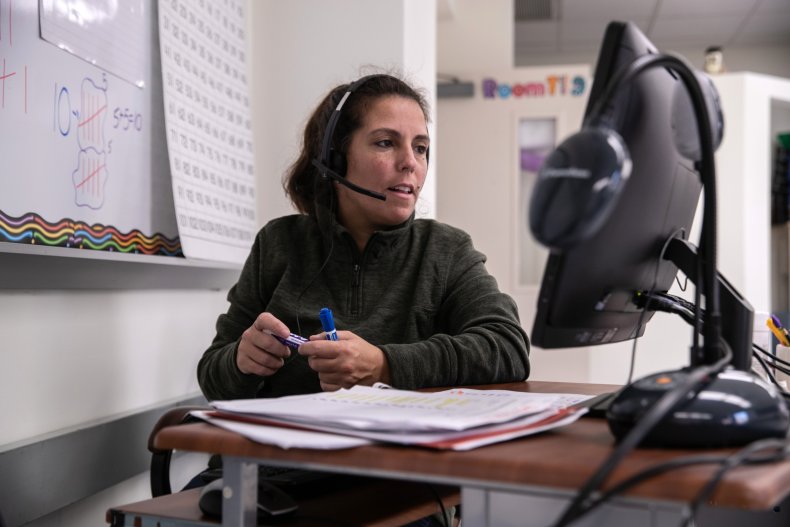 The Twitter user who originally shared the video expressed her awe at her teaching methods and said: "I've watched this 100 times. I don't think I could do this for five minutes and she does it??? every day???????"
Celebrities also reacted to the lively teacher, including Elizabeth Banks, who said: "The patience. Bless you teachers one and all," and Chrissy Teigen, who said: "I hate that kids are losing so much valuable social time out in the world but man, love teachers so much. Making it work."
YouTuber Tyler Oakley also shared the video and said: "So grateful for all of you teachers out there making this year work—I appreciate you. you are essential! You should be paid accordingly."
A Twitter user replied with a video of another TikTok teacher, Valeria Ruiz, who can be seen chatting virtually with a pupil called Miguel, as she asks him "do you have your dancing feet?" before saying she will put music on while they wait for friends.
Another Twitter user said that Ruiz: "makes her students feel loved and respected, and teachers like that deserve the world."
Aside from the distractions of learning from home, kids are also dealing with having to use computers and video chat. But one teacher is helping his pupils overcome that challenge by teaching them how to use the technology.
Teacher Michael, or @vividmichael on TikTok, filmed a video of himself teaching his class how to turn their camera and microphone on and off.
When he asks them to switch their microphones on and greet him after he counts to three, he is immediately met with a chorus of kids' voices, to which he replies: "You guys are just too excited to show me that you're technology experts, and I love it."
Teaching is clearly hard enough, without the extra stress of having to teach a classroom full of kids via a screen. Recently, teachers have even resigned or retired early over having to head back to the classroom, which could be unsafe, or, paradoxically, over the stress of remote learning.
Knowing how hard it must be to teach young kids remotely—let alone keep them engaged—it is no wonder that these inspiring TikTok teachers have the rest of us in awe.