Vietnam Deploys Military to Get Food to People Trapped in Homes by Strict COVID Lockdowns
In Vietnam the government announced Friday that it will send troops to Ho Chi Minh City to help enforce strict COVID lockdowns, as cases there spike.
In addition to overseeing the lockdown, the military will deliver food to residents stuck at home. Police were seen in the city on Friday telling residents via loudspeakers to abide by COVID regulations, and informing them that supplies would be delivered, according to Reuters.
"We are asking people to stay where you are, not to go outside. Each home, company, factory should be an anti-virus fort," said Pham Duc Hai, deputy head of the city's coronavirus authority, according to Reuters.
Prime Minister Pham Minh Chinh ordered mass testing in the city, according to the news service.
Ho Chi Minh City, Vietnam's largest metro with about 9 million residents, has been the center of the country's COVID-19 outbreak.
Until recently, Vietnam had been extremely successful in warding off the spread of the disease. Before the highly contagious Delta variant arrived this spring, the country reported fewer than 3,000 cases and 35 deaths between January 2020 and April 2021, according to the Brookings Institution.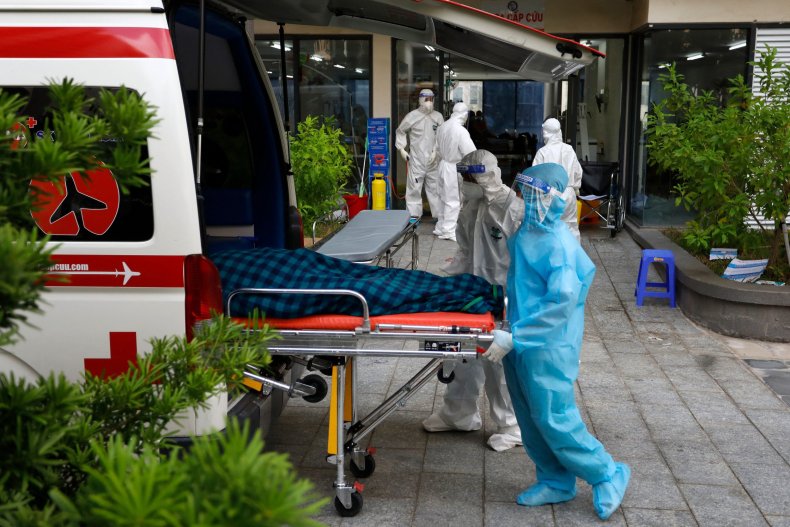 But Vietnam has now seen more than 312,000 cases and 7,150 deaths from the virus, with 80 percent of the deaths occurring in Ho Chi Minh City, Reuters reports.
In April of 2020, the Council on Foreign Relations noted Vietnam's initially successful strategy for preventing the spread of the virus, which included "tough controls on travel and on people who were potentially infected," as well as effective contact tracing.
"Its response is especially impressive, given that it is a lower middle-income country, poorer than neighbors like Indonesia and the Philippines. Those countries face expanding outbreaks and do not seem to have gotten control on domestic transmission," the organization wrote at the time.
But the more contagious Delta variant, coupled with the country's low vaccination rate, have exacerbated the spread of COVID in the country, according to the Brookings Institution.
Vietnam's vaccine rollout has been slow. Brookings wrote on August 11 that only one percent of the country's population had then been fully vaccinated.
"Vietnam has become a textbook example that, regardless of how successful their COVID-19 response strategies had been in the past, countries remain vulnerable. As the new variants will continue to mutate, COVID-19 management strategies need to be constantly reviewed and adapted accordingly," the Brookings Institution stated.
VnExpress, a Vietnamese news outlet, wrote Friday that Vietnamese officials are hoping to get the COVID-19 outbreak "under control" by September 15.