Vietnam Veteran Gives John McCain's Wife His Military Medallion
A Vietnam veteran handed his own military medallion to Cindy McCain on Monday in a show of respect for her husband, Senator John McCain, who died on Saturday at age 81.
David Carrasco had stationed himself outside the Arizona funeral home where McCain's loved ones have gathered to pay their respects to the senator, who was a decorated Vietnam prisoner of war.
Carrasco and a friend had hoped to honor McCain's family by waving a set of three flags, including an American flag, a U.S. Navy flag and a POW-themed flag, outside the funeral home, according to The Washington Post.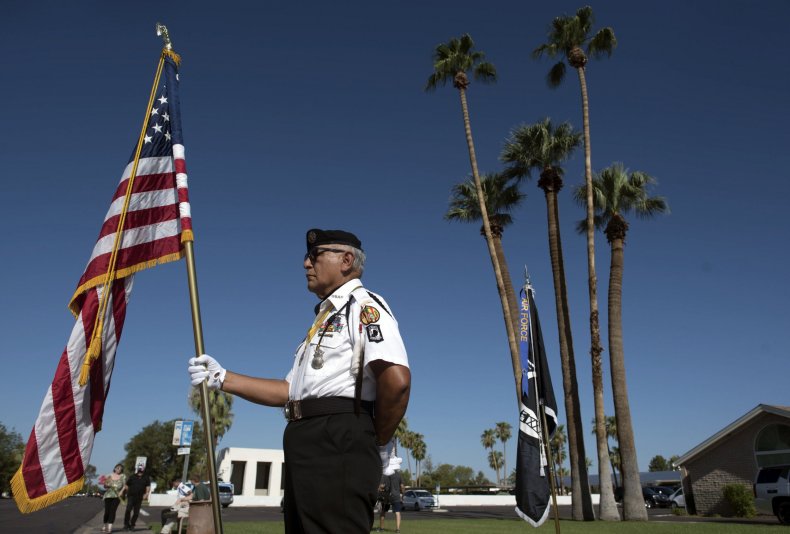 The Vietnam veteran was surprised when Cindy McCain walked right up to a crowd of well-wishers standing outside the building, including Carrasco. The only thing he said he could think to do to pay his respects was to hand her one of his own medallions.
"I gave her a medallion that was presented to me over two years ago, during Operation Freedom Bird," Carrasco told the Post, appearing to refer to an event held by Operation Freedom Bird, a non-profit aimed at helping Arizona combat veterans from all wars, including Vietnam.
"When she came out, that was the first thought that came to me," he said. "I wanted to give her something that related to her husband's service."
McCain had survived five-and-a-half years as a prisoner of war in Hanoi after the Skyhawk bomber he had been flying over the capital city on his 23rd mission during the Vietnam war was shot down on October 26, 1967.
Nearly a decade after being released on March 14, 1973, McCain was elected to U.S. Congress in 1982. In 1987, he was elected to represent Arizona as a U.S. Senator, a role he continued to serve in until his death on August 25, 2018.
The Vietnam veteran passed away in his home in Sedona, Arizona, a day after his family announced that he had discontinued treatment for brain cancer, which he had been living with for more than a year.
Carrasco said he became "emotional" when Cindy McCain walked over to him and fellow well-wishers on Monday. "I couldn't help but get somewhat emotional. I didn't think I would get emotional," he said.
The war veteran said: "To know that someone from his era was here, it probably meant a lot to her. Even though her husband isn't here, we're here."
Read more: Full schedule of events honoring Arizona Senator John McCain
The public is expected to have the opportunity to pay their respects to McCain this week in both Phoenix and in Washington, D.C., with two separate services planned to honor the U.S. senator's life.
McCain will then be buried on Sunday afternoon at the U.S. Naval Academy Cemetery in Annapolis, Maryland, beside former classmate and close friend Chuck Larson.