Vietnam's Climate Contradiction | Opinion
Last month, our colleague and fellow Goldman Environmental Prize winner, Nguy Thi Khanh, was sentenced to two years in prison in Vietnam. The charge was "tax evasion," but the likely reason was her commitment to wean Vietnam off coal and fossil fuels.
For the last 10 years, Khanh worked with national and provincial governments, as well as civil society throughout Vietnam, to reduce coal expansion plans, demonstrate the cost-effectiveness of renewable energy solutions, and raise public awareness about the link between coal plant emissions and Hanoi having some of the worst air pollution in the world. As Vietnam's economy boomed, so did its dependence on coal, which Khanh bravely spoke out against.
Unfortunately, she was arrested in January, and has been at the Hanoi Detention Center unable to communicate with her husband or three children ever since.
Although Khanh is the most internationally renowned environmental leader arrested in Vietnam in the last year, she's not the only one. Three others are in jail—also on "tax evasion" charges. One of them, public interest environmental lawyer Dang Dinh Bach, was arrested last July—two weeks after the birth of his first child—and sentenced to five years in prison. All four, perhaps not coincidentally, were members of the Vietnam Sustainable Energy Alliance, which Khanh founded.
Fear is spreading throughout Vietnam's nonprofit organizations, making them more hesitant to participate in the country's clean energy transition work.
These arrests and the intimidation now faced by environmental advocates in Vietnam contrast with the government's bold commitment at the U.N. Climate Conference (COP 26) last November to reach net-zero carbon emissions by 2050. Immediately following this announcement, several G7 governments, including the U.S., U.K, Germany, and Japan, praised the Vietnamese government's commitment and began negotiating energy transition deals. Their goal is to land on something similar to the $8.5 billion Just Energy Transition Partnership agreed with South Africa last year, and make an announcement at COP 27 in November.
As dedicated climate activists, we whole-heartedly support these negotiations, as they are crucial for slowing down the warming of our planet. Vietnam has a large and growing population of nearly 100 million people; serves increasingly as a global manufacturing hub; has soaring demand for energy with plans to double its power generation capacity by 2030, and currently still relies heavily on coal. If it can transition to clean energy, it will make a huge impact in the region and beyond.
But we are concerned about Vietnam's ability to effectively implement such a large and transformative package, plus be held accountable by civil society for billions of dollars of international finance, without the freedom of those who pioneered strategies that helped lay the ground for these ambitious goals in the first place.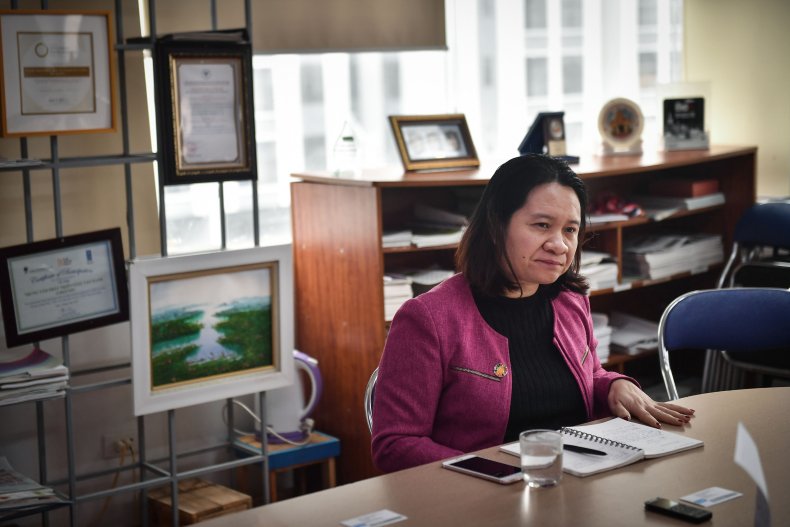 Immediately following Khanh's sentencing, the U.S. State Department said they were "deeply concerned" and called for her release, along with the "other detained environmental activists working for the benefit of Vietnam and its people." We urge other nations to join the public appeal for their release.
In addition, any nation negotiating new trade, aid, and investment packages or partnerships with the Vietnamese government must ensure that nonprofit organizations are able to continue to contribute their expertise freely and legally. U.K leaders, including COP 26 President Alok Sharma and COP 26 envoy John Murton, should ensure any negotiations around a Just Energy Transition package with Vietnam meet these same conditions.
The work Khanh has accomplished has not been easy. Prior to her arrest, she shared with us that her office had been raided by the police and that she was being followed daily. Despite the increasing pressure, she continued to use her voice for change. She used science to bolster her efforts and developed a robust network of organizations to influence key decision-makers. She took a soft approach to gain trust among decision-makers, building bridges between civil society, government and business. Khanh has dedicated her life to trying to mitigate the worst effects of global warming so that her children and children's children will not suffer the devastating impact of the climate crisis. She is a skilled and brilliant advocate who should not be behind bars.
Vietnam's clean energy future is in jeopardy as Khanh, Bach, and the other environmental advocates serve their jail sentences. The families of Khanh and Bach are appealing their sentences, but they won't succeed without international voices speaking out. Without their expertise and leadership, Vietnam will find meeting its net zero goal by 2050 challenging, to say the least. These activists must be released immediately so they can continue their vital mission of helping Vietnam transition to a coal and fossil fuel-free future. With global temperatures increasing at alarming rates, there is no time to waste.
Kimiko Hirata, Ph.D, is the executive director of Climate Integrate (Japan).
Julien Vincent is the executive director of Market Forces (Australia).
The views expressed in this article are the writers' own.