'View' Host Abby Huntsman Claims Alexandria Ocasio-Cortez Wants to Eradicate the Human Race
View host Abby Huntsman appeared to twist the words of New York Representative Alexandria Ocasio-Cortez on Tuesday, claiming the Democratic congresswoman questioned whether the human race should we eradicated in order to save the environment. Ocasio-Cortez had said it was understandable that some people wondered queried whether it was ethical to have children given the predicted impacts of climate change, yet conservative co-hosts Huntsman and Meghan McCain ran with the distorted comment.
It started when co-host Sunny Hostin cited research that reveals the younger generation is worried about the value of life their children will have based on climate change. She confirmed the politician's comments have been manipulated that she's not "crazy."
Huntsman, who has a 1-year-old daughter and is pregnant with twins, disagreed. "It does concern me that there's even a way to defend the question she's asking," she said. "There's difference in caring about our climate, which I would argue probably everyone in this room cares about the future of their kids and grandkids and the air they breathe, and asking a legitimate question about doing away with the human race."
Huntsman continued: "Last I checked… we elect politicians to come up with solutions, not to just do away with everybody. Of all the things she's said, in my opinion, this is by far the most outrageous.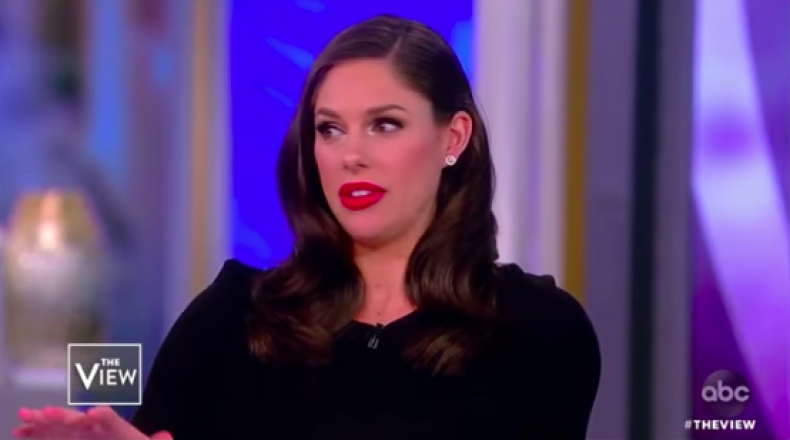 "The Democratic Party should make this their platform," she added. "They should ask that question. Good luck."
McCain agreed with Huntsman and then turned the conversation into one about abortion. "This is an example, when we're talking about people having children, and just how extreme the left has gone, this is an example of that," McCain said. "If Democrats want to win an election going forward, are you going to be the party of late-term abortion? Is this the platform you're going to have? You're talking about children and being pro-life, this is well out of the mainstream of where Americans are at."
So what really happened?
During an Instagram live over the weekend, Ocasio-Cortez talked to her 2.5 million Instagram followers about having children in the future. She cited a poll that said younger people might be so concerned with the changing environment that they opt out of having children. It's a topic discussed in Ethan Hawke's 2018 film First Reformed. Ocasio-Cortez didn't say that young people do not want to procreate, nor did she say that the future generation should not have children at all.
"There's scientific consensus that the lives of children are going to be very difficult. And it does lead young people to have a legitimate question: is it okay to still have children?" she asked.
Ocasio-Cortez has put forward the Green New Deal, which aims to get rid of America's carbon footprint within the next decade. A study published Monday estimated it would have a cost of $93 trillion.
The Democrat has challenged her naysayers to come up with a better plan. "Yup. If you don't like the #GreenNewDeal, then come up with your own ambitious, on-scale proposal to address the global climate crisis.Until then, we're in charge - and you're just shouting from the cheap seats," she tweeted Friday.