'The View's' Abby Huntsman Calls Trump's Meeting With Nancy Pelosi and Chuck Schumer 'Pathetic'
As The View's hosts weighed in on President Donald Trump's meeting with House Minority Speaker Nancy Pelosi and Senate Minority Leader Chuck Schumer during Wednesday's episode, they proved to have some not-so-nice feedback for the Republican leader. Co-Host Abby Huntsman, in particular, deemed Trump's behavior in the briefing to be "pathetic."
Huntsman was joined by fellow hosts Whoopi Goldberg, Meghan McCain, Joy Behar, and Sunny Hostin as they reviewed Trump's Tuesday meeting with Pelosi, Schumer and Vice President Mike Pence on border security. They all agreed that Trump's performance was disappointing compared to Pelosi, who they argued came out on top as she succeeded in getting the president to admit to the likelihood of a government shutdown.
"I think he also has an ego, obviously, about the fact that he's not been able to follow through with something he's promised his base. He looks at the polls and sees that a number of his base still wants that to happen even if it means shutting down the government," Huntsman said.
"The American people were the losers yesterday because it was pathetic. But I actually thought the people that came out looking better were Nancy Pelosi, particularly, because as we talked on the show, she's been put under a lot of pressure by people in her own party," she continued. "And I think she went in there, she went toe to toe with the president, she was composed and she flipped the argument back on the president by getting him to admit that he is going to shut down the government."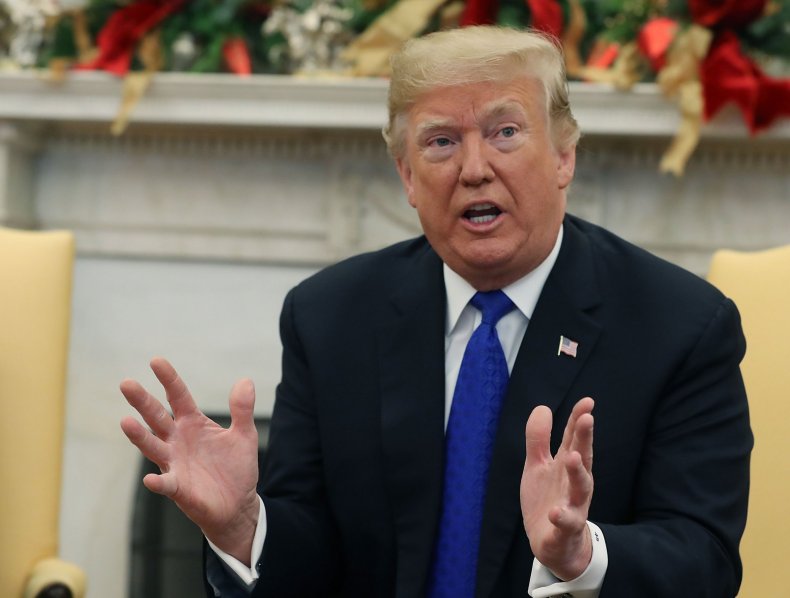 The View's panel of hosts discussed the ways in which Pelosi tried to abstain from delving into the matter further in front of members of the press who were present for the briefing. McCain, however, referred to the meeting as a "reality show" as she suggested: "If you don't have the cameras, then we are not entertained today."
During Tuesday's meeting, Pelosi began to explain why she didn't agree with the group "entering into this kind of discussion in the public view." However, Trump said "it's not bad" to do so because they were engaging in "transparency." He then flat out admitted that the government would suffer a shutdown if border security wasn't fixed.
"You know what? We need border security. That's what we're going to be talking about—border security. If we don't have border security, we'll shut down the government," he said. "This country needs border security. The wall is a part of border security. Let's have a talk. We're going to get the wall built and we've done a lot of wall already."
Pelosi countered Trump, saying the group has to "have an evidence-based conversation about what does work, what money has been spent and how effective it is." Schumer also suggested the government shouldn't shut down over Trump's desire to build a wall that borders Mexico and the United States. Trump said he's "proud to shut down the government for border security" if necessary.