'The View' Hosts Agree Trump Probably Isn't Capable Enough to be a Russian Spy: 'He Can Barely Run Our Country'
The View hosts Abby Huntsman and Meghan McCain agreed on Monday that President Donald Trump is probably not capable enough to be a Russian spy.
During ABC's The View this morning, the show's panelists expressed shock at the recent New York Times report, which revealed that the FBI launched a secret inquiry into whether Trump was an agent of Moscow shortly after he fired the bureau's former director James Comey in 2017.
"I don't think anyone has the answers right now," Huntsman said. "I was just as shocked by it. Frankly, of all the things we've talked about at this table, this is by far—I don't even have a word for it—the craziest, because we're now in this place where you either are going to have a President Trump who wins another four years. or he gets ousted from office for potentially—or for being an agent for the Russians. Like, we're just in this really strange place as a country."
Huntsman pointed out that her father, Jon Huntsman Jr., is currently Trump's ambassador to Russia and argued that he would know if the allegations were true. "Full disclosure, I'm sitting here and my dad's the ambassador to Russia," she said. "I think he would be more shocked than anybody if this were true, so there's still a lot that we don't know."
Co-host Joy Behar interrupted the exchange, suggesting her father might not have known about "covert operations," before Huntsman wondered aloud whether Trump was capable enough to be a Kremlin spy.
"Is Trump capable, though, of covert operations?" Huntsman asked.
McCain agreed Trump probably couldn't pull it off, but said she wouldn't be surprised by anything that happens this year. "That is a good point," she said. "I mean, you know, he can barely run our country, let alone—it's hard for me to think he would be this brilliant espionage spy, but I put nothing off the table anymore in 2019, because I think we're on Earth 2 and there's some parallel universe where, like, Jeb Bush is president and I'm happy and it's different."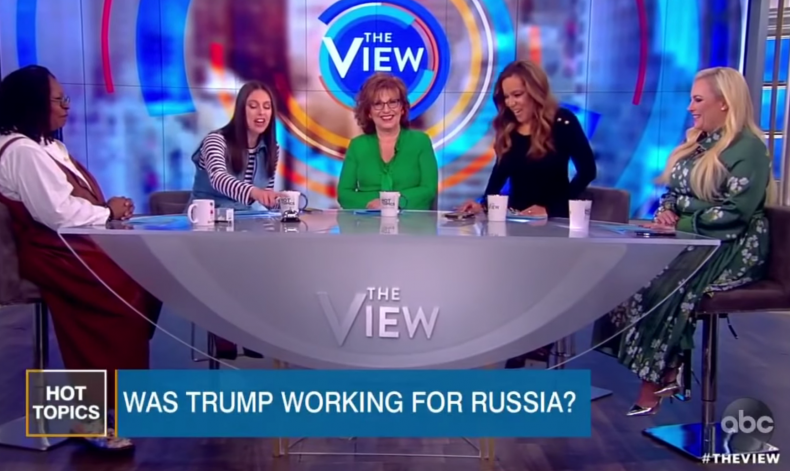 Over the weekend, the president took aim at the "failing New York Times" and the FBI for probing him "for no reason & with no proof" on Twitter, just hours after the newspaper published the article. "Wow, just learned in the Failing New York Times that the corrupt former leaders of the FBI, almost all fired or forced to leave the agency for some very bad reasons, opened up an investigation on me, for no reason & with no proof, after I fired Lyin' James Comey, a total sleaze!"
"Funny thing about James Comey. Everybody wanted him fired, Republican and Democrat alike," the president continued. "My firing of James Comey was a great day for America."
"He was a Crooked Cop… who is being totally protected by his best friend, Bob Mueller, & the 13 Angry Democrats," he added.
In a statement, White House Press Secretary Sarah Huckabee Sanders defended Trump's decision to fire Comey and slammed the Times report, calling it "absurd." "James Comey was fired because he's a disgraced partisan hack," she said, according to NBC. "Unlike President Obama, who let Russia and other foreign adversaries push America around, President Trump has actually been tough on Russia."
Watch The View segment below: