'The View's' Meghan McCain and Joy Behar Clash Over Government Shutdown: 'I Know You Want [Trump] Impeached'
Meghan McCain and Joy Behar were at odds during Thursday's episode of The View as the pair's differing opinions on how much responsibility the Democrats have in the prolonged government shutdown took center stage.
The partial shutdown, which has resulted in around 800,000 federal workers going without pay, has become a focal topic among The View co-hosts as of late. McCain, daughter of late Republican Senator John McCain, began by illustrating her appreciation for "Democrats who are taking responsibility" during the shutdown. After she cited examples of Democrats she thought were setting a good example for their party and argued the closure "makes everybody look bad," Behar countered by saying: "People disagree with you because 60 percent say Trump bares the responsibility for the shutdown."
Behar then asked the show's producers to play a clip of Trump speaking to Democratic Senate leader Chuck Schumer last month. The clip showed the president saying he would "be the one to shut it down" and he's "not going to blame" Schumer for the shutdown.
McCain grew heated by this. While the pair continued to talk over each other, McCain aimed to use this moment as an opportunity to present Behar with a question.
"I know you hate Trump, I know you want him impeached," she began as Behar continued to speak over her, "I want to ask you a question. Let's not get a cheap applause line because I would rather not be like the politicians in Congress...Maybe I can stand there and you can throw tomatoes at the Republican.
"Do Democrats, you as a Democrat—what culpability do you hold in this? Everyone is screwed right now and I just read two examples of people saying the Democrats need to get involved too," she added.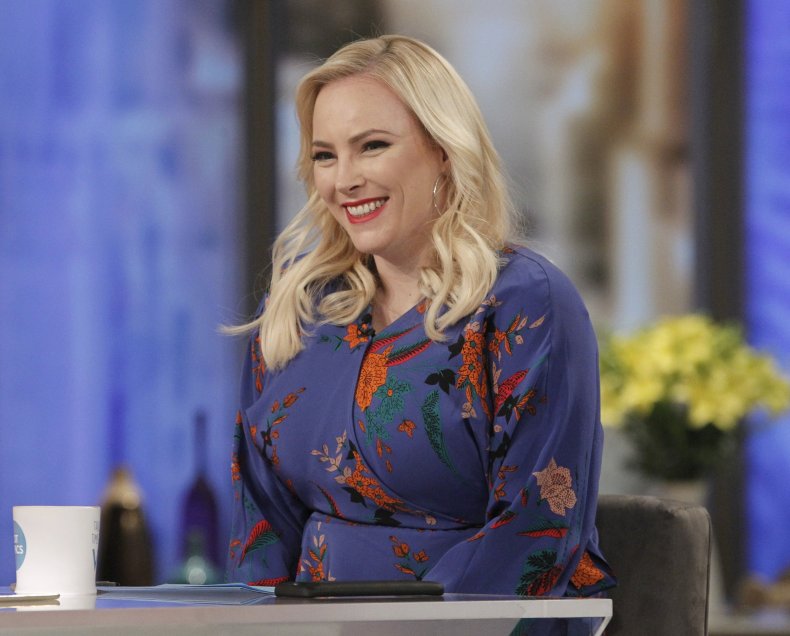 Behar, for her part, suggested that Democrats have already done plenty lot to appease Trump during the shutdown period. "I believe there are a couple of things on the table today that the Democrats have put forth. They've already thrown it in. They just don't want to build a wall," she said.
"They give him everything else," she continued. "They're giving him drones, they're giving him more people, they're giving him everything except the wall because it's immoral and it's useless—and they know it."
An unamused McCain promptly fired back at Behar. She said it was necessary for The View to be "intellectually honest" with its audience about "what is actually happening in the country and what we want to happen in the country."
"I'm well aware that every single day at this table, we want him impeached," she began, "People aren't getting paid. Both sides should be adults about this, including on this show, to get it right, and I'm sick of playing politics on this show every day with issues that affect everyone."
The partial government shutdown began on December 22 of last year. As of Thursday, it's gone on for a record-breaking 34 days. The previous record was a 21-day shutdown that occurred during Bill Clinton's presidency in 1995.
The current shutdown stemmed from Trump's desire to push for $5.7 billion in funding to fulfill his campaign promise of building a wall alongside the United States's entire southern border with Mexico.
Democrats, led by House Speaker Nancy Pelosi, have refused to give Trump any money for the wall, describing it as immoral.