Viewers Delighted by 'Diva' Cat Who 'Upstaged' Opera Singer
A cat that seemed to have begun vocalizing with his opera-singing owner delighted viewers in a now-viral TikTok video.
Posted by TikTok user @maura.music, the video amassed more than 3 million views as the feline, named Maximino, took over the solo and began mewing and chirping along to the music.
Cats are often vocal as a way to communicate with humans, according to the American Society for the Prevention of Cruelty to Animals (ASPCA).
Some of the most common reasons cats meow include greeting people, requesting food and getting attention.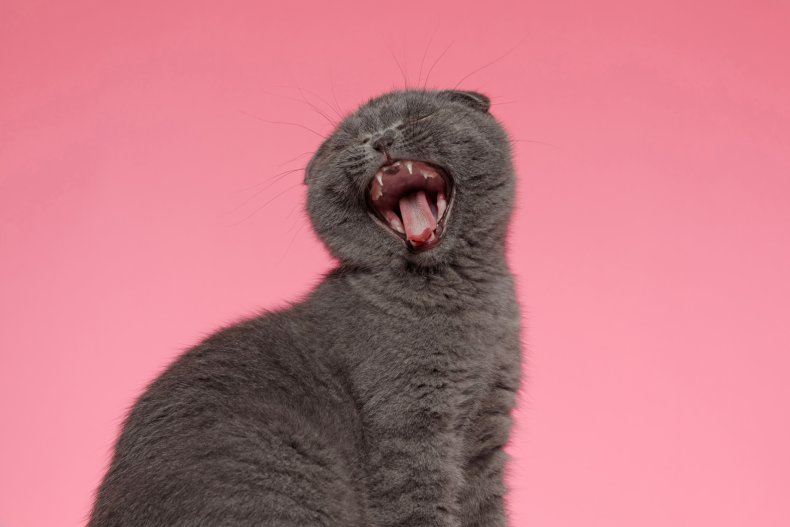 "Cats enjoy social contact with people, and some will be quite vocal in their requests for attention," the ASPCA said. "The cat may want to be stroked, played with or simply talked to."
TikTok user @maura.music was singing opera at the start of her video when Maximino suddenly walked into the frame.
She paused for a moment before Maximino seemed to pick up singing where she left off. Although @maura.music initially looked surprised, she began to laugh.
The cat continued to "sing" along to the music before he turned and stalked off camera as the video concluded.
@maura.music told Newsweek in an email that the video was taken a few years ago and sat in her camera roll before she decided to post it.
She said that Maximino is a vocal cat and frequently "screams" at her to get attention.
"He loves music, and the only way I can get him to follow me is by whistling his favorite tunes," she said.
While Maximino has shown off his singing abilities, @maura.music has experience of her own. She said she trained in classical singing for 10 years since moving from Mexico to the United States.
"The last time I sang with a legit opera company was back in 2018 when I was getting my music degree," she said. "I then transitioned to being a choir director, but I miss performing."
The impromptu solo by @maura.music's cat prompted viewers to share their appreciation in the comments section.
"How dare you try to take his solo," a viewer jokingly commented.
@maura.music replied and said her cat put her in her place.
"Straight upstaged," another viewer said.
"Such a diva," one TikTok user wrote. "He's like you can shine when I'm done...OK I'm done."
"[I don't know] what you're auditioning for, but both of you got the part," a viewer commented.
"He's really putting his little soul into it omg," another said.
TikTok user @maura.music treated viewers to a second video featuring her cat.
She set up her camera and once again began singing opera before her cat chimed in.
The video went on as the two traded verses before @maura.music could not continue because she was laughing too much.
"I can't, you guys," she said.
@maura.music said she was shocked after seeing viewers' reactions.
"I could not believe so many people were reacting and posting so many sweet comments," she said. "It made my day, and it made me happy to share smiles with others."
There is no shortage of viral cat content on social media platforms.
A photo shared on Reddit showed a cat wearing an unhappy expression. The Reddit user who posted the image said that the cat does not bite, scratch or hiss, but prefers to "judge."
One video shared on TikTok showed a cat's glum reaction upon realizing that he was taken to a pet grooming salon.
Another TikTok video went viral after it showed a cat peeking out of a window to see what was causing noise in the pet owner's garden.
Updated 8/11/22; 6:15 PM: This article has been updated with comments from the cat's owner.