Viewers Delighted by Plant That Can Be Used to Blow Bubbles in Viral Clip
Exploring a part of Fiji led a woman to learn about a plant that produces bubbles, which she captured and shared on TikTok in a now-viral video.
Peta Wheatley posted the video to her TikTok account, @petaw86 in late January where it has been viewed more than 1 million times, but the clip continued to circulate and just recently made its way to Reddit's "Interesting as f**k" forum. There, it received more than 44,000 votes.
"When you go to Fiji...find a local to show you around," the text over the video read.
The video showed a man plucking a leaf still attached to a stem from a bush. He said many children normally purchase a small bottle of soap to make bubbles.
"In Fiji, we never go to the shop," he said. "We just go straight to the bush and pick this plant."
The man snapped the stem and began blowing on it, which created small bubbles that floated around.
He picked another leaf and stem from the bush, snapped it and offered it to the man who was with Wheatley.
With a smile on his face, the man blew bubbles from the stem.
"That's fantastic," Wheatley said as all three laughed.
The man blew a few more bubbles before the video ended.
Wheatley said in the comments section that the plant they used to blow bubbles is known as Jatropha Curcas.
According to the Centre for Agriculture and Bioscience International, the origin of this plant, also referred to as J. curcas, is uncertain, but it has been introduced to various regions of the world.
Although the plant provides a moment of fun with bubbles, people who encounter the plant should be careful—it is poisonous to livestock and people if consumed.
The organization noted that it can be used to improve and conserve soil, it may serve as a host to pests and it can help control erosion.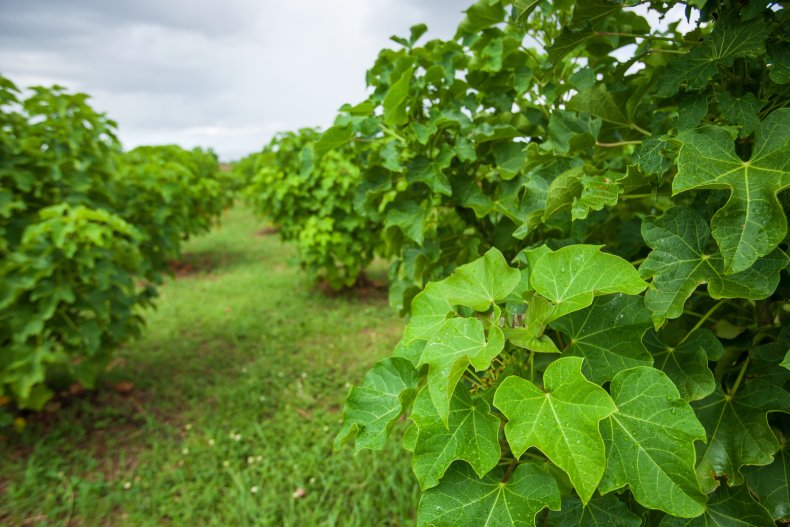 Commenters under the viral video on both TikTok and Reddit seemed to be just as amazed by the plant as Wheatley.
"The amount of joy some bubbles [brought] 3 grown adults," a viewer wrote on TikTok. "Love it."
Commented another TikTok user, "Bubbles can make any age feel young."
"Even adults are delighted by bubbles," a Reddit user wrote.
"That smile when the dude tried it," another Redditor commented. "You could tell it took him right back to childhood. It actually made me a bit happier seeing this as well."
Some commenters shared that they were familiar with the plant and recalled blowing bubbles with it as children.
"I used to do this in Nepal in my childhood," a viewer wrote under the TikTok video.
"Growing up in rural India, we also did play with this plant as kids," a Redditor shared.
Newsweek reached out to Peta Wheatley for comment.