Viewers Divided Over Mom's 'Freak Out' After Son's Dentist Mishap
Commenters are divided over a viral TikTok of an Arizona woman arguing with her son's dentist because of a cut inside his cheek.
The woman named Danitza Torres, or @glamrush_dani on TikTok, uploaded the video on May 13 and it received nearly nine million views and 24,000 comments. The video can be viewed here.
The American Academy of Pediatric Dentistry recommends children between the ages of 1-17 years visit the dentist every six months to ensure proper dental care.
But according to data from the National Center for Health Statistics, 80 percent of children received a cleaning between 2019 and 2020 compared to about 84 percent the year prior.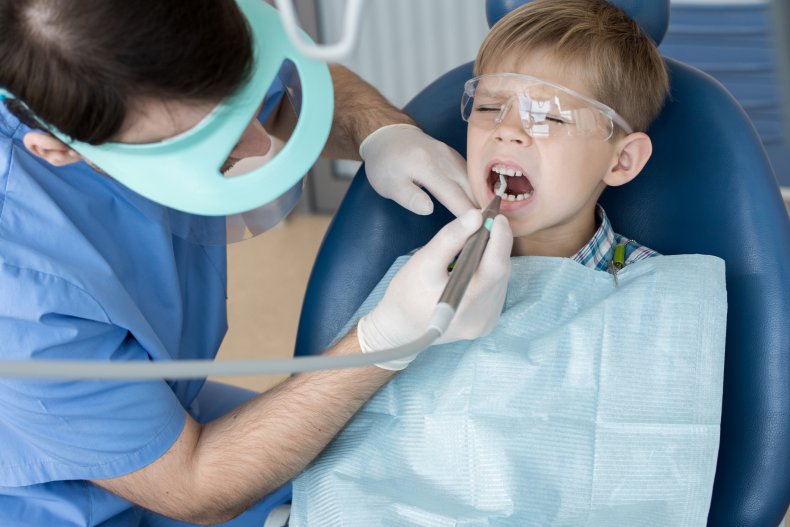 In the video captioned "always a doctor with a god complex who refuses to take responsibility and make you feel like you're overreacting smh blow this up TikTok," Torres showed her young son crying at the dentist.
She explained that she was at the dentist when she heard him cry while getting a tooth filled in the other room.
"This was the next day after asking AGAIN what happened and what we can do to avoid permanent scarring," the on-screen text read over an image of her son with a dime-sized wound on his face.
When the dentist walked in and asked what was wrong, Torres showed him the wound on her son's face.
"I don't know what you want me to do about it," the dentist replied after she asked about how it occurred and if it would scar.
He also said he's had this happen to patients "all the time" and started walking out of the room after once again being asked about scaring.
"Mom, what do you want us to do?" the dentist asked while standing in the doorway.
"I want you to make sure that nothing is going to happen to his face," she replied.
Torres then asked if an incident report could be written up and he said she could write it. As the two argued, the dentist said she was "searching for something" to be upset about.
The dentist then agreed to write up whatever she wanted and said she was "trying to get us."
"You scarred my child," she said. "He's a minor, he let out a scream yesterday, you traumatized him, and now you're acting like 'oh it's not a big deal.'"
The video ended with the dentist telling her that a long note was made in her son's record and that she could come back in a few weeks if the wound did not heal.
Nearly 24,000 users commented on the video, with many commenters feeling various opinions about Torres' interaction with the dentist.
"Raising your kid to think a little scratch is this big of a deal?" the pinned comment read. "Good luck to that child."
"I'm so glad I wasn't raised like this, nor did I raise my kids like this. The bubble that are placed on kids today is upsetting," another user wrote.
"That is the smallest mark lol she was searching," another commented.
But thousands of users also came to Torres' defense, with many saying the situation did not sit right with them.
"I would've let him go and write it up," one user wrote. "Then go to skincare then hospital just in case. Then end it with their insurance claim."
"It's not an accident it's malpractice PERIOD," another user commented.
"File a claim with their insurance!" another wrote.
Newsweek reached out to Danitza Torres and My Kidz Dentist for comment.
In March 2022, a Wisconsin dentist who made millions was convicted of purposefully breaking his patients' teeth with a drill in an insurance scam. His sentencing hearing is set for June.
Another dentist went viral after claiming they can tell if a patient is pregnant just by looking at their teeth. In the video, the dentist explained that during early pregnancy, the gums may become inflamed and more prone to bleeding.
In another viral clip, one dentist explained why it is bad to brush your teeth after breakfast.