'I Want to Go': Viewers Shocked by 'Heaven' That Is 7-Eleven in Japan
Although the convenience store 7-Eleven is common around the United States, a woman's TikTok video showing what it looks like in Tokyo, Japan, left viewers feeling envious.
Alisa, known as @tokyogirl92, posted the video—which was viewed 3 million times—and took viewers along with her to get breakfast at the convenience store.
According to data published by Statista, the first 7-Eleven opened in 1927 in Dallas, Texas. It was once known as Tote-em Stores before it changed its name in 1946 to 7-Eleven.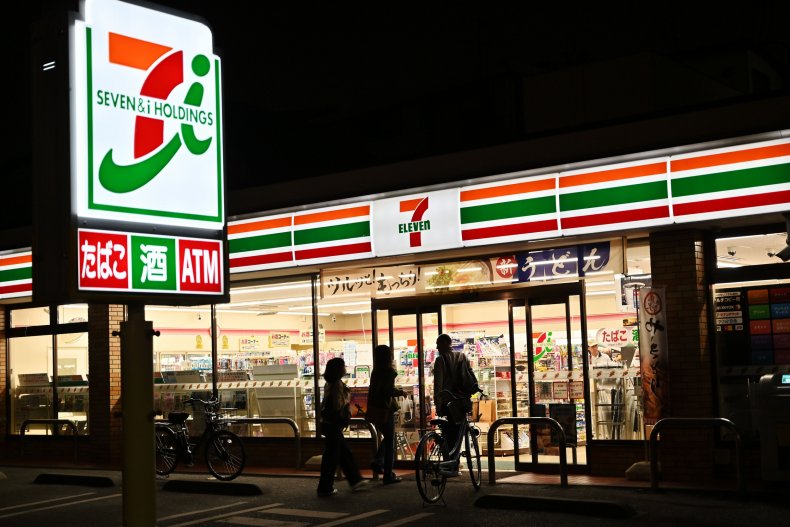 Statistica reported there were more than 70,200 7-Eleven locations around the world. Of those store locations, 20,988 are in Japan.
Alisa walked through the convenience store and showed what she could choose from.
"We have lots of options here," she said, listing off some of what the expansive shelves contained.
The store sold sandwiches, bento and refrigerated desserts in addition to what is commonly found in convenience stores, like yogurt, bread and crackers.
Alisa settled on buying a few different food items and was even able to make a smoothie at the location.
After an employee scanned her items and she paid for her food, Alisa made her way over to the store's smoothie machine.
"What's cool about this smoothie is there is a smoothie machine where you make it yourself," she said. "It was my first time doing it but it was pretty easy, and they do have instructions in Japanese and English."
Making the smoothie was as easy as peeling off the top, placing it in the machine and pressing a button.
"It's a simple concept, but I think it's really cool that you get to do it yourself," Alisa said. "These are about $2 and you know there's no artificial ingredients, so it's super healthy."
She gave the smoothie's taste and consistency her approval before concluding the video.
Alisa has previously gone viral for sharing a look into her life while living in Japan, with one of her videos showing what the inside of her refrigerator looked like.
She wrote to Newsweek that in addition to 7-Eleven locations in Japan, she has also been to some locations in Los Angeles, California.
"The biggest difference that I've noticed between the 7-Elevens in L.A. vs. Tokyo is how people perceive the stores and the frequency in which people visit and actually buy something," Alisa explained.
She said that she only went to a 7-Eleven while in Los Angeles if it was located near a gas station and she needed a drink. Otherwise, Alisa did not have the "urge" to go to a location to pick up food or drinks.
In addition to not enjoying the selection offered at the 7-Eleven locations she visited in Los Angeles, Alisa said she did not always feel safe going into one, especially alone at night.
"On the other hand in Tokyo, convenience stores like 7-Eleven are an integral part of our shopping routine," Alisa said. "I would rather go to a 7-Eleven vs. a grocery store to pick up something quick and actually enjoy the experience of shopping at a convenience store."
She said she hopes improvements may be made to American 7-Eleven locations.
While in Japan, Alisa said she goes to a convenience store at least three to five times each week. And, she said all the 7-Elevens are similar across the country, though the selection may vary in different locations.
Many viewers were impressed with what the convenience store had to offer.
"Bruh what I'd grab everything if I was there," a TikTok user declared.
"American 7/11s could never," wrote another.
One commented that watching the video made them "miss Japan."
"I wish Americans could have nice things," a comment read. "This is heaven."
"I want to go," another shared.
This was not the only video that amazed viewers.
A TikTok video showing a group of people "tailgating" the birth of a baby in a hospital parking lot went viral. Another clip went viral after a baseball team performed a TikTok dance while a player from the opposing team was up at bat.
Updated 05/10/2022, 4:42 p.m. ET: This story has been updated with comments from TikToker @tokyogirl92.