Viking Sky Passengers Discuss Rescue Mission, Cruise Ship Docks In Port After Engine Failure Left Boat Stranded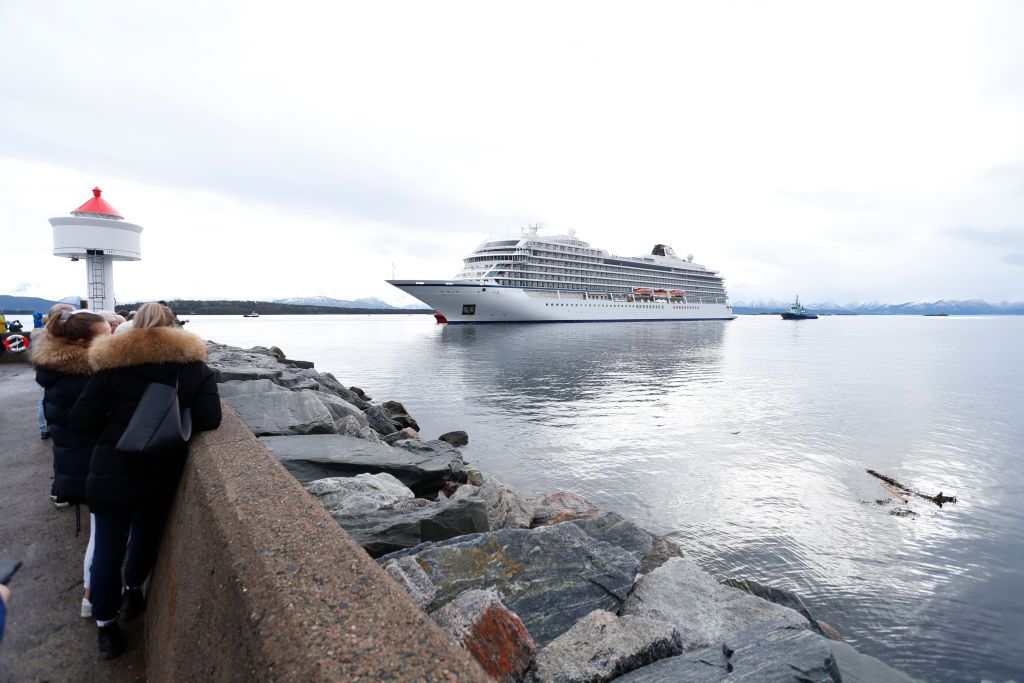 A day after two rescue missions were mounted to assist a stranded cruise ship and a cargo freighter off Norway's western coast, passengers on board the Viking Sky have told of the experience being caught in a storm that generated waves measuring up to 26-feet in height and wind gusts of up to 43 mph.
Rodney Horgen, a 62-year-old from Minnesota, told the Associated Press that his wife was swept away from him as a wave broke the cruise ship's glass door and flooded the room they were in with water.
"When the windows and door flew open and the 2 meters (6 feet) of water swept people and tables 20 to 30 feet that was the breaker. I said to myself, 'This is it.' I grabbed my wife but I couldn't hold on. And she was thrown across the room. And then she got thrown back again by the wave coming back," Horgen said.
Horgen, who said he has spent many years fishing, said he "did not have a lot of hope."
Newsweek subscription offers >
"I knew how cold that water was and where we were and the waves and everything. You would not last very long. That was very, very frightening," he told the AP.
Horgen was one of approximately 479 passengers airlifted from the deck of the ship when the swells proved too dangerous for smaller vessels to reach the luxury liner. One by one, passengers were lifted by a wire into waiting helicopters that carried them to shore.
Many of the passengers were evacuated in the overnight hours, surrounded by high winds and pitch black, the AP said.
Two of the five helicopters used in the rescue mission were briefly rerouted to rescue a crew of nine when a cargo freighter also sent a distress call after engine failure. All were safely carried to land.
Newsweek subscription offers >
"Everything was breaking, furniture, glassware. The closet doors were banging back and forth. When we got the signal to evacuate, there was no time to think about getting important things like passports," passenger Susan Dollberg of Novato, Calif. told Norweigan broadcaster NKR, The New York Times reported.
Dollberg told NKR that she and her husband, Allen Dollberg, had friends who remained on the ship overnight. "The crew, the Norwegian people and the rescue operation have been stellar," Dollberg said.
Photos posted to social media on Saturday captured hundreds of passengers waiting for rescue while wearing orange life vests while others displayed damage to the ship from the storm. Videos shared to Twitter showed furniture and other items sliding across rooms as the ship swayed, making it difficult for passengers and crew to remain upright.
In a video filmed by California author Alexus Sheppard, ceiling tiles fell from the roof and struck at least one passenger. Sheppard told the AP that individuals with disabilities or injuries were evacuated from the ship first.
"It was frightening at first. And when the general alarm sounded it became VERY real," Sheppard told the AP in a text.
A spokesman for Viking Cruises, the company which owns Viking Sky, told the Times that 20 people were injured in the hours the ship was stranded. A separate statement from the Red Cross indicated that many of the injuries were cuts, bruises and broken bones and that all the injured individuals were being treated at a local hospital.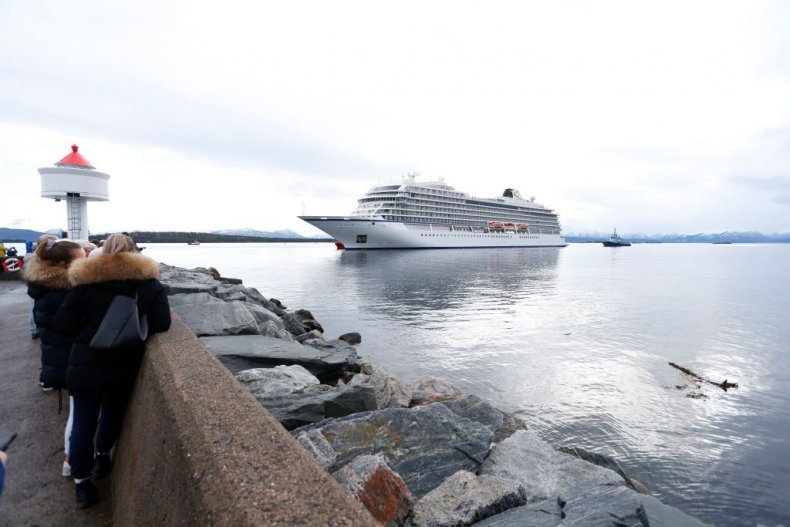 The ship became stranded on Saturday afternoon after suffering engine failure. It is unknown what caused the engines to stop working while in the waters of Norway's Hustadvika Bay. According to Reuters, Police Chief Hans Vik told Norway tv station TV2 that the ship drifted as close as 300 feet to shore before crews were able to restore engine power.
"If they had run aground we would have faced a major disaster," Vik said.
By Sunday afternoon all four engines had been restored and the ship, accompanied by tugboats, docked in the village of Molde. When the ship docked 436 passengers and 458 crew members were still on board.
Torstein Hagen, the chairman of Viking Cruises, called the event "among the worst I've ever experienced," the Times reported.
"But as it seems to all end well, I've got to say we have been lucky. We keep doing the best we can," Hagen said. He added that all passengers would be given a full refund. "They will also have a letter from me, and be invited back again," he said.
Viking Cruises said arrangements were being made to return passengers to their home countries. The company has also canceled its next cruise, scheduled to leave on March 27. The company's statement said they did not expect to have any additional cancellations.
Viking Sky Passengers Discuss Rescue Mission, Cruise Ship Docks In Port After Engine Failure Left Boat Stranded | World