Paul Allen had his viral moment Sunday, and he feels terrible about it.
The Minnesota Vikings radio broadcaster expressed remorse for his missed call on the team's last-second field goal that went viral after Minnesota's 34-33 loss to the Arizona Cardinals.
Allen initially called Greg Joseph's 37-yard attempt good before realizing the kick sailed wide right. The kick would have won the game yet sent Minnesota to 0-2.
"It is GOOD!" Allen called. "No he missed it! He missed it right!"
The call spread broadly online as fans could not believe the veteran broadcaster's gaffe. Allen, who has called Vikings games on KFAN since 2002, expressed disappointment in his mistake and explained how it happened shortly after Minnesota's loss.
Minnesota built a 20-7 first-half advantage in Arizona, but the wild game featured seven lead changes—four of which came in the second half—and the Cardinals took the lead for good on Matt Prater's 27-yard kick with 4:25 left.
Trailing by one with 2:07 left, Minnesota moved the ball 58 yards on nine plays to set up Joseph's game-winning attempt. Joseph was 2 for 3 on field goals Sunday, including a pair of 52-yarders the latter of which gave Minnesota a 33-31 advantage late in the third quarter, but his miss at the buzzer was his second botched kick of the day, including a missed extra point that ultimately was the difference.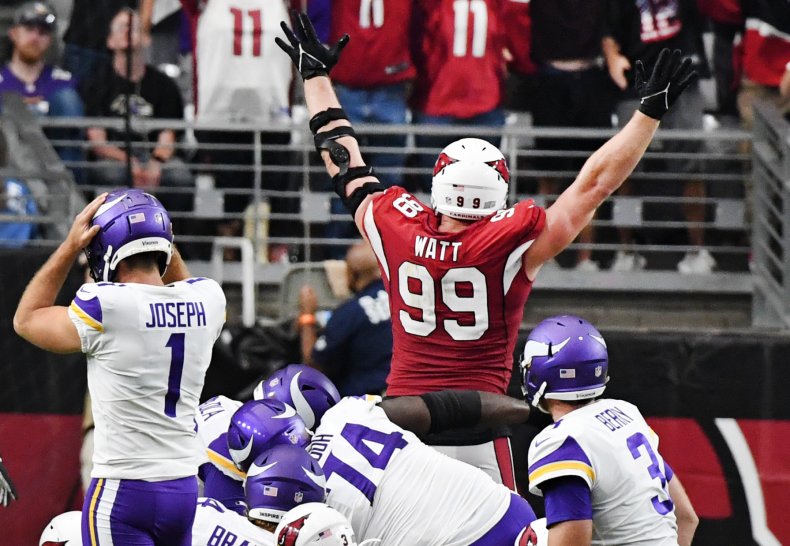 "He hit two 52-yarders earlier," Vikings coach Mike Zimmer said after the game. "I felt good about that kick. I know he missed the extra point earlier. He's been kicking good. It's indoors. It's a perfect surface. I'm thinking 'this should be an easy one.'"
Zimmer was asked about whether Joseph would be cut over his tough day, and the coach was noncommittal.
"He's just got to continue to try to be more consistent," Zimmer said. "I don't think you make decisions on personnel after a guy misses a kick."
Minnesota fell to 0-2, with each loss decided by a last-second kick. The Vikings rallied from down 10 points in the fourth quarter to force overtime, ironically tying the game on Joseph's 53-yard made field goal as time expired in the fourth quarter in Cincinnati in Week 1. Yet, Dalvin Cook's late fumble led to Bengals kicker Evan McPherson's 33-yard field goal as time expired.
"We still had a chance to win," Vikings coach Mike Zimmer said Sunday. "We're probably two plays from being 2-0."
But Zimmer's optimism doesn't change the fact the Vikings have dropped their first two games for the second straight season. The frustration is boiling over for Vikings fans, who watched kicker Dan Bailey miss six extra points and post the lowest field goal percentage of any kicker with more than 20 attempts in 2020, and Allen can feel it too.
Allen was good-natured, albeit still upset, about the gaffe while talking about it on his daily radio show Monday.
"I went to [Vikings team] operations after the game and said 'I'd like to sit next to Greg Joseph on the flight [back to Minnesota] so we could be one puddle of sorrow together,'" Allen said on KFAN. "He goes 53, 52, 52, miss, and I blow a game-winning call. It would've been one of the great conversations ... two martyrs potentially could've had. Just a big puddle of sorrow in Row 23."
Uncommon Knowledge
Newsweek is committed to challenging conventional wisdom and finding connections in the search for common ground.
Newsweek is committed to challenging conventional wisdom and finding connections in the search for common ground.