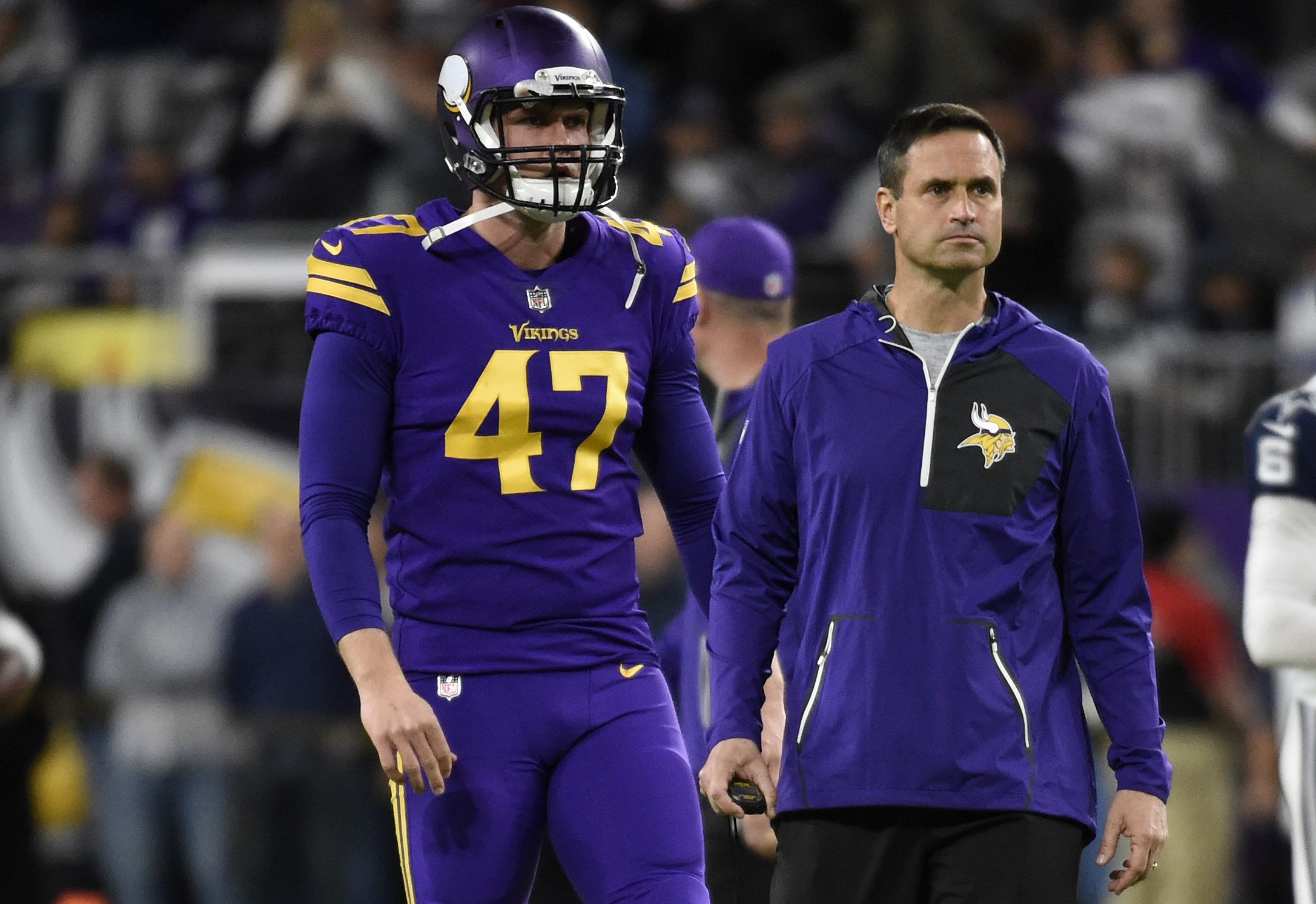 Minnesota Vikings long snapper Kevin McDermott will want to forget Thursday night's game against the Los Angeles Rams in a hurry and not simply because the Vikings suffered a second consecutive defeat.
The 28-year-old suffered a freakish incident as his pinky finger got stuck in another player's face mask and part of it was ripped off.
Replays of the incident showed that McDermott's hand appeared to get caught between Rams defensive tackle Michael Brockers and the helmet of Vikings offensive lineman Tom Compton.
Almost immediately after the impact, the Vikings long snapper grabbed his hand and jogged off the field to get assessed by his team's medical staff.
One can only presume the normal reaction when losing part of a finger would be to walk away from the game or from whenever activity one might be undertaking but McDermott had other ideas.
The UCLA product made his way to the locker room, got it quickly stitched up and returned to the field like nothing happened. McDermott isn't the first football player to suffer a freakish injury to one of his fingers. In 1985, Ronnie Lott, then playing for the San Francisco 49ers, broke his left pinky finger in a game and had to have part of it amputated as a result.
Five years ago, Arizona Cardinals safety Reshad Johnson also lost part of a finger during a game.
While McDermott's commitment to the cause was nothing short of commendable, it was not enough to prevent his team from losing a second game in a row, when it was beaten 38-31 by the unbeaten Rams in Los Angeles.
Rams' quarterback Jared Goff threw for a career-high 465 yards and five touchdowns, completing 26 of his 33 attempted passes as the Rams moved to 4-0.
"It felt pretty good all night," Goff told reporters after the game, as per ESPN. "We're really clicking right now, and I feel good about where we're at."
The second of Goff's five touchdown passes was a 70-yard throw for Cooper Kupp, which was both the third-longest touchdown pass in Goff's career and the longest reception Kupp has recorded since entering the NFL in last year's draft.
"I was fired up about that one because that was one we kind of had tweaked with during the week," Goff explained.
"And it came out again—kind of just how we pictured it and wanted it to."
The Rams face the Seahawks on the road next week, while the Vikings will hope to break a two-game losing streak in Philadelphia against the defending Super Bowl champions.
About the writer
Dan Cancian is currently a reporter for Newsweek based in London, England. Prior to joining Newsweek in January 2018, he was a news and business reporter at International Business Times UK. Dan has also written for The Guardian and The Observer.