'Vikings' Season 6 New Cast: Who Stars in the Final Season of the Show?
Vikings Season 6 will see Ivar (Alex Hogh Andersen) flee from Kattegat all the way to Russia, meaning that the show will get a whole host of new cast members, led by Prince Oleg (played by Danila Kozlovsky). If speculation is to be believed, this court could also feature a familiar face, with Alicia Agneson due to play a new role after her character Freydis' death.
Who is in the cast of Vikings Season 6?
Oleg — Danila Kozlovsky
At the end of Vikings Season 5, Ivar fled form Kattegat, and it seems that in Season 6 he will finally get his just desserts after he finds himself at the mercy of another brutal ruler, Prince Oleg, played by Hardcore Henry star Danila Kozlovsky.
In real life, Prince Oleg was a ruler in the area now known as Russia, suggesting Vikings will go further east than ever before in its new season.
Erik — Eric Johnson
Per Deadline, The Knick's Eric Johnson will play Erik, who they describe as "a formidable warrior who is an outlaw living on his wits and martial skills."
Ingrid — Lucy Martin
According to the Instagram of Lucy Martin (last seen in Riviera), her new character Ingrid could be a new romantic interest for Bjorn. In a series of posts, we see her talking to the new king of Kattegat, with the two a very intimate distance away from one another.
Ganbaatar — Andrei Claude
Speaking to CheatSheet, Andrei Claude described his character as "the captain of the Rus Vikings' army and also Prince Oleg's right-hand man." Speaking to the website about what will happen in the Russian plot, Claude said: "Ivar will be traveling to the land which is now known as Russia, where he will meet Prince Oleg who tries to form an alliance with him to take over Scandinavia."
Claude has previously appeared in films like 13 Hours and Mariah: The Diva, The Demons, The Drama, as well as playing parts in episodes of Game of Thrones and Medici.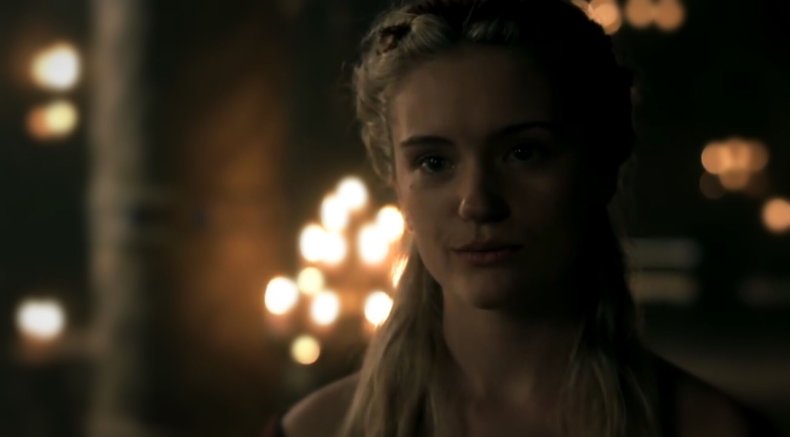 ??? — Alicia Agneson
Though her character Freydis was strangled by Ivar in the previous season of Vikings, actress Alicia Agneson looks set to return for the final season as a new character. Though we do know who that will be, the actress has confirmed she is playing a Russian princess, with shots from the set showing her in a costume typical of the region.
Though who she is playing is unconfirmed, Agneson is believed to be portraying Olga of Kiev, the wife of Prince Igor, the nephew of Oleg.
Prince Dir — Lenn Kudrjawizki
Another relative of Oleg will be his brother Prince Dir, portrayed by The Transporter Refueled and Jack Ryan: Shadow Recruit star Lenn Kudrjawizki.
Eira — Kathy Monahan
According to her agent's website, the Dublin Murders actress is due to play Lagertha's shield maiden in the new season of Vikings.
Vikings Season 6 airs Wednesdays on History.