'Vikings' Season 6, Episode 3 Preview: Lagertha and Bjorn Get Ready for War
Vikings Season 6, Episode 3 will air on History December 11, with the episode titled "Ghosts, Gods and Running Dogs" coming internationally to Amazon Prime Video the following day. After the two-part season opener saw Ivar (played by Alex Hogh Anderson) head to Russia and begin to plan a reinvasion of Kattegat with the help of new ally Prince Oleg (Danila Kozlovsky), Episode 3 will show Lagertha (Katheryn Winnick) and Bjorn (Alexander Ludwig) prepare for that battle⁠—but first they have a problem closer to home.
The official History synopsis for Vikings Season 6, Episode 3 reads: "Lagertha is forced to take action; In Kiev, although Oleg continues to be friendly, Ivar is aware of the threat which Oleg poses to the vulnerable young heir to the throne; Bjorn has answered the call and come to the aid of an old enemy."
In the premiere, fans saw Bjorn trying to decide whether he should free Harald Finehair (Peter Franken), who is currently being kept locked up by Olaf (Steven Berkoff). It seems in Episode 3 he has finally made up his mind to do something.
This, however, may end badly for Bjorn if the trailer and interviews with Vikings creator Michael Hirst are anything to go by. In an interview with TV Guide, Hirst said of the early episodes of Season 6: He's [Bjorn] immediately faced with least one, if not two, very significant decisions to make, which are sort of almost lose-lose decisions. ... And you can't escape from those decisions.
"And the two big decisions that he makes in, really, the first few days of his kingship are incredibly crucial decisions. And it would be fair to say they don't necessarily work out the way he anticipated. So he is plunged into political realities and he's got to learn to swim very quickly or he'll sink."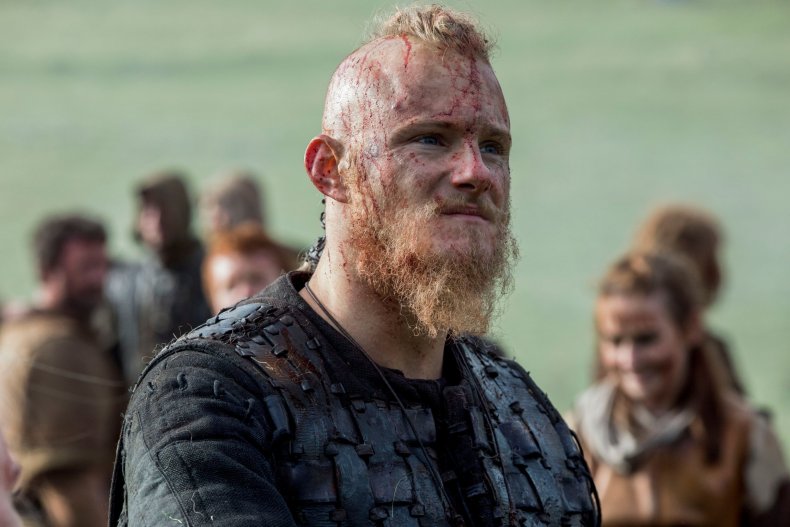 This is a particularly interesting choice of word as the trailer for Season 6, Episode 3 literally shows his army sinking into a body of water where Olaf has trapped his army in a ring of fire and is killing them off with his archers. In this trailer, we hear Olaf say "broken heads, spilled guts, scorched flesh among a sea of corpses," suggesting Bjorn's attack goes very badly indeed.
It is good news, then, that the episode does not see Ivar and Oleg ready to attack Kattegat. In fact, Anderson has suggested that in spending time with Oleg, Ivar starts to change as a person as he sees his prior misdeeds reflected back at him. The actor told CarterMatt: "[It's] when he arrives in Russia and he gets to know Prince Oleg that he will experience a mirror of himself. He will see himself and all the stuff that he's done, but from the outside looking in rather than in the middle of the storm.
"When you are in the heat of the whole thing, you can forget to see things from a different perspective; now, he's in a whole new country and with no power whatsoever. His life is in the hands of another dude and he's had some time to reflect."
What that means for "Ghosts, Gods and Running Dogs," however, fans will find out on December 11.
Vikings Season 6, Episode 3 airs Wednesday, December 11 at 10 p.m. ET on History