'Vikings: Valhalla' Release Date, Cast, Trailer, Plot—All We Know About the 'Vikings' Spin-Off
More than a year has passed since HISTORY's and Amazon Prime's historical drama series Vikings concluded and thankfully, the eagerly anticipated spin-off, Vikings: Valhalla is coming to Netflix very soon.
The spin-off, exclusively produced by Michael Hirst—the mastermind behind the original Vikings—is set in the 11th century, over 100 years after the original show concluded, and will follow the heroic adventures of some of the most famous Vikings who ever lived.
Newsweek has everything you need to know about Vikings: Valhalla including release date, cast, trailer, plot, and more.
When Is Vikings: Valhalla Out on Netflix?
The wait for Vikings: Valhalla is almost over. The eight-part series is set to premiere on Friday, February 25 on Netflix worldwide.
All eight episodes will drop on the streaming platform so fans can binge the entire series in one go at their leisure.
To watch Vikings: Valhalla, you can subscribe to Netflix now for $9.99.
In the meantime, all six seasons of Vikings are available to stream via Amazon Prime Video and HISTORY now.
What Is Vikings: Valhalla About?
Vikings: Valhalla will take place in the 11th century and will follow the adventures of legendary Viking explorer Leif Erikson (played by Sam Corlett) and his sister Freydis Eriksdotter (Frida Gustavsson).
The real Leif and Freydis are believed to be been the children of the famous Erik the Red, who appeared in the original Vikings series. He was played by Canadian actor Eric Johnson.
Just like the original series, the series will have its base in Kattegat, the home of Ragnar Lothbrok (Travis Fimmel) and his sons.
Vikings: Valhalla will also chart the rule of ambitious Nordic prince Harald Sigurdsson (Leo Suter) and his rivalry with the English royals.
In particular, the series will focus on the Vikings in England, as tensions rise over their Christian and pagan beliefs.
The official synopsis teases: "As tensions between the Vikings and the English royals reach a bloody breaking point, and as the Vikings themselves clash over their conflicting Christian and pagan beliefs, these three Vikings begin an epic journey that will take them across oceans and through battlefields, from Kattegat to England and beyond, as they fight for survival and glory."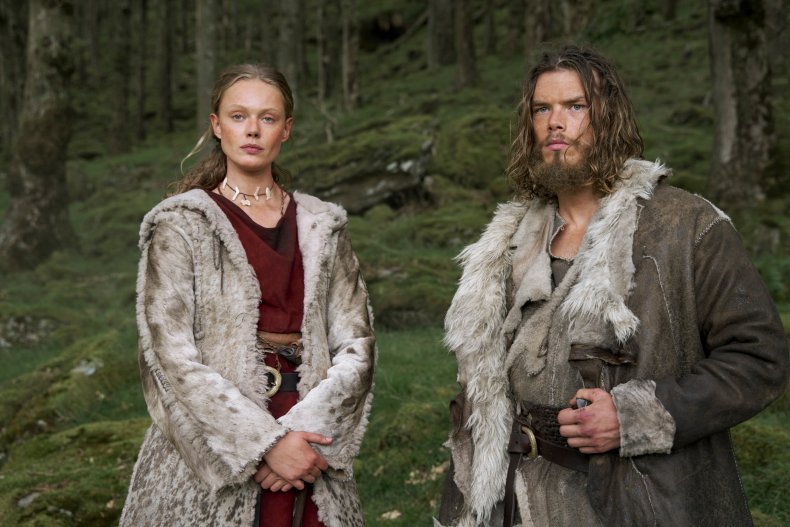 Who Is In The Cast of Vikings: Valhalla?
Chilling Adventures of Sabrina star Sam Corlett takes on the role of legendary Norse explorer Leif Erikson.
Leif Erikson was an Icelandic Norse explorer and is thought to have been the first European to set foot in continental America.
Swedish model and actress Fredia Gustavvson stars as Leif's sister, Freydis Eriksdotter in Vikings: Valhalla.
Victoria's Leo Suter takes on the role of Harald Sigurdsson, who was the real King of Norway between 1046 to 1066.
The Letter for the King's Jóhannes Jóhannesson stars as Olaf Haraldson, Harald's older brother, and Keeping Faith's Bradley Freegard plays King Canute, the King of Denmark and a ruthless Viking leader.
German actress Laura Berlin plays the role of Emma of Normandy and The White Queen's David Oakes is Earl Godwin, the Chief counselor to the King of England.
Also starring in Vikings: Valhalla is Caroline Henderson as Jarl Haakon, Louis Davison as Prince Edmund, Bosco Hogan as King Aethelred II, Soren Pilmark as King Sqeyn Forkbeard, Pollyanna McIntosh as Queen Aelfgifu and Asbjørn Krogh Nissen as Jarl Kare.
Unfortunately, it seems unlikely any of the cast from the original series will make an appearance.
However, Vikings creator Michael Hirst has been known to bring characters back in dream sequences, so there is a possibility some familiar faces could feature at some point.
Is There A Trailer For Vikings: Valhalla?
Yes, there is a gripping new trailer for Vikings: Valhalla.
The trailer begins with the Vikings at sea during a terrible storm. There is no indication of where they are going, but it is fair to assume they are heading straight for England.
However, it looks like the English will not be backing down and will fight against another Viking invasion.
Along the way, audiences are introduced to Viking legends Leif Erikson, King Canute and Freydis, who look set to steal the show.
The trailer then flashes through numerous battle scenes and plenty of bloodshed and it looks like the spin-off is sure to give the original series a run for its money in terms of battlefield action.
Vikings: Valhalla premieres Friday, February 25 on Netflix