Vikings vs. Saints: How Case Keenum and Stefon Diggs Pulled Off a 'Minnesota Miracle' to Win the NFC Divisional Playoff
It was one of the most thrilling finishes to a playoff game in memory.
With ten seconds left on the clock and the Minnesota Vikings trailing the New Orleans Saints by a point, with a third-and-ten on his own 39-yard line, Case Keenum could have been forgiven for thinking his storybook season was about to end with what-might-have-beens.
Looking for the sideline to stop the clock—the Vikings had one timeout left—Keenum took a shot downfield. It wasn't the best pass he will ever throw, or even his best of the night, but it was one that the situation demanded—a great, spiralling heave into multiple kinds of coverage that somehow found a leaping Stefon Diggs around the Saints' 44-yard line.
Even that wouldn't or shouldn't have been enough had Marcus Williams, the Saints' rookie free safety, tackled Diggs inbound allowing time to expire. New Orleans would have advanced to the NFC Championship game against the Eagles at Lincoln Financial Field next Sunday. Keenum and the Vikings would have missed out on the chance to play a Super Bowl in their home stadium.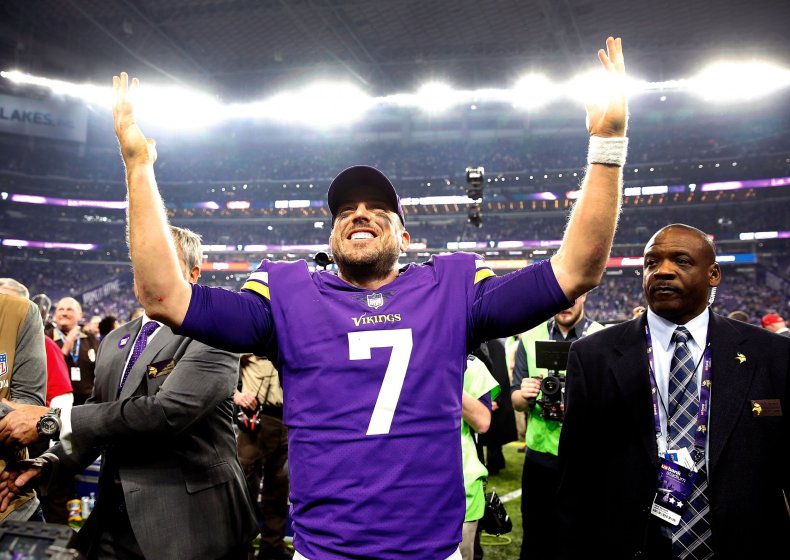 Instead, the course of NFL history changed when Williams ducked his head and allowed Diggs to escape down the sideline for an improbable 61-yard walkoff touchdown. NFL.com, via Fox Sports, had the best look at the play from the Saints endzone.
"All he's [Williams] got to do is make a play," Troy Aikman said on the Fox Sports replay as he rewatched Williams crashing into another Saints defender.
It was a farcical end for the Saints to a game in which they had trailed early, before storming back via the arm of Drew Brees. Brees wasn't perfect, throwing two interceptions to go with his two touchdowns, but he made plays at crucial times to compensate for the Saints' blunted running game. That was before Keenum, and Diggs, ended the contest with an exclamation point.
"Keenum did something with the ball they'll remember forever in these parts, whether he's the Vikings' quarterback next fall or not", Ian O'Connor wrote for ESPN. "In the huddle, he called the play known as "Seven Heaven," and then he told his receivers: "I'm going to give somebody a chance.""
As with all last-gasp miracle plays, there was as much chance as planning involved in Keenum's heave to Diggs. If Williams had just grabbed hold of the wide receiver, the Vikings would be spending next weekend on holiday. In the real world, they head to Philadelphia on Sunday for a chance to meet the Patriots or Jaguars in the Super Bowl. Such are the thrillingly fine lines of elite sport.