Viktor Orbán: How One Man's Will to Power Created 'Führer Democracy' in Hungary
Before Sándor Márai left Budapest in 1948, the author and journalist said that one of the biggest threats to his nation was loneliness: Invaded and occupied by everyone from the Mongols to the Turks to the Soviets and isolated by its unique and impenetrable language, the Hungarian learned that "there wasn't a people in Europe to whom he could speak in confidence [...] there was no one, near or far, he could count on."
Márai, who went into exile first in Switzerland and then the U.S. as Soviet-backed Hungarian communists took power at the end of World War II, warned: "[It] poses a great danger [...] of turning karstic, of erosive marcescence that threatens everyone—the individual and the people."
Hungarian author and journalist Paul Lendvai was also exiled from his native Hungary, a year after Soviet tanks crushed the country's short-lived pro-democracy uprising in 1956, and echoes Márai in his own memoir, Blacklisted: "The Magyars [Hungarians] are among the great losers of European history," he writes. "With the possible exception of the Albanians, they are the loneliest nation of Europe."
Born in 1929 into a Jewish-Hungarian family, Lendvai lived through World War II, survived the German occupation, Holocaust and experienced first-hand his country's slide into Soviet dictatorship after its liberation by the Red Army in 1945. As such, there can be few authors more qualified to document Hungary's current descent from democracy to authoritarianism—and its chief protagonist, Viktor Orbán.
In his latest book, Orbán: Europe's New Strongman, Lendvai explains how Orbán, who began his political life as an anti-Communist democrat, used an ideology of aggressive nationalism to turn a left-wing student movement—Alliance of Young Democrats (Fidesz)—into a right wing populist party in a litle under a decade.
In 1998, Fidesz would win elections and make its 35-year-old leader the youngest in Hungary's history. Orbán would lose power in 2002 to a liberal coalition government, but a catalogue of dramatic political and economic events—including the 2007-08 financial crisis and the spectacular downfall of Hungarian Prime Minister Ferenc Gyurcsány—would enable Fidesz to make a spectacular comeback in 2010, seizing a two-thirds majority in parliament that it retained when re-elected in 2014.
It was this majority, Lendvai states, that allowed Orbán to change the Hungarian constitution and systematically dismantle democratic institutions—including the constitutional court and the civil service—that challenged his power. Through both legislation and a network of rich and powerful friends, Orbán has crushed the free press, creating what Lendvai brands "Hungary's Fuhrer Democracy."
"After seven continuous years of Fidesz rule and in light of all opinion polls, even Viktor Orbán's fiercest critics concede that at the age of fifty-three his position appears impregnable. His unlimited personal power is virtually unchallenged within Hungary, nor is it under threat from the EU," he writes.
Lendvai traces Orbán back to his family roots in rural Hungary and through his education in Budapest and briefly at Pembroke College, Oxford, in 1989, on a scholarship paid for by George Soros' Open Society Foundation. A year before he left, Orbán and 36 other students founded Fidesz as an independent youth organization, a bold move in a country still ruled by the Communist regime of János Kádár.
With the fall of the Berlin Wall and the opening up of Hungary in 1989, Orbán abandoned his studies at Oxford and was elected in 1990 as a Fidesz MP. By 1993 he was president of the organization and had begun the process of turning Fidesz politics from centre-left to populist right. Orbán justified the need for this stark political shift with a calculated pragmatism:
"In the centre we have, if we stand alone, no chance against either left or right. To my mind there is no possibility of cooperating with the left. My answer is that Fidesz must seek cooperation with the forces politically right of centre," Orbán told his Fidesz colleagues, in a move that Lendvai describes as "superbly executed."
Orbán had plenty of ammunition for his new nationalism in Hungary, "the great loser of European history," invaded and conquered at regular intervals by a variety of aggressors including the Mongols, the Ottomans, the Nazis and finally the Soviet Union. But first and foremost was the legacy of the 1920 Treaty of Trianon, when the victorious powers of World War I divided 75% of Greater Hungary between its neighbors—Romania and the-then Yugoslavia and Czechoslovakia, displacing 40% of the population, or one-in-three Hungarians.
Trianon was a source of resentment in Hungary long before the arrival of Orbán, but as prime minister he was quick to exploit it. One of his first acts in office was to declare June 4, the day the agreement was signed, as National Solidarity Day. He also restored voting rights and citizenship to the descendents of those displaced Hungarians (who, in 2014, voted by a margin of some 95% for Fidesz).
A more contemporary rallying cry for Orbán has been the refugee crisis, his hardline reaction to which brought him to worldwide attention and made Hungary a darling among the global far right. Lendvai, who was granted Austrian citizenship when he fled Hungary along with almost 200,000 other Hungarians following the 1956 uprising, dedicates an entire chapter to Orbán's outspoken anti-migrant stance.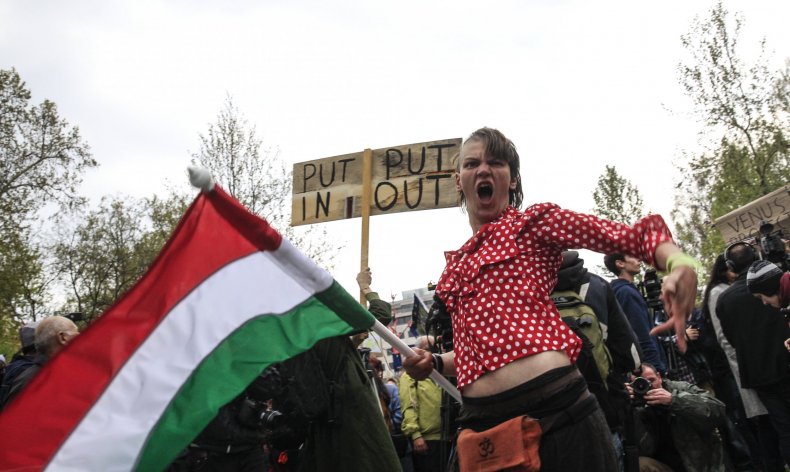 At just shy of 250 pages, Lendvai's book is sobering reading and its account of the rampant corruption both within Fidesz and the Orbán family in particular is meticulously researched. Its final chapter, which documents Orbán's virulent hate campaign against billionaire George Soros—with its ugly anti-Semitic overtones—feels almost viscerally raw for Lendvai, who is more aware than most of how dangerous such narratives can be.
The book will undoubtedly find its biggest audience among those interested in the rise of the European far right, most recently in Austria and Germany, and the fact that while in 2015 Orbán's anti-refugee narrative seemed extreme, in 2017 such attitudes have become almost mainstream.
Orbán's attacks on the EU—despite the fact that European funding has propped up Hungary's economy for decades—have fuelled the anti-EU rhetoric of Geert Wilders and Marine Le Pen, and been bolstered by the shock decision of British voters to leave the EU in June 2016. His pivot towards the (literal) poster-boy of 21st century authoritarianism, Vladimir Putin, has come alongside his open championing of "illiberal democracy."
But the significance of the rise and reign of Orbán is not only confined to Europe: It has been achieved for the most part democratically and on the back of genuine support from millions of Hungarians. It has utilized an undercurrent of anger and historical grievance and come alongside a growing hatred of mainstream politics and a distrust of the media. It has only served to increase a stark polarization between left and right.
In that, Viktor Orbán's achievements not only have lessons for Germany, Austria and the U.K., but across the Atlantic, up the Eastern Seaboard and into the halls and corridors of 1600 Pennsylvania Avenue.
Orbán: Europe's New Strongman is out now, published by Hurst.