Viktor Orban's Authoritarian Media Control Is Spreading to Hungary's Neighbor, Report Warns
Hungary's authoritarian Prime Minister Viktor Orbán has successfully clamped down on media freedom in his country and ensured that his allies control most of Hungary's news outlets.
Now, the leader of Hungary's neighbor Serbia is using similar methods to crack down on media freedom in that country, according to a new report by the organization Freedom House.
The report, entitled A New Toolbox for Co-opting the Media, demonstrates how the leaders of flawed democracies like Hungary and Serbia use economic and legal pressures to "silence critical journalists and bolster friendly news outlets."
The report claims that their ability to co-opt the media has allowed leaders like Orbán and Serbia's President Aleksandar Vučić to cement their control over their countries.
"Orbán and Vučić have both moved to dismantle institutional checks and balances and centralize power in their own hands; they have also benefited from European support and ineffectual domestic opposition. But it is their domination of the media that has underwritten their success," the report reads.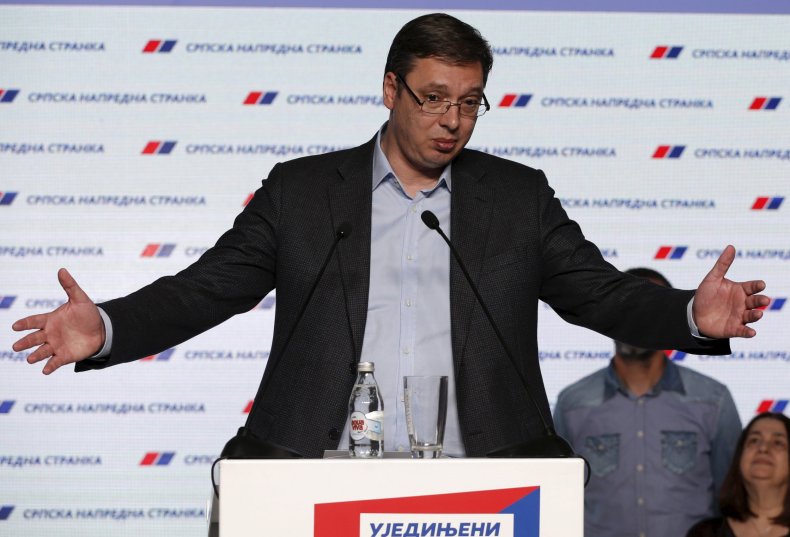 This model of cooption eschews outright censorship for more subtle methods of control. The ruling party uses methods that appear to be legal and in line with the rule of law, including arbitrary tax investigations, the use of licensing regulations to favor friendly media outlets, and financially draining lawsuits. These methods are easier to defend than outright censorship and intimidation.
Biased allocation of state advertising also allows government-aligned media outlets to flourish by earning lucrative advertising revenue through government contracts.
The independent media has not yet been entirely quashed in Serbia to the extent that it has been in Hungary, where many of these methods have been employed for years. Hungary has dropped at least 50 points on the Press Freedom Index since Orbán came to power in 2010. But the allies of Serbia's ruling party are increasingly gaining control of the media landscape while critical outlets are suffering.
"The degree of ownership consolidation seen in Hungary has yet to take hold in Serbia. However, a recent privatization drive handed several outlets to owners friendly with the ruling Serbian Progressive Party (SNS)," the report reads. "Individual acquisitions by people close to the government occur as well. In late 2018, the brother of a top SNS official purchased two national television channels; he also owns three online portals, a radio station, and nine cable channels."
Milivoje Pantović, a Serbian journalist who previously worked for a state-owned news agency, describes an atmosphere in which officials call his editors to ensure that media coverage will be positive or issue veiled threats.
"Media freedom in Serbia can be summarized by the words of late [Ugandan President] Idi Amin: There is freedom of speech, but I cannot guarantee freedom after," Pantović told Newsweek. "Colleagues that perform their job in accordance with the ethical code of conduct of journalists are labeled by the ruling parties as traitors or they are refereed as 'the opposition'... Then it is no surprise that institutions are not replying to journalists requests, reporters get attacked while on the job, local government representatives threaten journalists, and investigative journalists get attacked."
In some cases, the ruling party's backers also use proxies to smear and tarnish the reputations of unfriendly journalists and media outlets. Authorities also often turn a blind eye to the intimidation of critical journalists.
Zselyke Csaky, the report's author, warns that the methods being adopted in Hungary and Serbia could be employed beyond Central Eastern Europe.
"The analysis is about Hungary and Serbia, but the type of media control that Orbán and Vučić have achieved is something that can happen in other countries," Csaky told Newsweek. "Precisely because the media have been weakened financially and because this type of co-optation is an insidious process, media are increasingly vulnerable globally."