Viktor Orbán's election victory in Hungary on Sunday didn't come as a surprise to anyone. For weeks, political pundits and Central Europe watchers had said that the increasingly authoritarian leader was headed for a resounding victory.
With most of the votes counted on Monday morning, the success of Orbán's Fidesz party was even more overwhelming than many had expected. The right-wing, increasingly illiberal party will once again command a two-thirds majority in Hungary's parliament, allowing it to continue with many of the sweeping reforms it has been implementing over the past eight years.
For the next four years, Orbán and his allies will have the political power to change the constitution and crack down on political opponents. Last month, Orbán pledged to seek political and legal redress against his enemies after the April elections. Experts have said that it will be nearly impossible to prevent the democratic backsliding that has characterized Orbán's rise.
"This gives Orbán the institutional power he needs to transition from a full democracy to an illiberal democracy to a full electoral dictatorship," Yascha Mounk, a lecturer at Harvard University and an expert on populism and the crisis of liberal democracy, told Newsweek.
"The Hungarian opposition has limited chance of getting rid of Orbán through elections," Mounk continued. "He can absolutely change the constitution in order to make it harder for independent parties to run; he could extend his control over universities; he could abolish the Supreme Court through Parliament."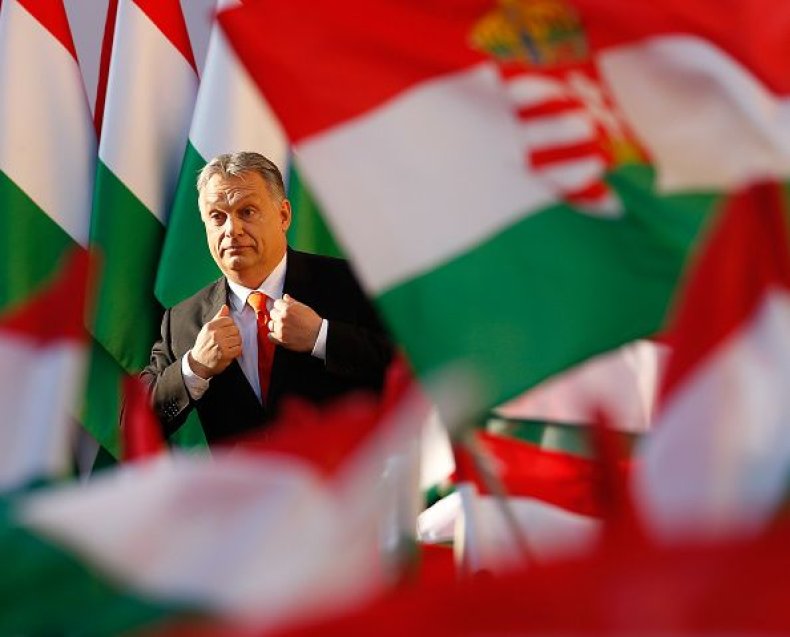 The Organization for Security and Cooperation in Europe (OSCE) issued a scathing assessment of Hungary's elections on Monday, claiming that Fidesz has already stifled genuine political competition in the country.
"The 8 April parliamentary elections were characterized by a pervasive overlap between state and ruling party resources, undermining contestants' ability to compete on an equal basis," the OSCE statement read. "Voters had a wide range of political options but intimidating and xenophobic rhetoric, media bias and opaque campaign financing constricted the space for genuine political debate, hindering voters' ability to make a fully informed choice."
For the past eight years, Orbán has been accused of seizing control of the Hungarian media market, intimidating critical journalists and reducing the number of checks and balances by curbing the powers of the constitutional court. During his campaign for reelection, Orbán used far-right rhetoric against immigration and anti-Semitic language to portray Hungary as a nation in peril, threatened by a Muslim invasion and the influence of foreign agents.
Much of his campaign focused on an attack against George Soros, the Hungarian-born Jewish billionaire philanthropist. In the months leading up to Sunday's election, Hungary was peppered with billboards attacking Soros and warning that open borders and refugees could destroy the country's Christian character. A frightening indicator of the current political climate, Orbán's victory marks the first occasion since the Second World War that a European leader won an election by blaming a Jew for the country's problems.
What's more, many say that the country's judiciary and independent nongovernmental organizations are now at risk. On Monday, Fidesz lawmakers pledged to quickly push through a "Stop Soros" bill that would allow the government to shutter any organizations viewed as a national security threat, and subject any entity receiving foreign funding for immigration-related activities with a crippling tax of 25 percent. Organizations receiving foreign donations could be forced to register under the law.
"Fidesz's third supermajority means nothing stands in its way to demolish the remaining independent institutions in Hungary, most importantly the judiciary. A constitutional overhaul already took place in 2011, but that doesn't mean there won't be minor symbolic changes in case Fidesz sees a need for them, for example with regards to migration," Zselyke Csaky, a Central Europe expert with Freedom House, told Newsweek.
Csaky continued, "The big question of the coming four years is who will be Fidesz's next enemy, however. For now, every indication is that Orbán will double down on his campaign against NGOs; already after the election, Fidesz MPs announced that they would push through the so-called Stop Soros bill targeting NGOs."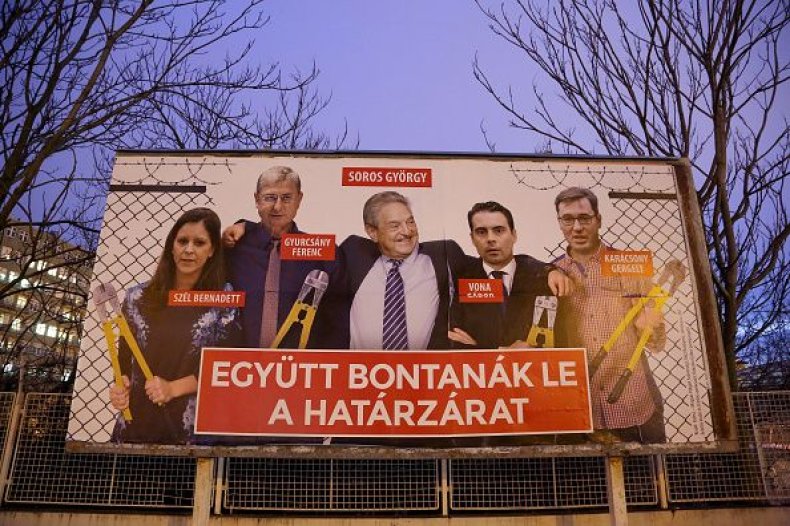 Another target of Orbán's anti-Soros campaign was Central European University, which is funded by Soros and has a campus in Budapest, Hungary's capital. In April 2017, the Hungarian government passed a bill to forbid the university, which is the highest-ranked in the country, from simultaneously granting U.S. and Hungarian degrees. The university is still fighting the bill, which was condemned by European politicians in Brussels.
"International civil society organizations, NGOs funded from abroad, as well as the independent media, are going to be harassed. The law called Stop Soros is going to be one of the first legislative proposals approved by the Parliament; they will strive to dissolve the affected civil society organizations ASAP," Edit Zgut, a Hungary-based expert on EU affairs and illiberalism, told Newsweek.
"Moreover, the Central European University is presumably going to be relocated to Vienna. In Hungary, independent civil society is going to be restricted to an even smaller space than before."
Some observers have called for the European Union to play a larger role in preventing the democratic backsliding taking place in Hungary. Mounk, for example, said that German Chancellor Angela Merkel could advocate for Fidesz to be removed from the European People's Party, an influential center-right political party in the European Parliament led by the German politician Manfred Weber.
"There is a ton they could do that they haven't done. It will be a lasting black mark on the legacy of Angela Merkel that she failed to speak out about this anti-Semitic regime [in Hungary]," Mounk told Newsweek. "If she were willing to expend political capital to get Fidesz thrown of the EPP, she could do that."
Others said that the European Union should launch Article 7 proceedings against Hungary, which could suspend the country's right to vote on EU-wide matters and potentially cut EU financial assistance to Hungary.
"EU members can open Article 7 proceedings against Hungary—late is better than never. And finally, discussions about the next funding cycle are under way already, which provides plenty of opportunity to openly discuss the relationship between fundamental rights and EU money," Csaky told Newsweek.
Zgut, however, argued that Orbán's mandate at home will allow the party to continue to push its illiberal agenda in Brussels, potentially allying with other increasingly illiberal EU-member states like Poland.
"[Fidesz] are going to engage in conflicts with the European Union more confidently than before," Zgut told Newsweek. "The strong domestic legitimacy of the Hungarian government can help them to push their goals on the European level."