Near the borders of Austria and Switzerland sits a quaint, blue lake beside a quiet town in northern Italy.
Most widely known for its emerging church steeple that rises from the water, Lake Resia has been temporarily drained, and a spectacular little village at the bottom has re-emerged from the water, BBC News reported.
The village of Curon, once home to hundreds of residents, was flooded in 1950 to build a dam that would aid in the creation of a hydroelectric plant. In order to do so, authorities had to merge the two nearby lakes by creating an artificial one in the center.
Despite objections, the residents were displaced, many moving to another village that was created nearby, and the icy water submerged more than 160 homes. A lonely, towering steeple of a 14th-century church rising from the center of the lake was the only remnant left to show that there once was a town there.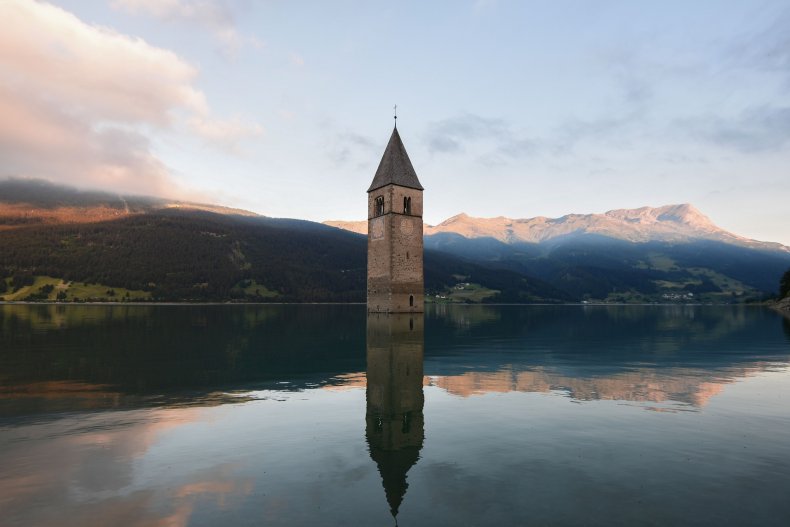 The lake, which is in the Alpine region of South Tyrol, has been temporarily drained to repair a reservoir, and many locals are exploring some of the newly exposed ruins. The BBC identified stone steps, cellars and walls, eroded after spending 70 years underwater.
The underwater village and its peeking church steeple was the inspiration for a book and an Italian Netflix series titled Curon, the BBC reported. The show is a supernatural thriller centered around the lake.
Luisa (Louise) Azzolini, a local who shared some photos to social media, explored some of the revealed ruins and tweeted that it was "a strange feeling to be walking on the rubble of the houses."
The lake has remained a widely popular tourist attraction, best known for its surreal scenery, which includes, of course, the tower, the crystal blue water and the purple mountains. Hikers can enjoy the scenery in the summer and, when the lake freezes over in the winter, visitors can walk across to see the bell tower up close.
The nearby municipality, known as Curon Venosta (or Graun im Vinschgau in German) is easily accessible.
Curon was not the only village to be submerged for the creation of the hydroelectric plant, as the small towns of Arlung, Piz, Gorf and Stockerhöfe, which also are on the borders of Austria and Switzerland, were sent under water in the summer of 1950.
It is unknown how much longer visitors have to explore the rubble of the lost village before the lake is refilled.