Villanova QB Daniel Smith Completes Perhaps the Craziest Touchdown Pass Ever
College football is still being played in this country, and Villanova may have just pulled off one of the craziest touchdown passes ever seen.
The game between the Villanova Wildcats and Delaware Blue Hens is part of the final week of spring among NCAA FCS schools, which used to be known as Div. I-AA. Delaware led, 27-13, on Saturday with just over three minutes to go. Villanova got the ball down to the 1-yard line with a 3rd-and-goal play.
Villanova quarterback Daniel Smith took the snap out of the shotgun, then ran a sprint roll to the right. A Delaware defender tripped up Smith around the 9-yard line. As Smith hurdled toward the ground and into a roll, he flung the ball behind his back and blindly into the air. The ball traveled into the end zone, right into the arms of Charlie Gilroy for a score.
The defender who tripped up Smith had already begun celebrating what he thought was a sack, unbeknownst a touchdown just occurred.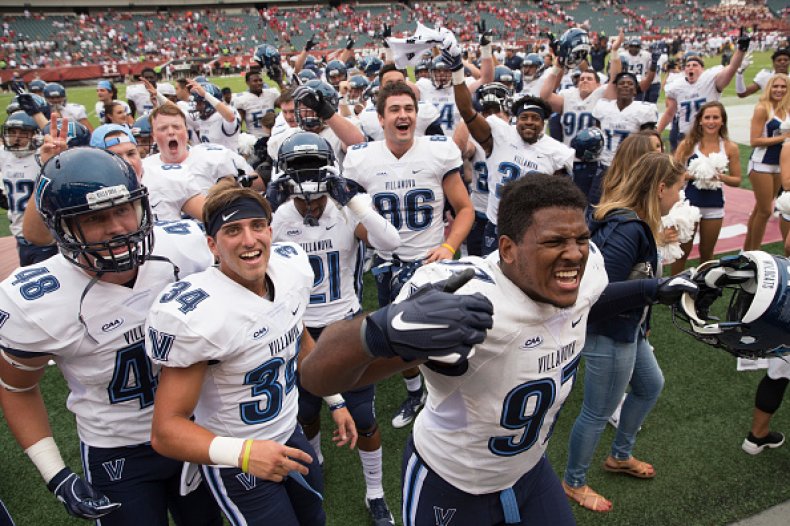 Delaware led, 27-20, after Villanova's extra point, and that would be the final score of the game.
Here's a clip of the unbelievable throw and catch, via The Athletic's Twitter, which called the play a "cheat code" — a reference to football video games.
Delaware improved to 5-0 on the season while Villanova finished with a 2-2 record. The Blue Hens will make the FCS playoffs, which start on Saturday, April 24. The 16-team bracket will be revealed Sunday, April 18, at 11:30 a.m. ET on ESPNU. The FCS championship is scheduled for Sunday, May 16 in Frisco, Texas. That game will kick off at 2 p.m. ET on ABC.
Here are the teams that have already received automatic bids for winning their conference this year (the remaining teams will be selected at-large):
Weber State (Big Sky)
Monmouth (Big South)
Sacred Heart (NEC)
Jacksonville State (OVC)
Davidson (Pioneer League)
Virginia Military Institute (Southern)
Sam Houston State (Southland)
James Madison/Delaware (CAA)
South Dakota State (Missouri Valley)
Holy Cross winner (Patriot League)
The FCS moved its entire season to the spring because of COVID-19. Not all teams played in the spring, though. Some FCS teams played a rogue independent schedule last fall against FBS teams and against each other, and teams from the Ivy League canceled their seasons altogether this spring.
Teams in the Football Bowl Subdivision played their games last fall, culminating with the bowl season and the College Football Playoffs, won by Alabama over Ohio State on January 11 in Miami.
The FCS is scheduled to kick off as normal this fall along with the FBS and all other divisions of the NCAA.