Villanova Tops North Carolina as Clutch Trumps Double-Clutch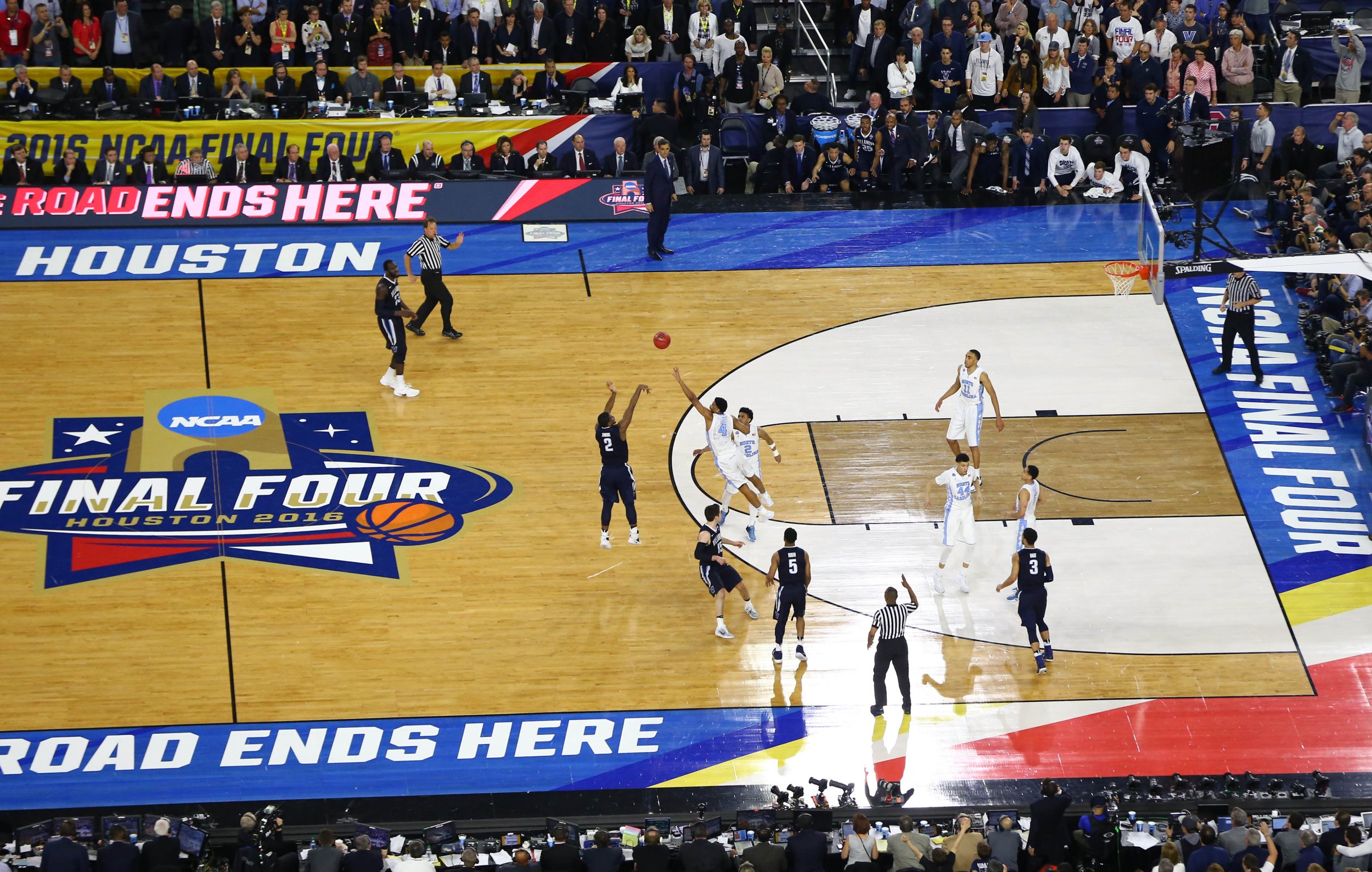 North Carolina's Marcus Paige buried a shot that invited disbelief. Moments later, Villanova's Kris Jenkins sank one that sealed a legacy.
There was not one but two shining moments in Monday night's NCAA men's basketball championship, and both of them happened in the final 4.7 seconds. First Paige, a 6-foot-1 senior from Marion, Iowa, drained a game-tying 3-pointer that probably should have been worth 4 points when one considers the degree of difficulty. Paige, who scored a game-high 21 points, needed to double-clutch in midair to avoid the attempted block by Villanova's Ryan Arcidiacono.
Michael Jordan, who sank the game-winner in the Tar Heels' 1982 NCAA championship victory versus Georgetown and was among the 74,340 in attendance, raised his fists in triumph as Paige's shot tickled the twine and tied the score at 74. Villanova called timeout as America ruminated on social media whether it had just seen the most incredible shot in championship game history since Lorenzo Charles's bucket for North Carolina State University in the 1983 upset of Houston.
Perhaps it had, but Paige's acrobatic shot was about to become an historical footnote.
Villanova's Kris Jenkins inbounded the ball from beyond the end line to Arcidiacono, a fellow senior and a four-year team captain. As Arcidiacono dribbled up the left sideline, Jenkins, the Wildcats' leading scorer, trailed the play, unguarded. Arcidiacono switched direction, then used a pick by hulking teammate Daniel Ochefu just beyond midcourt to get some separation.
As a second defender converged on Arcidiacono, a suburban Philadelphia kid whose father played on the same Villanova football team as NFL Hall of Famer Howie Long, Jenkins could be seen shaded off to his right. Jenkins's arms were outstretched, as if he were pleading for the ball. Arcidiacono pitched the ball underhanded to Jenkins, then cleared out in front of him, acting as a human shield. Jenkins caught the soft pass in stride, stopped and lofted a long rainbow that kissed the bottom of the net as the buzzer sounded.
Ballgame. Confetti dropped from the rafters even as the referees walked over to the scorer's table to confirm that Jenkins's shot had been released before time expired (it had). Villanova's stylish coach, Jay Wright, who had mouthed the word "bang" as the ball left Jenkins's fingers, raised both palms skyward as if to say, "Do you believe it?"
Back on the Main Line west of Philadelphia, where Villanova's campus is situated, there was bedlam. The Wildcats had just won their second national championship, the first having come in 1985. In Chapel Hill, where Final Fours are nearly an annual rite, there was only numbness as the Heels fell just shy of winning their third national championship in the past dozen years.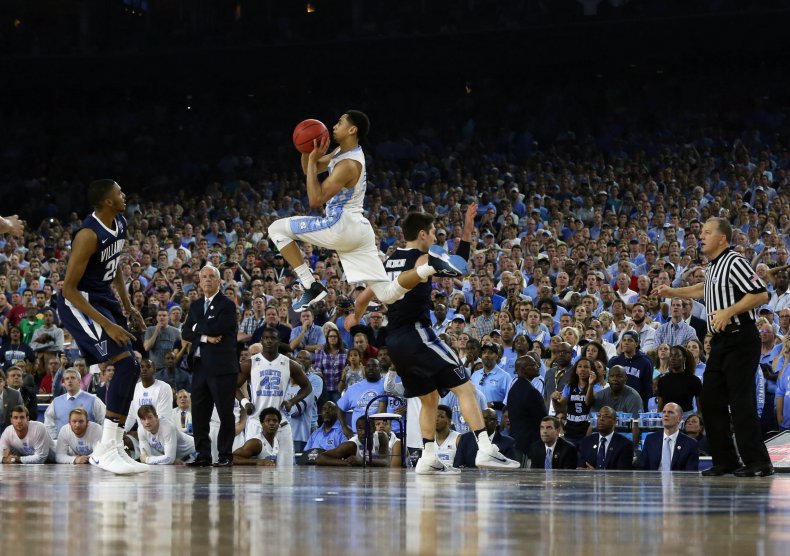 Jenkins, whose adoptive brother Nate Britt plays for North Carolina (he scored two points last night), was asked if he knew the buzzer-beating game-winner was going in as it left his hands. "I think everyone's going in," replied the 6-foot-6 Jenkins, whose birth mother, Felicia, is an assistant coach at a Division II college and taught him to shoot. "And this one's no different."
Indeed, Villanova may hail from the Philly area, but this was no Rocky-defeats-Apollo-Creed shocker. The Wildcats entered Monday night's contest at NRG Stadium in Houston having beaten their five previous NCAA tournament foes by an average of 24 points per game. The Cats buried fellow No. 2 seed Oklahoma in Saturday's national semifinal by 44 points, and had a 25-0 run in the second half. This team, with three senior starters who still bore the scars of last March's shocking second-round upset in the NCAA tournament, had been focused throughout.
Monday night's contest was outstanding for the other 39 minutes and 55.3 seconds as well. Villanova shot 58.3 percent from the floor. North Carolina, which entered the night averaging 88 points per game in the tourney, shot only 42.9 percent, missing an array of bunnies within 5 feet of the hoop. The Tar Heels overcame that by converting 11 of 17 (64.7 percent) from beyond the arc.
The contest was tight throughout, with the score tied at 46-46 with 13 minutes remaining. Then the Wildcats surged, taking a 67-57 lead, the game's largest, into the final five minutes. North Carolina mounted one last comeback, aided by 3-pointers from Paige and Joel Berry, who finished with 20 points.
Villanova's Josh Hart hit two free-throws with 13 seconds left to give the Wildcats a 74-71 lead, setting the stage for Paige's heroics. His shot happened in part because his defender, Ochefu, had dived at the bounce pass sent to Paige. "We were in ball denial defense, and Daniel [Ochefu] made a great play on the ball trying to steal it," said Villanova's Wright.
Ochefu fell to the floor and watched as Paige converted a shot that ranks among the most incredible in Final Four history. After the ensuing timeout, as Villanova prepared to inbound the ball, Ochefu took the mop from the ball boy who was wiping the area where he had fallen and did the custodial work himself. "I knew I'd be setting a pick for Ryan in that spot on the final play," explained Ochefu, "so I didn't want to leave anything to chance."
"I didn't have to say anything in the huddle," said Wright. "We have a name for [that play]. That's what we're going to do. Just put everybody in their spots."
And so he did. Paige's shot may have been a double-clutch. But Jenkins's? It was truly clutch.