Vin Scully's 'Perfect' Final Signoff Goes Viral Following His Death 
Legendary broadcaster Vin Scully's final words as a Dodgers broadcaster have gone viral following his death on Tuesday at the age of 94.
Scully, who served as the announcer for Dodgers baseball games for 67 years, died Tuesday at his Los Angeles home, the Los Angeles Dodgers announced late Tuesday evening.
The Bronx native's final signoff as a broadcaster for the U.S. baseball team in October 2016, after more than 9,000 games, has circulated on social media, gathering hundreds of thousands of views.
"You know, friends, so many people have wished me congratulations on a 67-year career in baseball, and they've wished me a wonderful retirement with my family, and now, all I can do is tell you what I wish for you," Scully, who became a baseball fan at the age of 8, said.
"May God give you, for every storm, a rainbow; for every tear, a smile; for every care, a promise; and a blessing in each trial. For every problem life seems, a faithful friend to share; for every sigh, a sweet song, and an answer for each prayer," the Hall of Fame broadcaster said at the age of 88.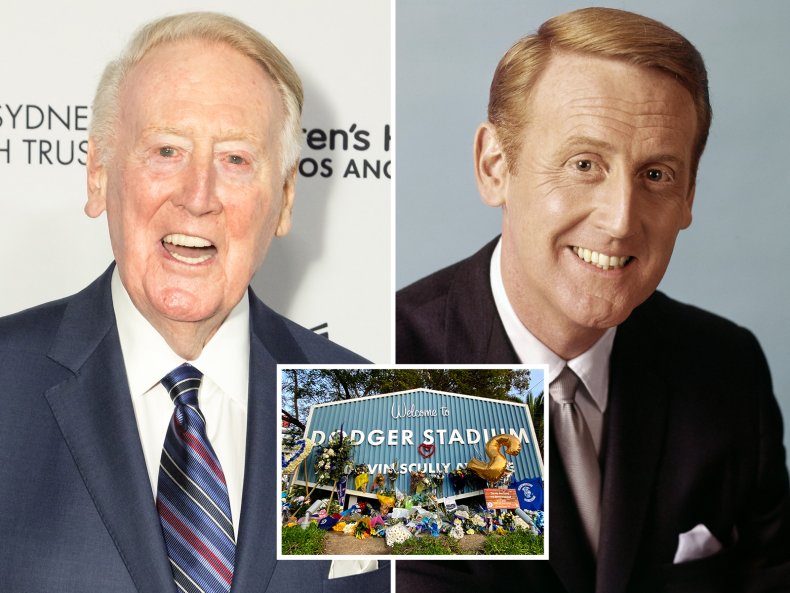 "You and I have been friends for a long time, but I know, in my heart, I've always needed you more than you've ever needed me, and I'll miss our time together more than I can say. But, you know what, there will be a new day, and, eventually, a new year, and when the upcoming winter gives way to spring, ooh, rest assured, once again, it will be time for Dodger baseball."
Scully signed off by saying: "So, this is Vin Scully wishing you a pleasant good afternoon, wherever you may be."
Commenting on the video, journalist Aaron Rupar said on Twitter: "Vin Scully's final signoff was perfect. RIP to the voice of baseball."
Dodgers President & CEO Stan Kasten said the world has "lost an icon."
"The Dodgers Vin Scully was one of the greatest voices in all of sports. He was a giant of a man, not only as a broadcaster, but as a humanitarian," Kasten said.
"He loved people. He loved life. He loved baseball and the Dodgers. And he loved his family. His voice will always be heard and etched in all of our minds forever."
Scully joined the broadcast team for the Dodgers in 1950, when the club played in Brooklyn, and relocated in 1958 when the Dodgers moved to Los Angeles.
Upon his retirement, he was awarded the Presidential Medal of Freedom, America's highest civilian honor, during a ceremony at the White House.
The broadcaster was also named the Ford C. Frick Award winner by the National Baseball Hall of Fame in 1982.
He leaves behind five children—Kevin, Todd, Erin, Kelly and Catherine—21 grandchildren and six great-grandchildren. Scully's wife of 47 years, Sandra Scully, died in January 2021 at the age of 76.