World Wrestling Entertainment (WWE) has announced that CEO Vince McMahon has stepped down as CEO.
McMahon, 76, is currently under investigation following allegations of misconduct over an alleged $3 million payment he made to a former company paralegal after the pair had an alleged affair.
A Wall Street Journal article also alleged that the WWE board is investigating a number of non-disclosure agreements female employees signed after alleged misconduct. These alleged NDAs emerged as part of a board investigation that began in April against McMahon and his head of talent relations John Laurinaitis (aka former wrestler Johnny Ace).
In a press release from WWE and its board of directors, it was announced that McMahon's daughter Stephanie will serve as interim CEO and interim Chairwoman. She tweeted: "Until the conclusion of the investigation into recent allegations, I am honored to assume the role of interim Chairwoman & CEO. I love @WWE and all it continues to do to entertain billions around the world." In May, Stephanie McMahon had taken a leave of absence from the company., though she remained a member of the company's board of directors alongside her husband Paul Levesque (aka wrestler Triple H).
"I have pledged my complete cooperation to the investigation by the Special Committee, and I will do everything possible to support the investigation. I have also pledged to accept the findings and outcome of the investigation, whatever they are," said McMahon in a statement.
"I love this company and am committed to working with the Independent Directors to strengthen our culture and our Company; it is extremely important to me that we have a safe and collaborative workplace. I have committed to doing everything in my power to help the Special Committee complete its work, including marshaling the cooperation of the entire company to assist in the completion of the investigation and to implement its findings."
McMahon's work with the company began in the late 1960s, when he debuted as an in-ring announcer for what was then the World Wide Wrestling Federation, a brand run by his father, Vincent J. McMahon as part of his Capitol Wrestling Corporation.
In 1980, McMahon founded Titan Sports with wife Linda. He bought his father's CWC in 1982, bringing in the modern era of the WWF/WWE.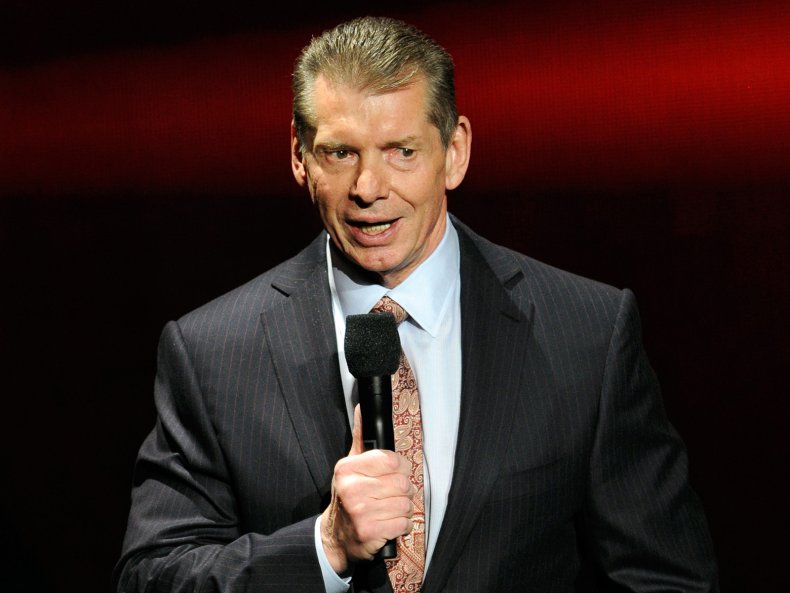 Per the WSJ, the investigation about McMahon found that payments were made to female employee's using the former CEO's personal funds. The article quotes a letter from attorney Jerry McDevitt, who noted that the ex-paralegal had not alleged harassment, and that "WWE did not pay any monies" to her "on her departure."
The piece also reports that board members received an email from a friend of the ex-paralegal, whose salary was increased from $100,000 to $200,000 after McMahon began a sexual relationship with her. The email also alleges the employee quit after McMahon "gave her like a toy" to Laurinaitis
In the WWE statement, a company spokesperson said: "WWE and its Board of Directors take all allegations of misconduct very seriously. The Independent Directors of the Board engaged independent legal counsel to assist them with an independent review. In addition, the Special Committee and WWE will work with an independent third-party to conduct a comprehensive review of the company's compliance program, HR function and overall culture." They also noted they would have no further comment until the conclusion of the investigation.