Vince Vaughn's Birthday: His 15 Best Movies & TV Shows Ranked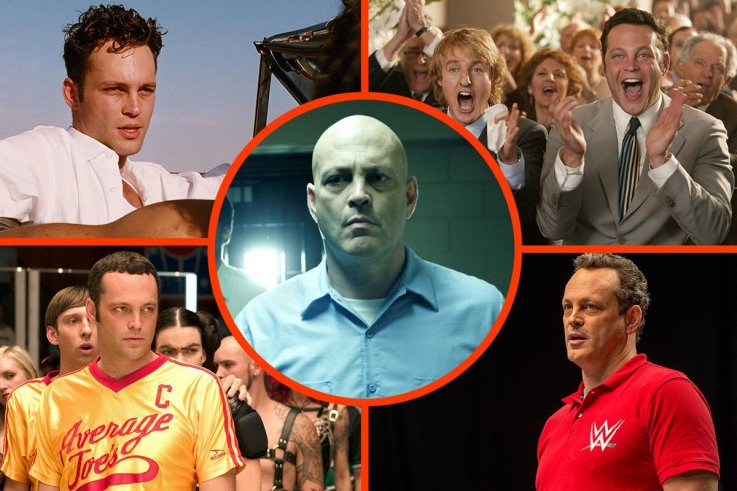 American actor Vince Vaughn, who turns 49 today, is perhaps best known for comedies like Dodgeball and Wedding Crashers, though he has also impressed in a number of dramatic roles.
Born on March 28, 1970, in Minneapolis, Vaughn's first big hit movie was 1996's Swingers, written by and co-starring Jon Favreau. The film had a tiny budget of about $200,000 but earned over $4.5 million at the domestic box office.
Vaughn received global exposure in 1997 after starring in Steven Spielberg's blockbuster, The Lost World: Jurassic Park. The movie was a massive box-office hit—breaking records for an opening weekend—despite a mixed critical reception.
In 2003, Vaughn starred in college fraternity comedy Old School, joining the likes of Ben Stiller, Jack Black, Luke and Owen Wilson, Steve Carell and Will Ferell in Hollywood's so-called "Frat Pack."
More comedies in a similar vein followed, including Dodgeball, Wedding Crashers and Starsky & Hutch. But like many of his "Frat Pack" fraternity, Vaughn has proved to be a more versatile actor than he perhaps first appeared. He has starred in a number of dramatic movies that suggest the direction his career could have gone in had he not become so identified with comedy.
Back in 1998, he turned in a chilling performance as a tourist sentenced to death on drugs charges in Malaysia in Return to Paradise, and in 2007, he impressed in the small but memorable role of a hard-drinking farmer in Sean Penn's Into the Wild.
His recent roles suggest a move back into heavyweight dramas. His intense performance in season 2 of HBO's True Detective won him praise, and he generally won over critics who feared he'd been miscast as the drill sergeant in Mel Gibson's World War II drama Hacksaw Ridge (2016) .
Dragged Across Concrete, due for release next month, teams him up with Gibson again as two rogue cops who descend into the criminal underworld after they are suspended for assaulting a suspect on video.
To celebrate his birthday, Newsweek has analyzed data from review aggregation websites Rotten Tomatoes, Metacritic and IMDb to rank Vaughn's 15 best movies.