How Did Vincent Van Gogh Die? Painter Was Murdered, Biopic Claims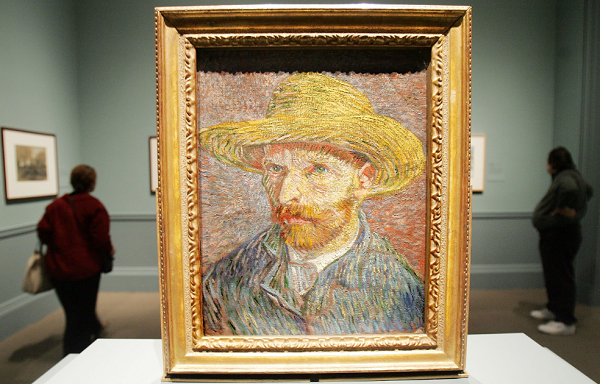 For centuries, art historians claimed Vincent Van Gogh died by suicide in the late 1800s. A new biopic, however, seeks to challenge history by depicting Van Gogh's death as a murder.
Starring Willem Dafoe as Van Gogh, At Eternity's Gate, premiered at the Venice Film Festival on Monday. The film follows the Dutch artist in his adult years traveling from the Netherlands to the south of France, spending time in and out of mental institutions and living the life of an impoverished painter in Paris in the 1880s.
One of the film's most shocking elements came during the depiction of Van Gogh's death. It is largely believed Van Gogh died at 37 years old from a self-inflicted gunshot wound to the stomach, but the film portrayed the artist being shot after tussling with a gang of young people in Auvers-sur-Oise, outside of Paris, in 1890.
Jean-Claude Carriere, who co-wrote the script with director Julian Schnabel, disputed history and told reporters following the film that there "is absolutely no proof [Van Gogh] killed himself."
"Do I believe that Van Gogh killed himself? Absolutely not," he said. "He came back to the auberge with a bullet in his stomach and nobody ever found the gun or his painting materials. What we have been fighting against is the dark romantic legend of Van Gogh. In the last period of his life, Van Gogh was working constantly. Every day he made new work."
Just weeks before his death Van Gogh finished the famous Portrait of Dr. Gachet, which broke a world record when it sold at auction for $82.5 million in 1990. The painter also finished work on 75 canvasses within the 80 days he lived in Auvers-sur-Oise leading up to his death—a feat, Schnabel suggested, someone suicidal likely wouldn't have achieved.
The biopic isn't the first Van Gogh's death has been speculated as murder. Van Gogh: The Life, a biography of the painter written by Steven Naifeh and Gregory White Smith in 2011, raised eyebrows over Van Gogh's death when it suggested he may have been killed. The book also noted Van Gogh's painting utensils, which he supposedly had with him before he shot himself, were never discovered nor was the weapon used.