Vindman Sends Letter to Fox News Seeking Retraction After Ingraham Suggests He Might be Guilty of Espionage
A law firm representing Lt. Col. Alexander Vindman sent Fox News a warning letter on Wednesday asking for the retraction and correction of a segment on Laura Ingraham's show which suggested the colonel might be guilty of espionage.
"We are compelled to write because of a deeply flawed and erroneous Fox News segment that first aired on October 28, 2019, the gist of which has since been republished countless times, including by the President of the United States to his 66.9 million Twitter followers."
The segment on The Ingraham Angle featured a panel with lawyer John Yoo, a former Deputy Assistant U.S. Attorney General and current U.C. Berkeley law professor, and legal scholar, Alan Dershowitz. In an exchange with Yoo, Ingraham remarked on something she read about about the colonel, the New York Times reports.
"Here we have a U.S. national security official who is advising Ukraine, while working inside the White House, apparently against the president's interest, and usually, they spoke in English," said Ingraham. "Isn't that kind of an interesting angle on this story?"
"I find that astounding and, you know, some people might call that espionage," responded Yoo.
Vindman's lawyer, David Pressman, a partner at Boies Schiller Flexner, wrote at length about Yoo's involvement, damaging statement and the aftermath, which Pressman said resulted in the Vindman family looking into options "in order to ensure their physical security in the face of threats rooted in the falsehood that Fox News originated."
Pressman wrote that when Yoo accused Vindman of a felony, "He spoke with the gravitas and precision of an expert."
He also said before the Fox News segment aired, the colonel "had never in his decorated 20-year career of service to his country been accused of having dual loyalties or committing espionage." Espionage is a felony under federal law and punishable by death.
"Fox News boasts that it is the 'most trusted' American tv news brand. It is undoubtedly aware of the enormous influence its words have on the minds—and actions—of millions of Americans," read the letter.
"When Fox News reports, and fails to retract or correct, that a Lieutenant Colonel in the U.S. Army, a Director on the National Security Council, has committed espionage, those words cause enormous and foreseeable harm," Pressman continued.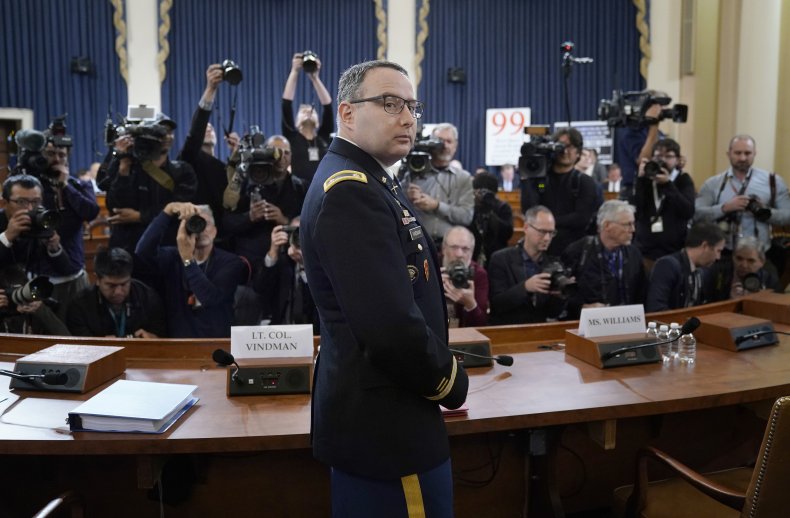 The letter pointed to Yoo's November 1 op-ed published in USA Today regarding his Fox News appearance. He wrote that he didn't call Vindman a spy when his statement on Fox News expressly accused Vindman of "espionage" and was "universally understood to have done so."
"It is why Mr. Yoo wrote an op-ed seeking to re-write recorded fact; it is why he begins his op-ed, 'I really stepped in it this week.' What Mr. Yoo 'stepped in' was a lie," Pressman said.
In response to Yoo's argument that he didn't intend to accuse the colonel of espionage—he claims he was accusing the Ukraine instead—Pressman called it "as legally irrelevant as factually incredible."
The letter highlight tweets and quotes from Yoo, Ingraham, Tucker Carlson, the president and the president's son. It ends with, "We ask you to retract the coverage, correct the record, and publish the truth."