Vinnie Hacker Reveals He's an Obama Fan After Accusations He Supports Trump
Vinnie Hacker is defending himself once again, after he revealed that people online have been trying to "cancel" him over claims he's a supporter of former President Donald Trump.
The social media star took to his TikTok account on Thursday to set the record straight on rumors he's a fan of the one-term president, after a calendar was seen on his wall in a previous post on the video platform.
Sharing a video of himself standing shirtless, Hacker said: "You guys wanna see something absolutely crazy? So people were, like, canceling me because I had a picture of Trump on my wall."
"You wanna see something crazy?" Hacker added as he walked over to the area of his room in question, before shouting: "It's Obama! All of them are Obama!"
To illustrate his point, he thumbed through a calendar featuring pictures of former President Barack Obama, who left office in 2017 after two terms.
The short video proved popular among Hacker's army of followers, garnering more than 9.2 million views within 19 hours of being uploaded.
His post comes weeks after he was forced to deny accusations that he had uttered a racial slur in a social media video that was shared on his birthday.
The star, who boasts more than 11 million followers on TikTok, took to Twitter to deny claims that he had used the N-word during a gaming session on livestreaming platform Twitch.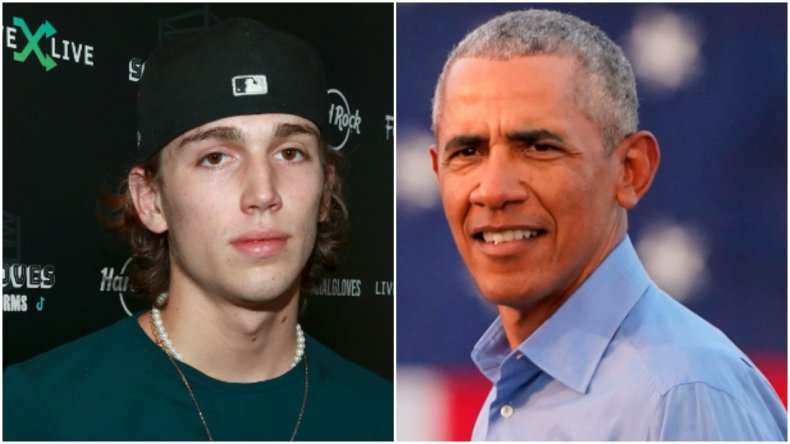 Responding to a now-deleted tweet, Hacker explained that he was thanking a subscriber called Nikki in the clip that was shared online, writing: "That was me thanking for a sub and i said the name fast bro?"
Hacker then went on to share a video of the moment in question in a further bid to debunk the claims made against him.
In the video—which was captioned: "So there's a video of vinnie supposedly saying the n word going around, but he didn't. here's the proof"—Hacker is quoted as saying in a transcription: "uhh nikki thank you for the sub."
Hacker also pointed out that he was defending himself against the accusations on his 19th birthday.
Expressing his exasperation, he said: "I can't ever catch a f****** break. something new every f****** week. 'just ignore it' shut up. just shut up please for the love of god and let me live a life. every time it's 'but it's not everyone that is against you' well it's starting to f****** feel like it."
"today. today out of all days. and every time y'all are proven wrong. f*** everything," he added in a further tweet.
He wrote in a follow-up tweet: "sorry y'all im pretty tired and let my emotions get the best of me and i forgot i was f****** baller so everyone (that is annoying as s***" can *** respectfully."