A Young Italian Journalist Is Bringing an Old Twist to Bespoke Silk Ties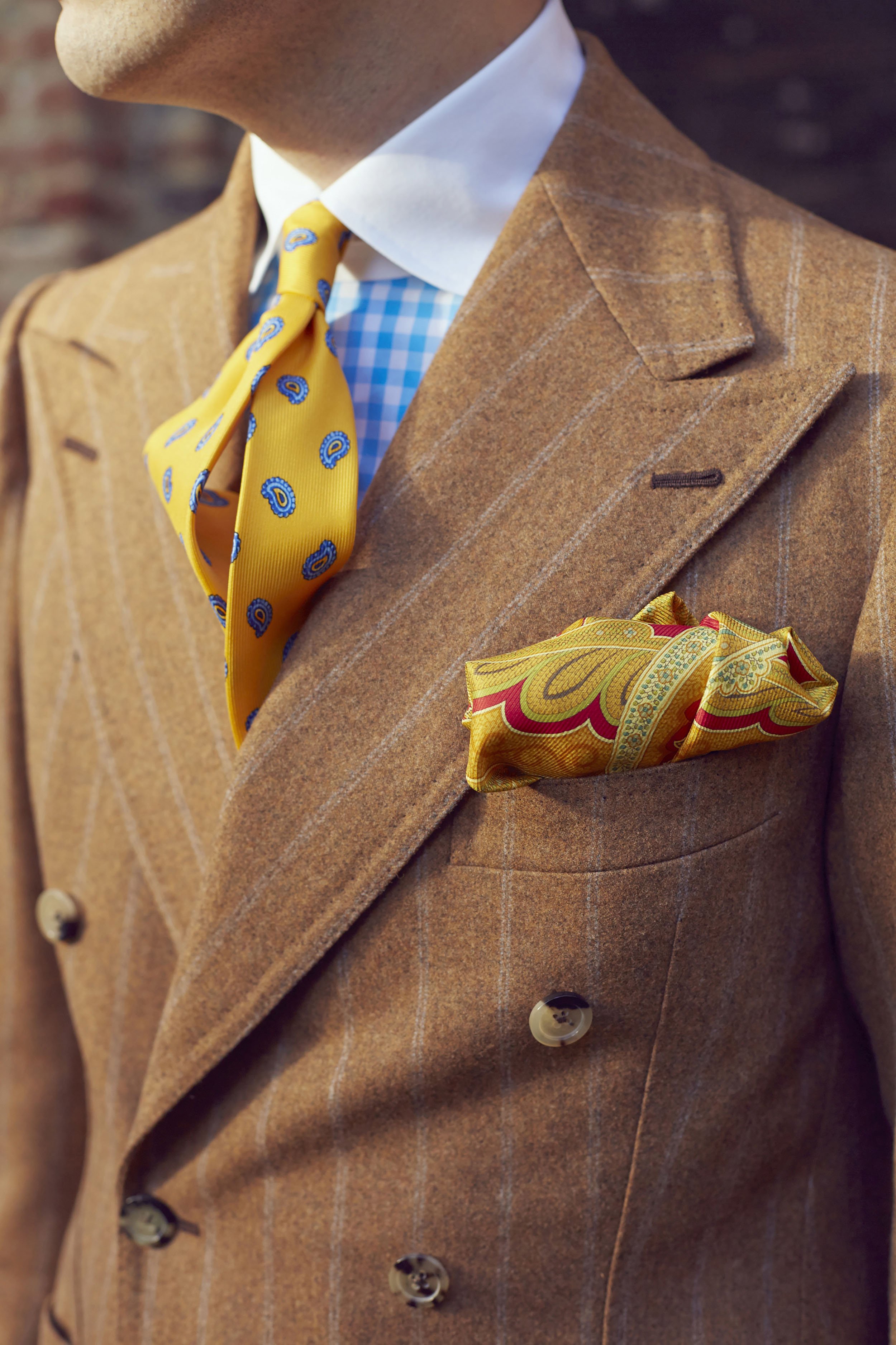 It has become a truism that chain stores and online shopping are killing off what Americans call mom-and-pop stores. Like an express train hurtling toward someone tied to railroad tracks, the outcome feels inevitable. And so it is encouraging to meet people like Gianni Cerutti, the young founder of Passaggio Cravatte, a small workshop devoted to making bespoke ties in the town of Robbio, Italy, about 30 miles southwest of Milan.
To return to the railroad analogy, Cerutti is the man who slips his bonds like Houdini and then not only avoids getting crushed under the train's wheels but also hops on board and finds himself a compartment in first class.
Passaggio Cravatte is about as retro as a business can be, so it is ironic that it came to me via Instagram, or rather via my son's Instagram, after he found that he was being followed by Passaggio Cravatte. He took a look at what the brand was doing and followed Cerutti back. My son, who's 16 years old, is a great enthusiast for vintage clothes. For instance, the last time we watched the classic film Rebecca together, we debated the number of pleats in the back of George Sanders's overcoat. Cerutti, 30, is just the sort of man with whom one could hold such a conversation—a romantic who loves the elegance of the past.
It was for that reason that Cerutti often complained to his girlfriend, Marta Passaggio, that he could not find the sort of ties he wanted. Eventually, Passaggio tired of his constant laments and told him that if he could find the fabric he wanted, she would make him a tie. He was skeptical but later agreed. Now married, Cerutti and Passaggio, along with their workforce of two artisans, make 2,000 bespoke ties a year. Cerutti used to work as a journalist and still writes from time to time, but his passion for menswear has taken over much of his working and waking life.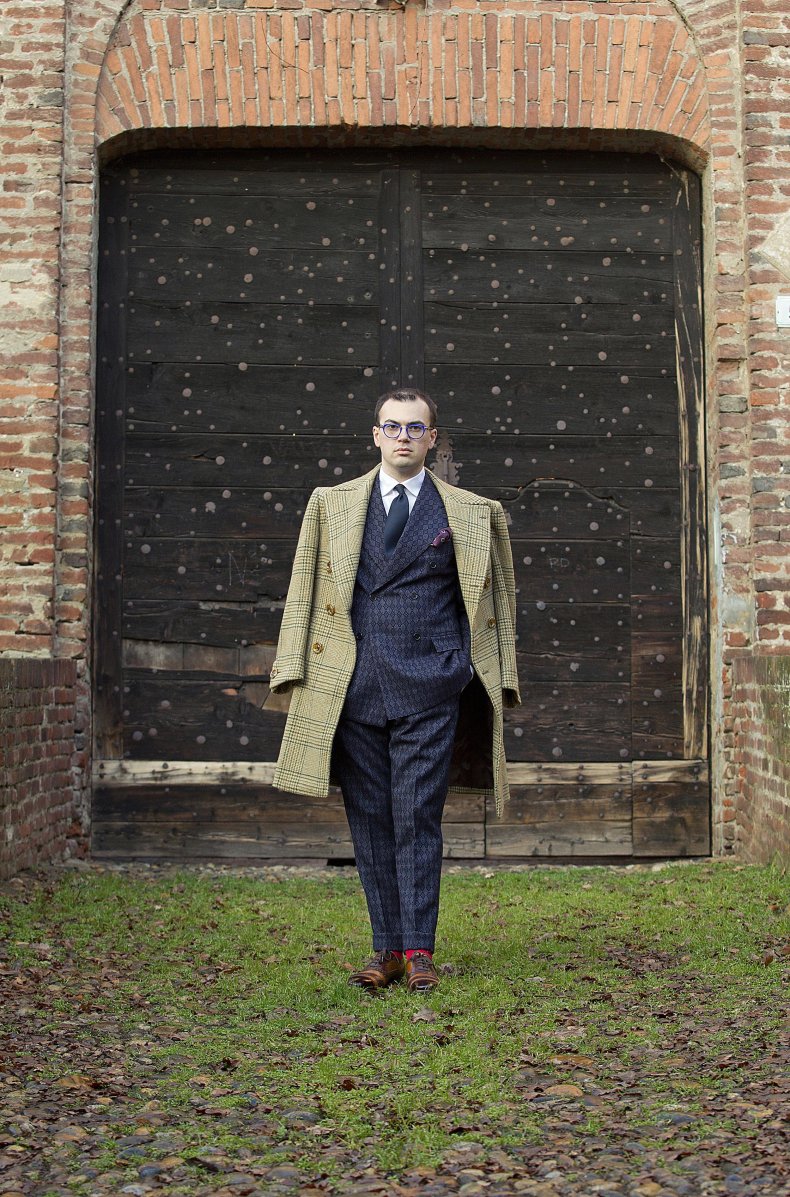 There are many reasons for having a tie made, but they tend to begin with dissatisfaction over what is available prêt–à–porter. You might want a smaller knot, which needs a thinner interlining; conversely, you might specify a thicker interlining for a bulkier knot. Should you happen to be fuller figured, a tie with a wider blade might be more in proportion with your girth. And if, like me, you wear your trousers high on the waist, then an excess of tie is especially unsightly: The optimum look is to have the bottom point of the blade form a triangle at the waistband. And if you like tying jumbo Windsor knots, you ought to ask for a longer tie to accommodate the Gordian creation and still have enough silk to reach the waistband.
Bespoke ties are not exactly a recent phenomenon, and Passaggio Cravatte, established in 2010, is a newcomer to the field. But Cerutti's enthusiasm for his métier is infectious and winning. He brings a new—or, rather more accurately, an old—twist to couture neckwear. "My approach is similar to that of an antiquarian," he says. By that, he means that he offers most of his bespoke ties in vintage fabrics.
"The quality of the old fabrics is the best," he enthuses, "and the colors of the old hand-printed fabrics [are] amazing." His stock of fabrics is always changing; almost like a market fishmonger, it depends on the catch of the day. His Instagram account provides updates on his recent finds, or as he prefers to say, what "ancient" fabrics are in "lavoration"—or being worked on. Cerutti's cheerfully cavalier attitude toward the syntax and vocabulary of the English language is part of his charm (and his English is still much better than my Italian).
When Cerutti started out, he went around the silk mills of Lake Como asking for any ends of lines or old stock still in new condition. He sought out silk factory bankruptcy sales and scoured the basements of cloth merchants. Then he began to look farther afield, finding England to be a particularly rich source for inspired vintage silks. The market town of Macclesfield in England's northwest, for example, was weaving silk in the 16th century. Cerutti has also started sourcing vintage wools and cashmeres from nearby Biella, the historic center of the wool trade in Italy. Now, he says his work is becoming sufficiently well-known that people have started coming to him with vintage fabrics.
Of course, his approach is not for everyone. Many of these fabrics have remained unsold—some for 50 or 60 years—for a reason. Some of the patterns were simply too experimental for mainstream taste at the time, and they still require a great deal of character to pull off today.
The joy of the Passaggio Cravatte approach is that a tie is unique because it is made to personal measurements in a fabric that is no longer produced. Cerutti prefers the term endangered, as if each length of cloth were a species teetering on the very brink of extinction. And I suppose that by asking him to make it into a tie, one is doing one's bit for sartorial conservation.