Vinyl Accounts for Over Half of Physical Albums Sold in 2021, Surpasses CDs for First Time
Vinyl records outsold CDs in the U.S. last year for the first time since MRC Data, a music data collection company, started tracking music sales data in 1991.
In 2021, 41.7 million vinyl record albums sold, compared with 40.6 million CDs, a massive jump from 2011, when vinyl accounted for less than 2 percent of physical sales of music.
MRC Data also reported that the week ending December 23 was the first in its tracking history in which over 2 million vinyl records were sold. During that Christmas-buying week, consumers bought 2.11 million units.
Overall music consumption, as tracked by the company, grew 11.3 percent in 2021, with new music released by popular artists like Adele, Morgan Wallen and Olivia Rodrigo. There also was a 12.6 percent increase in on-demand streaming of music, topping out at over 988 billion individual streams.
However, the report also showed a dip in the consumption of new music, defined in the report as music released within the past 18 months, for the first time since the company began tracking music streaming in 2008.
The report, released in collaboration with Billboard magazine, attributes the trend to listeners going back to old music they find comforting and nostalgic. In addition, social media platforms like TikTok popularize old songs as they become popular as background music for posts on the app.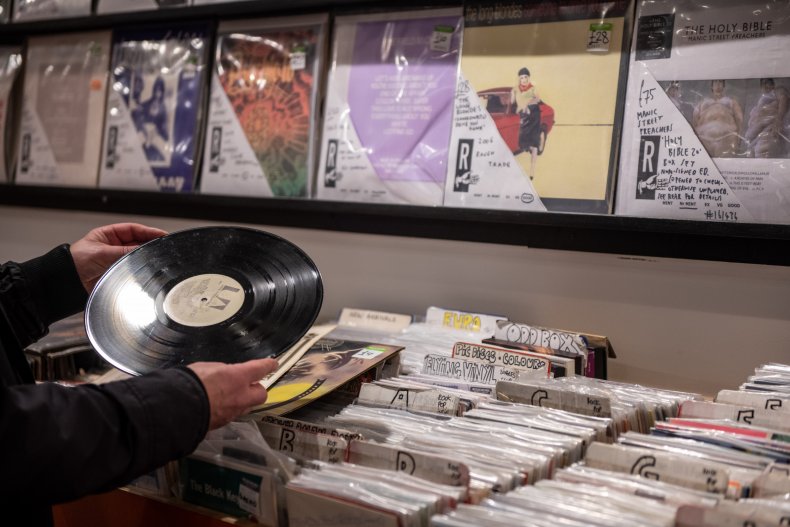 MRC Data's report showed that Wallen's Dangerous: The Double Album ended 2021 as both the top country album of the year and the most popular album across all genres, with 3.2 million equivalent album units earned during the year.
That's despite Wallen being rebuked by the music industry after a video surfaced showing him blurting out a racial slur. The singer was dropped by his label, disqualified from the Academy of Country Music Awards, and his music was temporarily pulled by radio stations and streaming services.
Other top albums in 2021 include Rodrigo's SOUR, Pop Smoke's Shoot for the Stars Aim for the Moon and Doja Cat's Planet Her. Dua Lipa's single "Levitating" was unstoppable, with 804.7 million on-demand audio and video streams, the top hit of the year.
Adele's album 30 arrived late last year, but she recorded the highest album sales debut in four years, with first-week sales of 839,000 equivalent units. It was the biggest-selling album debut since Taylor Swift's Reputation in 2017. Adele's previous album, 2015's 25, still holds the record for most albums sold in a single week, with 3.38 million copies.
Drake's Certified Lover Boy was 2021's most popular rap album in the U.S., with 1.97 million equivalent album units earned. Masked Wolf's "Astronaut in the Ocean" was the most-consumed rap song of 2021. Bad Bunny's El Último Tour Del Mundo was the top Latin album.
The Associated Press contributed to this report.