Mass Brawl Breaks Out Between Trump Supporters and BLM Activists at Oregon Rally
Two groups holding events for different reasons, one in support of the president and the other for Black Lives Matter (BLM), were involved in a fight with "punches, tasers and mace" in Bend, Oregon, on Saturday.
Protests turned violent at the Pilot Butte Neighborhood Park, where a man was arrested for allegedly taking a Trump flag. Meanwhile, two handguns were confiscated by police from someone involved on the Trump side.
There were crowds of around 100-150 people at the scene, where BLM protesters had organized a counter-picnic to a Trump rally taking place across town at Drake Park. The Trump event was later relocated to where the protesters were holding their picnic.
The day started out calm and "was generally peaceful," according to the Bend Police Department in a statement. "We are just having a party," local anti-racist activist Mallory Becker told The Bend Bulletin, as she was preparing a cake in the park. "We are going to counter hate and racism with having a party."
Tensions rose after a Trump flag was allegedly taken by a BLM supporter, who was cited and later released by police. A number of individuals at the pro-Trump event chased the suspect and bystanders caught the footage on camera. In one video it sounds like a stun gun is being used in an altercation, while footage clearly shows one man punching another in the head, before mace is let off in the crowd.
"The next thing I knew, I heard tasers going off and then pepper spray," said BLM protester Amanda Hutchings. "This is a first for Bend."
There are also photographs of a man pulling a gun out, allegedly at the same event. According to OPB, some demonstrators directed their frustrations at the police, shouting at them, asking why the man with the gun had not been arrested.
Footage from the day also shows a BLM protester blocking a police car, and police attempting to remove the individual. Protestors dogpile the woman to avoid her being arrested.
Patrol vehicles were blocked in, interfering with the duties of the officers," Bend Police Department said in a statement.
Later in the evening, another fight took place between two groups, resulting in "someone firing a flare gun at another person," read a police statement.
The aforementioned events are still under investigation and police are asking anyone who believes they were a victim of a crime at Saturday's event to contact the non-emergency line at 541-693-6911 and report it.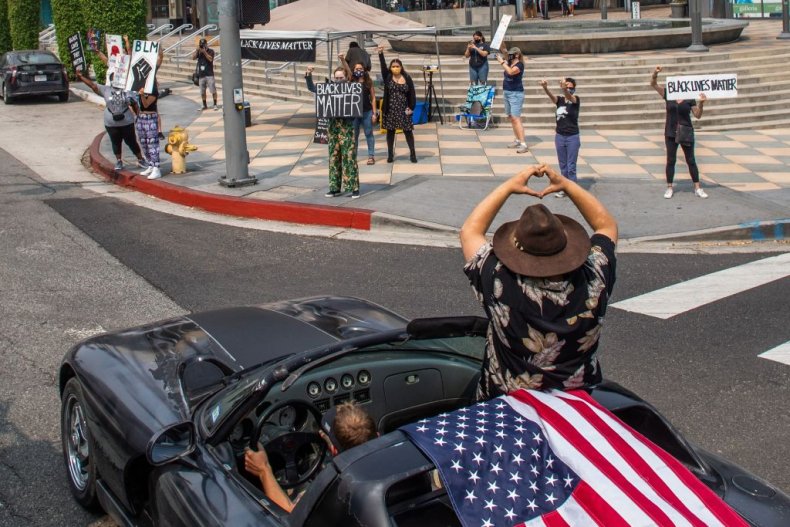 "We ask all community members who wish to engage in expression of these rights to keep interactions peaceful and non-violent, to keep all community members safe and follow all laws. We ask that if community members engage in events, do not bring weapons as typically that would escalate the situation," said Bend Police.
Newsweek has contacted Bend Police Department for updates on their investigation.