Violence on the Campaign Trail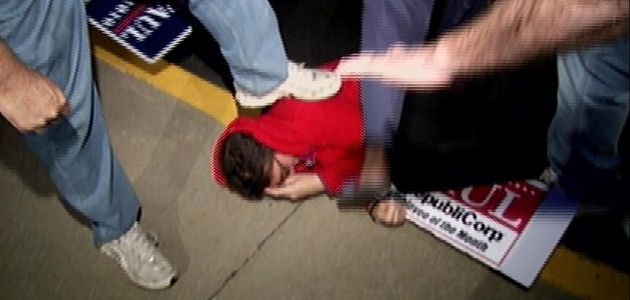 Forget an angry electorate: the most irate people on the campaign trail this year seem to be the candidates and their entourages. From sea to shining sea, workers and activists are heading home from rallies with shiners. Sure, we've come a long way since the days when Preston Brooks attacked colleague Charles Sumner on the Senate floor, but those looking for a little civility won't find it at their local debate. The latest example came Oct. 25, when supporters of Kentucky Senate candidate Rand Paul attacked a member of the liberal activist group MoveOn and stomped on her head. Though appalling, it's hardly the first offense. Here's a short history of the pugilistic political season in 2010.
Things got off to an early and inauspicious start with the Massachusetts special election to fill the Senate seat vacated by Ted Kennedy. The race was tense: Democrat Martha Coakley's campaign, widely favored to win in a landslide, was gradually disintegrating and tempers were running high. After a Jan. 12 fundraiser in Washington, John McCormack of the conservative magazine The Weekly Standard was trying to ask Coakley a question when veteran Democratic operative Michael Meehan jostled him and knocked him to the ground. As the old saying goes, it's never a good idea to pick a fight with someone who buys ink by the barrel, but here's an update for the Internet age: don't do it when someone is filming, either. Meehan's shove was caught on tape and within hours McCormack had written a blog post and published the video online. Meehan called McCormack to apologize and also issued a statement saying, "Last evening I was a little too aggressive in trying to help the attorney general get to her car and catch a flight." Coakley went on to lose the special election to Republican Scott Brown.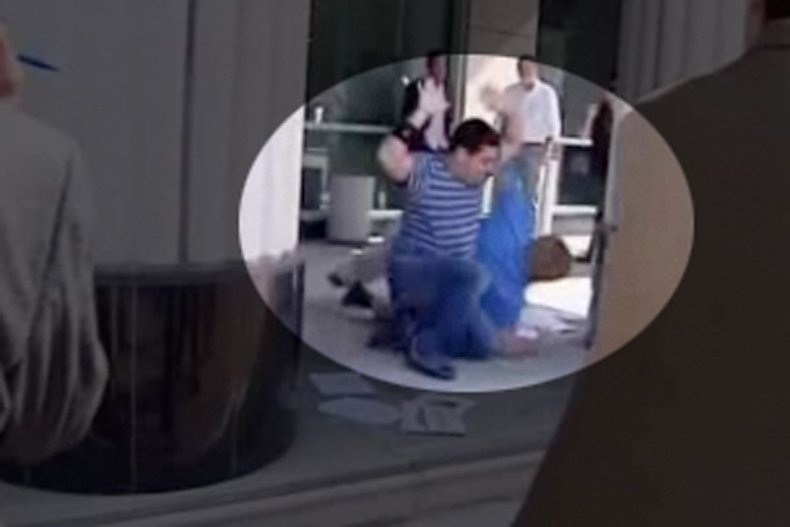 The stakes might be lower, but fights for local offices can be just as vicious as those for national ones. In May 2010, Mary Salas—a Democratic candidate for the California State Senate from San Diego—was holding a news conference when volunteers for her primary opponent, Juan Vargas, began heckling her. According to a local news report, there was some low-key shoving that soon escalated to the point of a Salas staffer being pulled to the ground. After an incredibly close primary election, Vargas came out on top and is currently running in the general election.
The Delaware Republican primary for Senate was an acrimonious affair to begin with, pitting party-backed veteran Rep. Mike Castle against insurgent Tea Party hero Christine O'Donnell. On Aug. 31, it turned physical, when O'Donnell supporter Evan Queitsch tried to prevent Delaware GOP staffer John Hawley from leaving the room at a candidate forum. Hawley, who'd been filming the forum, tried to follow O'Donnell with his videocamera. Each man blamed the other and said he'd been unreasonable. O'Donnell went on to defeat Castle but faces a tough battle against Democrat Chris Coons in the general election.
There've been plenty of verbal punches thrown between Senate Majority Leader Harry Reid and his Republican challenger, Sharron Angle. During a Sept. 23 debate, some physical ones got thrown, too. Videos from the event show a massive, screaming scrum of debate watchers, but the Las Vegas Review-Journal reported the actual fighting was between an Angle backer and two Reid backers, with the former taking the first swing. The fight led to a limit of a dozen supporters per candidate at the next debate, on Oct. 14. Meanwhile, the Senate race is expected to go down to the wire.
The eccentric New York Republican gubernatorial candidate apparently didn't learn his lesson from Michael Meehan's Coakley incident. The volatile businessman went toe-to-toe with New York Post state editor Fred Dicker on Sept. 29 and threatened to "take him out" after Dicker asked him about allegations he'd made against Democratic rival Andrew Cuomo. Perhaps unsurprisingly, the event didn't help Paladino's reputation as a loose cannon, and he now trails Cuomo by a significant margin.
In mid-October, Alaska GOP Senate hopeful Joe Miller announced he wouldn't be taking questions about his past. A few days later, he got a chance to show how serious he was. When liberal journalist Tony Hopfinger, carrying a videocamera, attempted to ask a question, Miller's security team—which turned out to include active-duty members of the military—handcuffed and detained him, bizarrely claiming he was being arrested, until police came and freed Hopfinger. Another observer, however, was able to capture video of the security guards questioning Hopfinger, then dragging him away in handcuffs.
After a brutal week, Kentucky Senate candidates Jack Conway and Rand Paul were practically cordial during an Oct. 25 debate in Louisville. Outside, before the debate, however, things were ugly. When a member of the liberal group MoveOn tried to approach Paul to give him a satirical honor alleging collusion between major corporations and the Republican Party, Paul supporters surrounded her and restrained her. But then they tackled her to the ground, and a video shows one man stomping on her head repeatedly. MoveOn says the woman, Lauren Valle, suffered a concussion and arm and shoulder sprains in the attack. Paul has condemned the attack, and he also called for civility on the Bluegrass State campaign trail. That's a request we can get behind—for every race across the country.