Stabbing, Arrests and Violence Mark End to Latest Pro-Trump Protest
Violence erupted after thousands of President Donald Trump's supporters gathered to protest the results of the 2020 presidential election in Washington, D.C.
Eight people were injured, including four who were stabbed, during clashes between Trump supporters and counter-demonstrators on Saturday evening, a spokesperson for the Metropolitan Police Department told Newsweek.
Police were called to the 500 block of 11th Street NW, not far from the White House, at around 9 p.m. after a report of a stabbing involving demonstrators, police said.
"All victims were transported to an area hospital, conscious and breathing, for treatment of non-life threatening injuries," the police spokesperson said.
Responding officers arrested 29 year-old Phillip Johnson, of Northwest Washington, D.C., for assault with a dangerous weapon, police said.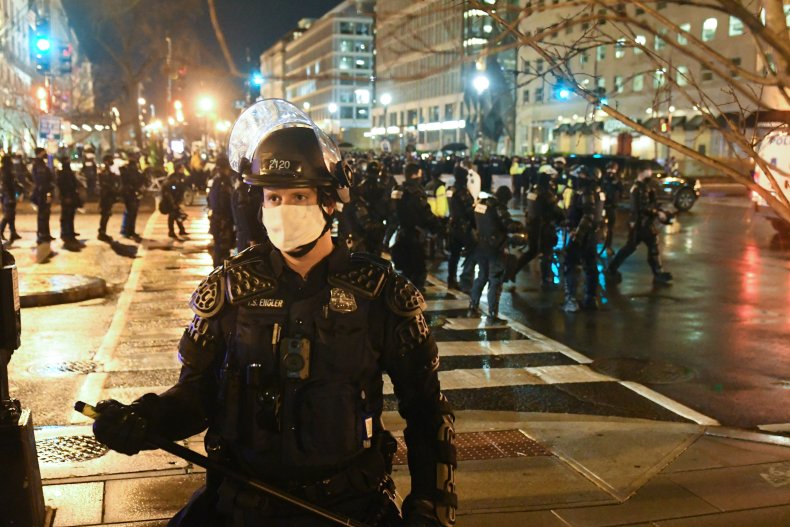 The police department said there had been no major violence or crime by late Saturday afternoon.
But tensions flared in downtown Washington after sunset as hundreds of members of the Proud Boys, a far-right group known for inciting violence, faced off with counter-protesters, including antifa and local Black activists, the Associated Press reported. Multiple lines of police officers, some clad in riot gear, worked to keep the opposing groups separated near Black Lives Matter Plaza.
Videos posted on social media appeared to show Proud Boys engaging in scuffles with opponents on Saturday. One clip showed a man lying on the ground trying to defend himself as a number of people described in a tweet as Proud Boys attacked him.
According to the police department, 33 people were arrested for unrest-related incidents between Saturday afternoon and early Sunday, including several people for assaulting police officers.
According to reports, crowds of mostly maskless Trump supporters had turned up to the nation's capital for a number of "Stop the Steal" rallies on Saturday, before the Electoral College meet to formally elect Joe Biden as the nation's next president on Monday.
Trump has so far refused to concede the race and has clung to baseless claims of voter fraud which have rejected by courts across the country, including the Supreme Court.
He tweeted his surprise about Saturday's rallies, which his supporters have been advertising for weeks. "Wow! Thousands of people forming in Washington (D.C.) for Stop the Steal. Didn't know about this, but I'll be seeing them!" Trump wrote on Saturday morning.
Former national security adviser Michael Flynn was among the speakers to address the pro-Trump crowd, telling them he was confident Trump would remain president.
"I will tell you one more time—because I've been asked—on a scale of one to ten, who will be the next president of the United States, and I say Donald Trump. Ten. A ten," he said in his first public remarks since he was pardoned by the president after being convicted for lying to the FBI during the Russia investigation.
Former Trump adviser Sebastian Gorka also addressed rally-goers, according to the AP, urging them not to give up.
Pictures and videos posted on social media show conspiracy theorist Alex Jones also attended Saturday's "Million MAGA March", which the AP reported attracted few people than the first one held on November 14.
Saturday's event reportedly attracted more members of the Proud Boys, who the president infamously told to "stand back and stand by" when asked to condemn white supremacist groups during the first presidential debate in September.
The Metropolitan Police Department have been contacted for additional comment.