Violent Antifa Turn to New Tactic, Embrace Violent Insurgency | Opinion
After relentless attacks on police and a successful defund movement, police departments across the country are suffering depleted staffing and resources. Radicals are taking advantage.
Weeks into increasingly violent riots and demonstrations, activists in Seattle and Portland are spreading out their "direct actions" as a way to stretch police resources. Some of this is intentional. Secretly recorded video and internal organizing reveal Antifa, Black Lives Matter agitators and other radicals are using the tactic to try and wreak havoc on the Pacific Northwest.
Antifa and other radicals often publicize their riots and demonstrations on Twitter. They target media members who are embedded at events, bullying them or even assaulting them so they don't make recordings of radical lawlessness that police may use to make arrests. Their accounts spread anti-police and anti-capitalist propaganda to recruit new members to their cause.
But these violent activists also monitor police scanners and use Twitter to pass on intel that help agitators on the ground.
Anonymous accounts frequently post details concerning Seattle police staffing and whereabouts during direct actions. One account noted on April 12 that the SPD "are too understaffed tonight. A unit from South is going to West to help with an auto theft."
The tweet included two hashtags that activists follow to get updated information on Seattle activism. Immediately, another active Antifa account used it to alert people on the ground to "take advantage" and spread police resources thin.
In a secretly recorded video after a Friday night march, a group of Antifa radicals and other activists held a debrief. Their direct action did not go as planned, as cops were never overwhelmed by the group.
As they discussed strategy, including reminders to use burner phones and to better incorporate civilian-clothed activists, they wondered if they could have done something different.
"For future reference it might be the case that, hypothetically, we split up and do independent actions in order to split the police," one activist said.
Splitting police resources is a tactic that has been discussed more openly in the last week.
In Portland, police were called to deal with an April 12 riot where Antifa and other agitators chanted "Every city. Every town. Burn the precincts to the ground." They tried to do just that.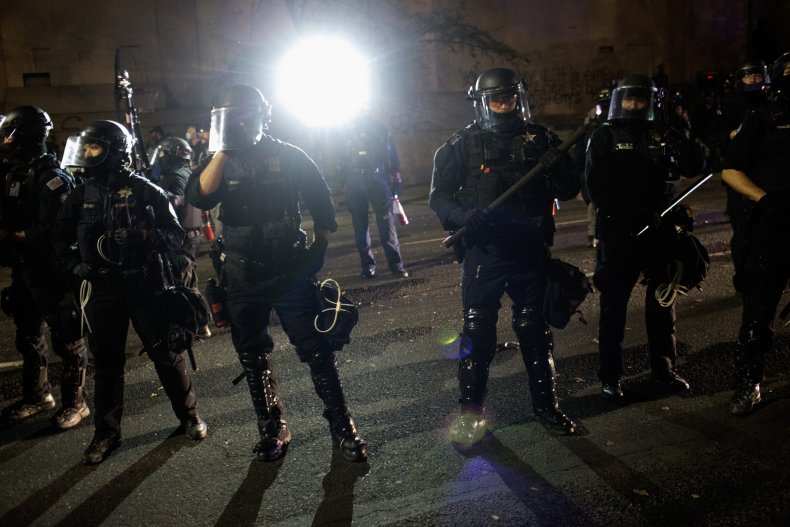 But as the officers' attention was drawn to the Kelly Penumbra Building, which houses offices for the Portland Police Department and Multnomah County Sheriff, suspects did significant damage across town.
The suspects cut through a chain-linked fence to the Portland Police Bureau in North Portland. Police say the suspects broke windows, slashed tires and vandalized police vehicles. They fled before officers arrived.
Griffin Malone, a Portland blogger who cheerleads for Antifa, noted on Twitter that it was "simply a great example of how to use an event as a f**king distraction."
Antifa usually take action in tightly packed groups while dressed in black bloc. It's how they avoid being identified and arrested. Conducting several actions at once would be a new tactic for these radicals. It would make them more vulnerable to arrest, but only if police forces are fully staffed. Neither Seattle nor Portland have police staff ready for this.
I have covered the Seattle police staffing crisis since the mass exodus began in 2018. After the 2020 civil unrest and nonstop vilification by the Seattle city council and activists, officers left in historic numbers. Since then, the city has its lowest level of deployable staff since the 1980s, losing 197 officers in 2020 and 66 more this year. The department is at crisis levels.
The staffing crisis is alive and well in Portland, too. Like its sister city Seattle, Portland has its fewest officers since 1992. And thanks to nightly protests eating up staffing resources and attention, it took officers an average of 45 minutes to respond to calls outside the immediate demonstrations and riots.
If this were to happen nationwide, many big cities would be overwhelmed.
Minneapolis saw a surge of police departures heading into 2021, with 100 officers leaving the department and at least 155 taking leave by February. Officers burning vacation and sick time is usually a prelude to leaving the force entirely. New York City saw a 72 percent increase in retirements by the end of 2020. Cincinnati saw the highest number of officer departures since the city started keeping track, and expects that trend to continue into 2022. Citing BLM rhetoric, Chicago officers are retiring in droves, leaving the city in desperate need of officers.
It's possible that Antifa's new strategy has emerged by coincidence. Anecdotally, there's reason to believe newer activists are joining the cause, radicalized by anti-police propaganda they're seeing online and on cable news. New "autonomous" action flyers are being distributed online, inspiring individuals to take up their own demonstrations. These new recruits could show signs of a more alarming risk.
An article in The Conversation argues the "United States is at risk of an armed anti-police insurgency." In it, University of Alberta associate professor Temitope Oriola writes that "Entities operating independently will spring up, but over time, a loose coalition may form to take credit for actions of organizationally disparate groups for maximum effect."
"The various groups will initially seek to avoid civilian casualties, and this may help to garner a level of support among the socially marginal from various backgrounds," Oriola predicts. "The public would be concerned but relatively secure in understanding that only the police are being targeted. Escalation may ensue through copycat attacks."
Antifa agitators already do some version of this. They've tried to murder law enforcement, including by attempting to burn officers alive inside a police precinct in Seattle and torching the Portland police officers' union.
And they've taken notice of the article. Antifa and other radicals are celebrating and amplifying it. Forget, for a moment, a few Antifa actions on any given night. Do you think we're staffed to police an insurgency?
Jason Rantz is a frequent guest on Fox News and is the host of the Jason Rantz Show on KTTH Seattle, heard weekday afternoons. You can subscribe to his podcast here and follow him on Twitter: @jasonrantz.
The views expressed in this article are the writer's own.