Speakers at the Democratic National Convention (DNC) during the first two days have omitted a glaring problem in America, and that's violent crime in the country's major cities.
The DNC made sure that people heard about President Donald Trump's handling, or "mishandling" of COVID-19, and the DNC used several people across America to use words like: discrimination, health care, climate change, mail-in voting, racial justice, schools, economy and rebuilding America—to pump up Democrat nominee Joe Biden.
Even in a "Roll Call" across America, representatives from states and territories glossed over reasons why they said Joe Biden will be their next choice as president. None of them addressed how Biden would face the rising violence in major American cities.
Once Dr. Jill Biden's virtual keynote speech ended Tuesday night, it ended with a hug from her husband—Democrat presidential nominee and presumptive candidate Joe Biden. As it ended, the lyrics of "Ooh Child" by the Five Fairsteps played. The lyrics mean that things will get better in times of strife.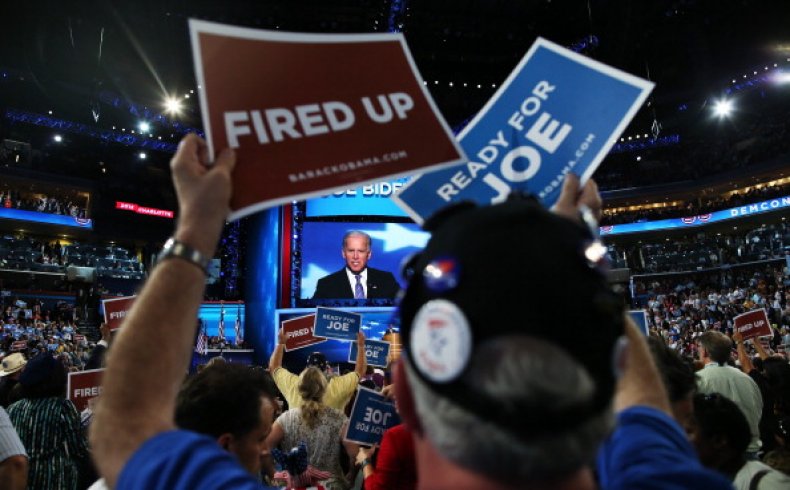 Once the DNC ended Tuesday night, MSNBC hosts glowed about the topics covered by the virtual speakers and cameo appearances. Meanwhile on Fox News, the GOP-heavy network continued to introduce the elephant in the room—and, no, not the Republican president. They talked about the glaring omission of the rising violent crime in major American cities like New York City, Chicago, Portland, Seattle and others.
Among the media noticing this was the Chicago Tribune, whose opinion writer, John Kass, noted on Tuesday that crime should be heard by politicians.
"As I keep telling you, when you hear politicians talking, pay attention to what isn't said," Kass wrote. "Train your eye to see the negative space between the dancers, because that, too, is often the story."
Chicago has not only been a hub of gun violence every weekend since the Barack Obama administration and every year since Trump got elected four years ago, it has ramped up during the summer of 2020. When Trump promised to intervene with federal troops this summer to curb violence, Chicago Mayor Lori Lightfoot told Trump his troops, or National Guard, was not needed.
A war of words took place on Twitter between the president and the Chicago mayor. Meanwhile, Trump has sent troops into other cities, and Democrat leaders in those cities have stood pat against the commander-in-chief sending in help to curb violence.
Now that the Democratic National Convention is halfway over, overwhelming violence in major cities—all Democrat-controlled—seems like an afterthought when nominating their next presidential candidate.
"Urban violence threatens the peace of targeted Democratic suburban voters, like those soccer moms who've just installed police scanner apps on their cellphones," Kass wrote. "Trump is taking advantage of this, but he didn't create it. What America is witnessing in cities like Portland, Seattle, Chicago and New York is a clash between the hard left and the liberal Democratic mayors who lead those cities."
Over the last few months, protests across the country have ignited after the May 25 death of George Floyd, a Black man who died while in custody of the Minneapolis police. After Floyd was detained by police, a video surfaced showing former Minneapolis police Derek Chauvin kneeling on Floyd's neck for nearly nine minutes. The last words heard coming from Floyd in that video were, "I can't breathe."
Floyd's death sparked protests all over the country, and eventually the world, by the Black Lives Matter movement and eventually from Antifa. The demonstrations were originally to protest Floyd's death, and went on to march against social injustice. Many major cities across America saw destruction and clashes between protestors and police.
There are two more nights of the virtual Democratic National Convention, with presumptive vice president candidate Kamala Harris taking the stage on Wednesday and Joe Biden presumably accepting the nomination on Thursday.
The aforementioned topics of COVID, health care, education, Trump, social justice, mail-in voting, jobs and the economy will likely take the forefront. It's up to the Democrats now to address the violence taking over major cities in America.
Newsweek reached out to the Democratic National Convention for comment.